MLB
MLB: The 5 Best Catchers in Baseball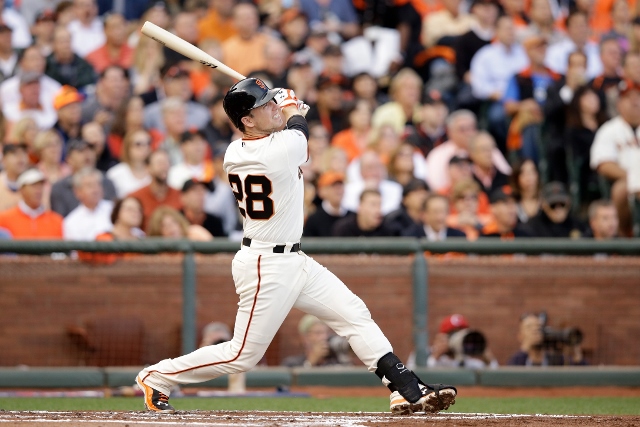 More so than any other position in baseball, being a catcher demands a physical toll on a player's body. The role requires extreme grit and toughness on defense, a tremendous IQ of the game, and the ability to work with pitchers of wide-ranging abilities, experience, and repertoires.
There are a host of backstops in today's game who exhibit these characteristics and have rightfully gained their manager's trust as an everyday (or nearly everyday) starter. But only the best are able to somehow balance the previously mentioned strengths with a solid approach as a hitter as well.
Here, we analyze those who continue to amaze us as the ultimate two-way players in the sport. The following are the five best catchers in baseball.
Honorable mentions: Russell Martin (Toronto Blue Jays) and Stephen Vogt (Oakland Athletics)
5. Brian McCann (New York Yankees)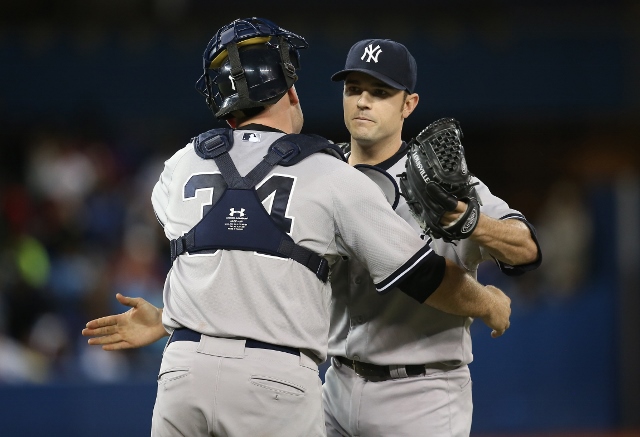 2015 statistics: .232 AVG, 26 HR, 94 RBI, 68 R, 108 H, .756 OPS, seven errors, .641 SBPCT (in 135 games; 126 at catcher)
It's obvious that 31-year-old Brian McCann has regressed a bit since coming to the New York Yankees via free agency following the 2013 season. However, he still has the most pop in his bat from any catcher in the league and has been a largely consistent run-producer throughout his career. Although his .232 batting average was the same figure he posted in his first season in pinstripes, McCann bounced back in 2015 to post a major league-leading 26 home runs and American League-leading 94 RBI.
The seven-time all-star was at his best with the Atlanta Braves, earning five silver sluggers during his tenure there. He doesn't have the glove that some of the other members of this list have — as his seven errors are higher than a trio of them and two of the catchers threw out a higher percentage of would-be base stealers than McCann this year — but the offense alone warrants number 34 a spot in the top five.
4. Jonathan Lucroy (Milwaukee Brewers)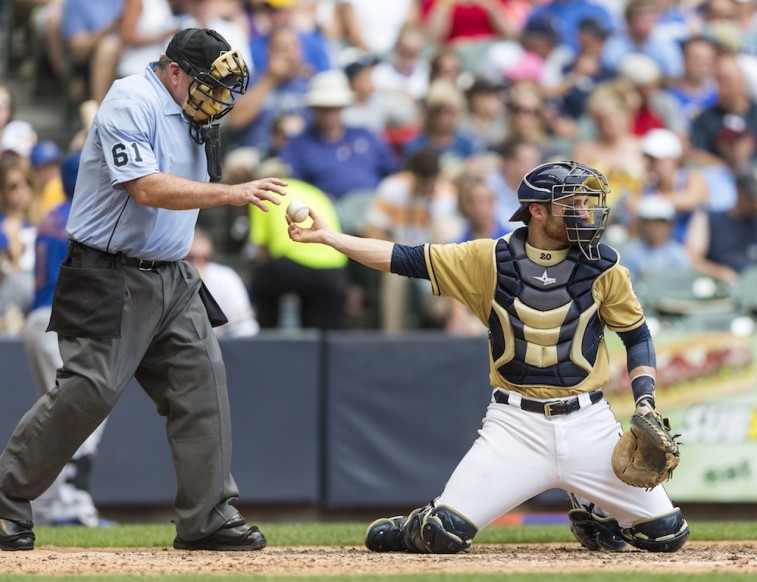 2015 statistics: .264 AVG, 7 HR, 43 RBI, 51 R, 98 H, .717 OPS, eight errors, .722 SBPCT (in 103 games; 86 at catcher)
This season's offensive numbers of Milwaukee Brewers catcher, Jonathan Lucroy, were greatly hindered by an early season injury that saw him miss approximately one-third of the year. Add on 15 games at first base and one as the designated hitter and Lucroy only played in 53% of the 162-game schedule behind the dish. Remarkably, Lucroy's batting stats were still pretty solid for an abbreviated season. His 51 runs scored placed him ninth among all catchers and if he had qualified, his OPS would have put him in sixth.
His defense and work with the Milwaukee pitching staff could perhaps use a little work though. Despite the vastly lesser chances for Lucroy in 2015, he still finished with the sixth most errors for catchers; allowing nearly three-quarters of runners to successfully steal bags needs a little improvement. Still at 29 years old and coming off of a breakout year in 2014 — in which he was a National League all-star, led the MLB in doubles, and finished fourth in NL MVP voting — we believe that the best is yet to come for Lucroy.
3. Salvador Pérez (Kansas City Royals)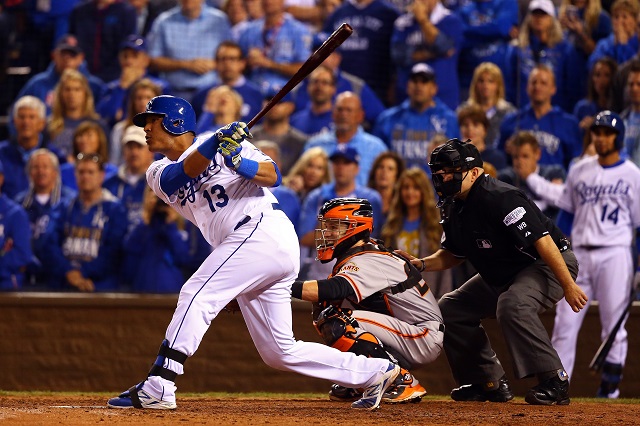 2015 statistics: .260 AVG, 21 HR, 70 RBI, 52 R, 138 H, .706 OPS, four errors, .695 SBPCT (in 142 games; 139 at catcher)
After securing home field advantage throughout the American League playoffs this fall, the Kansas City Royals have proven that their 2014 run to the World Series was no fluke. Catcher Salvador Pérez has also shown that with a little power, splendid defense, and being an anchor of this Royals ship since 2013, he is one of the elite backstops in the game.
He's just wrapped up his fifth season — third as a full-time starter — and now has three all-star appearances and two gold gloves on his resume. One or both of those accolades could be added to following the unveiling of this year's awards. At just 25, Perez has the brightest future among all AL catchers right now.
2. Yadier Molina (St. Louis Cardinals)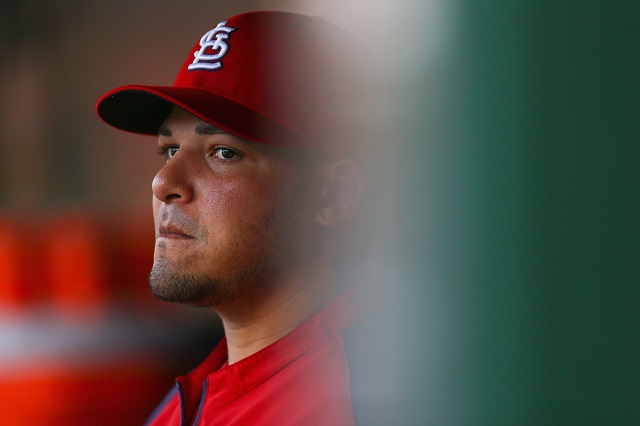 2015 statistics: .270 AVG, 4 HR, 61 RBI, 34 R, 132 H, .660 OPS, seven errors, .587 SBPCT (in 136 games; 134 at catcher)
It turns out that baby Yadi was hands down the best of the three Molina brothers. The St. Louis Cardinals franchise catcher, Yadier Molina, is not only the best in his family, but one of the best of his era. Even as the oldest member of this countdown at 33 years of age, Molina is still almost as good as ever.
He missed a bunch of games down the stretch but is hoping to play this postseason despite an injured left thumb. The effect that the best defensive catcher in the game's presence would have on the roster cannot be understated. His seven straight gold gloves speak for themselves.
1. Buster Posey (San Francisco Giants)
2015 statistics: .318 AVG, 19 HR, 95 RBI, 74 R, 177 H, .849 OPS, two errors, .639 SBPCT (in 150 games; 106 at catcher)
What can't Buster Posey do on a baseball field? Okay, maybe it's a tiny bit unfair that Posey played in the most games (150) out the group, yet only 106 of them (second fewest) were manning the plate, but that's what flexibility and smart management can do. The San Francisco Giants have done a great job at very gradually transitioning their stud franchise cornerstone into a part-time catcher, but the fact of the matter is, Posey still appeared in over 65% of the Giants games as the starting catcher.
We mentioned at the beginning of this article that to be a catcher in the bigs, you have to display extreme grit, a tremendous IQ of the game, and the ability to work with pitchers of wide-ranging abilities, experience and repertoires. To say that Posey exemplifies those attributes would be a massive understatement. When a catcher finishes in the top 20 in MVP voting (and wins one) in his first six seasons in the majors (which Posey has done), he's obviously doing something right.
Posey's is a bit of an all-around better hitter than Molina and has youth on his side, giving him the top spot in our countdown. Until he goes the route of Joe Mauer and leaves the catcher's mitt in the dugout, we don't expect Posey to give up the No. 1 ranking anytime soon.
All data courtesy of MLB.com and Baseball-Reference.com.
Follow Victor on Twitter @vbarbosa1127.