MLB: The 5 Best Hitters of April
The Major League Baseball calendar has officially flipped to May, which means a few things. Fans of the New York Yankees, Houston Astros, and Atlanta Braves can officially start worrying. Chicago White Sox, Washington Nationals, and Chicago Cubs fans can start feeling good about their teams' chances. Individual hitters and pitchers off to scalding starts have firmly put the rest of the league on notice — that they do not plan on leaving from the limelight any time soon.
We are just barely past the point where there can no longer be excuses concerning early nerves and/or shaking off the rust, because we are now in the second full month of action. True, in a six-month-long journey of a regular season, scores of statistical and standings shifts are bound to happen, but we have to start taking hot players and teams seriously now. Today we take a look at the five best hitters of April.
*Spoiler alert: The quintet of MLBers are all infielders. Despite strong starts, guys like Bryce Harper and Starling Marte barely missed the cut.
5. Josh Donaldson, Toronto Blue Jays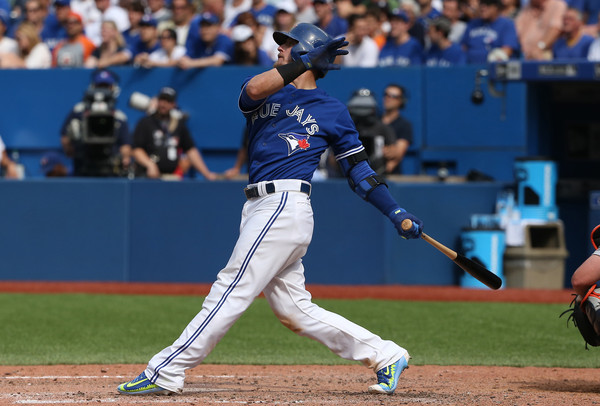 2016 statistics: 29 H, eight 2B, nine HR, 21 RBI, 14 BB, .293/.391/.667/1.058 in 99 AB
Last year's American League Most Valuable Player is putting up hardware-caliber offensive numbers — again. Toronto Blue Jays third baseman Josh Donaldson has been on fire basically since Opening Day and the only reason he is not higher on this list is because of the standout campaigns of some of his competitors.
Entering play Monday, Donaldson was tied for third in home runs (nine), first in runs scored (26), and tied for first in total bases (66). The Jays may be struggling a bit near the bottom of the AL East, but it is no fault at all to their stud producer at the hot corner. 
4. Jean Segura, Arizona Diamondbacks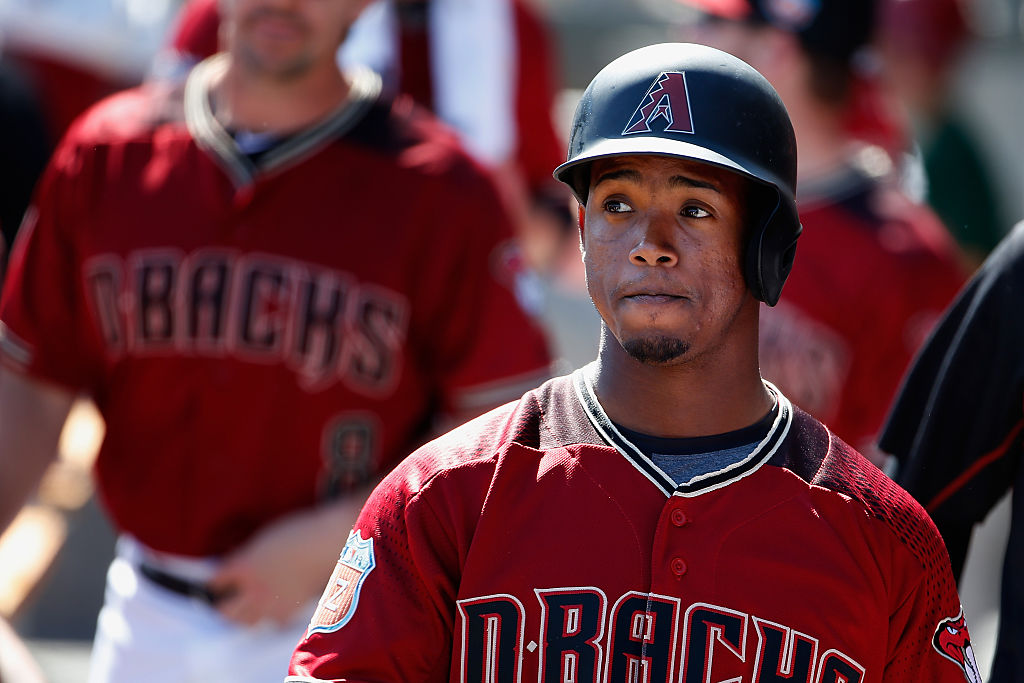 2016 statistics: 37 H, five 2B, four HR, 15 RBI, three BB, .333/.362/.523/.885 in 111 AB
The only somewhat surprising player to make this list is Arizona Diamondbacks middle infielder Jean Segura. To be fair, the 26-year-old has not completely come out of nowhere, as Segura put together an All-Star campaign in 2013 with the Milwaukee Brewers. But other than that season, the Dominican has been plagued by inconsistency throughout his brief MLB career.
Segura is lighting it up as the best hitter in a strong D-Backs lineup (even better than Paul Goldschmidt so far), pacing the bigs in hits (37), showing moderate power with four home runs and 15 runs batted in, and showcasing an excellent slash line of .333/.362/.523/.885.
3. Nolan Arenado, Colorado Rockies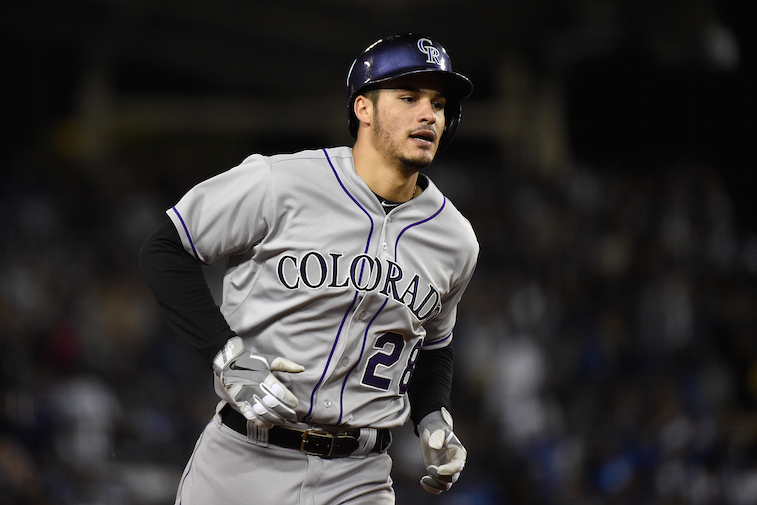 2016 statistics: 29 H, four 2B, 11 HR, 25 RBI, 10 BB, .305/.371/.695/1.066 in 95 AB
Colorado Rockies third baseman Nolan Arenado is quickly putting to rest any possible discussion of his 2015 output being a fluke. The highly-sought-after fantasy baseball stud is currently leading the majors in homers (11) and RBI (25), while ranking second in runs scored (23), second in slugging percentage (.695), fifth in on-base plus slugging percentage (1.066), and tying for first in total bases (66). At just 25 years old, Arenado is not going away anytime soon.
2. Manny Machado, Baltimore Orioles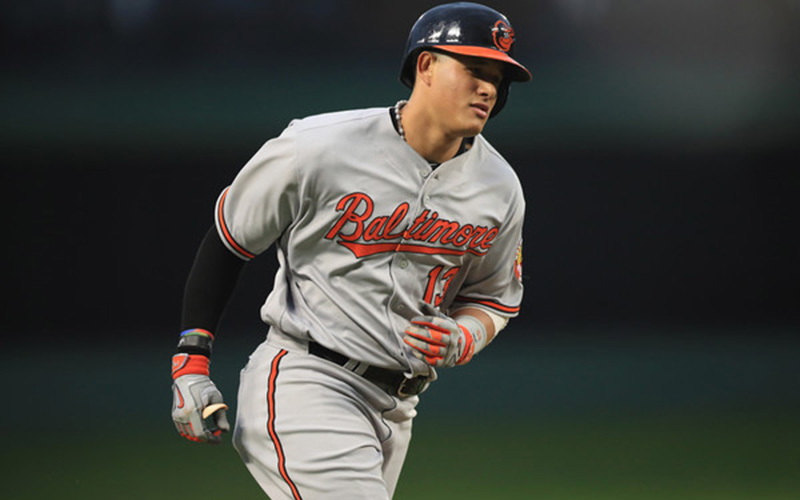 2016 statistics: 35 H, 10 2B, seven HR, 16 RBI, eight BB, .350/.404/.660/1.064 in 100 AB
The third and final third baseman to make the cut for baseball's premiere month is Manny Machado of the Baltimore Orioles. Machado just keeps getting better and better, finishing last year with his second All-Star appearance, second Gold Glove award, and a fourth-place finish in the AL MVP vote.
Given his continued dominance and the somewhat surprise early-season success of his team, Machado has to be considered one of, if not the very early front-runner for the award in 2016. He is tied with Donaldson and Arenado atop the league with 66 total bases, tied for second in hits (35), tied for second in doubles (10), and tied for fifth in batting at .350.
1. Jose Altuve, Houston Astros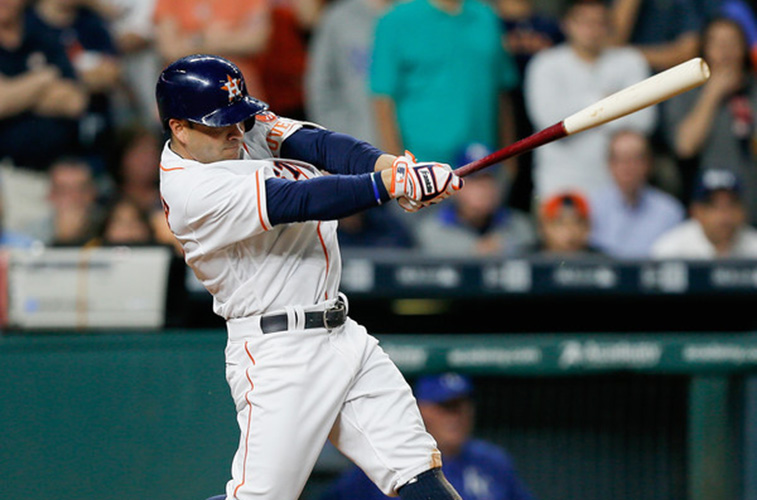 2016 statistics: 30 H, 11 2B, seven HR, 14 RBI, 13 BB, .306/.404/.633/1.036 in 98 AB
Some may call blasphemy that we left out the likes of Harper, Marte, Daniel Murphy, and Trevor Story, but none of them are putting together the all-around contribution that somebody like Houston Astros second baseman Jose Altuve is. The pint-sized spark plug was already the best second baseman entering 2016, but he now joins the conversation of best hitter in baseball with his five-tool talent.
Altuve is tied for first in doubles (11) (and alone in first with nine stolen bases too), tied for third in runs scored (21), fifth in total bases (62), and is already about halfway to last year's home run total, which was a career-high. Houston may be the biggest disappointment in baseball thus far, but their best player was anything but in April.
Follow Victor on Twitter @vbarbosa1127
Statistics courtesy of MLB.com and Baseball-Reference.com.