MLB: The 5 Best Japanese Pitchers in Baseball History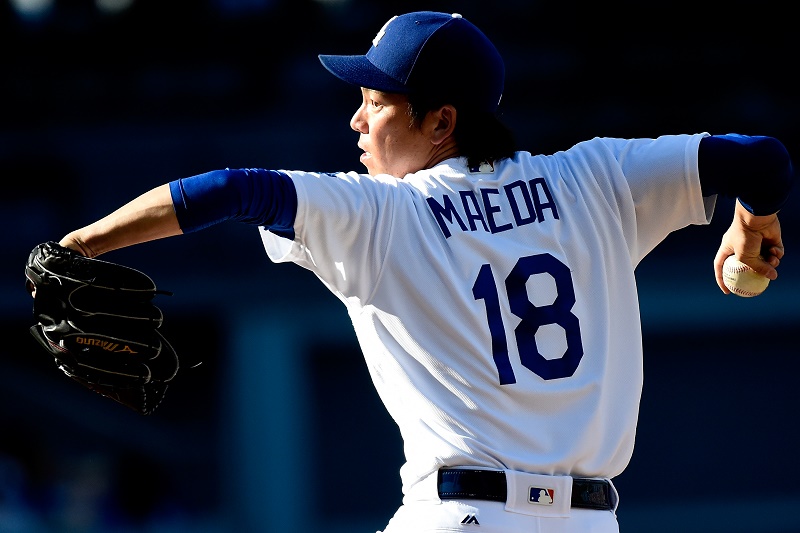 Dozens of Japanese baseball players have made the transition to Major League Baseball for decades now. Fewer have been pitchers, but when one with a lot of potential and/or stellar numbers during his career abroad are preparing to make the big move, the media — both American and Japanese — typically goes crazy.
Coming into 2016, the new marquee arm coming over to the majors was Los Angeles Dodgers hurler Kenta Maeda. To say that this pitcher has had a fast start to his big league career would probably be the biggest understatement of April. Along with Clayton Kershaw, Maeda has formed one of the best two-headed monsters at the top of a pitching rotation in the sport thus far.
The righty has unexpectedly managed to replace the loss of Zack Greinke — and then some. Given the fact that the newcomer is still just four starts into his MLB career, it would be unwise to claim that he is the greatest starter ever to come from Japan. With that being said, here are the five best Japanese pitchers in baseball history.
*Note: This list is based on their MLB success only. Players who either failed to live up to the hype (like Daisuke Matsuzaka) and those who are still in the early portion of their careers in America (like Masahiro Tanaka) were considered, but were ultimately left off the list.
5. Kazuhiro Sasaki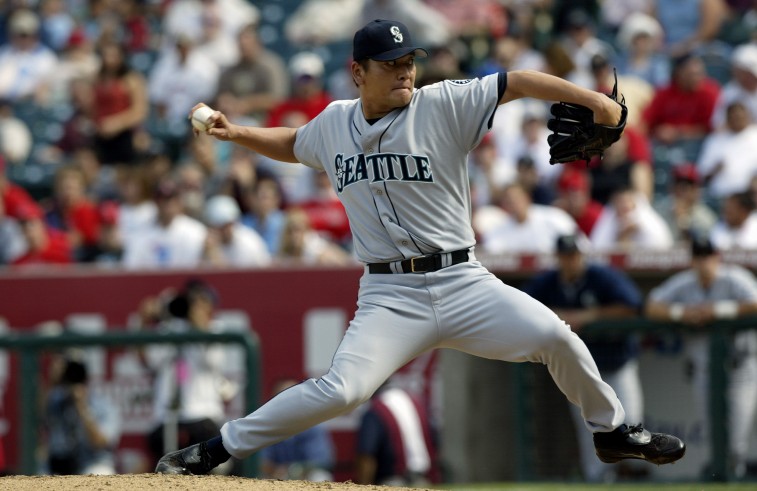 Career statistics: 3.14 ERA, 129 SV, 223.1 IP, 165 H, 24 HR, 77 BB, 242 SO, 1.08 WHIP in 228 games pitched
At the age of 31, right-handed pitcher Kazuhiro Sasaki was signed by the Seattle Mariners on December 18, 1999. He immediately established himself as the M's closer and was among the elite relievers in the game in his first year. In fact, Sasaki took home Rookie of the Year honors in 2000 after posting 37 saves and a solid 3.16 earned run average.
Sasaki was terrific again as part of the Mariners historic 2001 squad, registering 45 saves and a 3.24 ERA, while notching his career-best walks and hits per inning mark at 0.88. He had 37 saves and a 2.52 ERA in 2002, making his second-straight All-Star team, but struggled a bit with only 10 saves in 33? innings in 2003, which was his final year in the bigs. 
4. Koji Uehara
Career statistics: 2.45 ERA, 86 SV, 400.0 IP, 281 H, 45 HR, 59 BB, 468 SO, 0.85 WHIP in 347 games pitched
Boston Red Sox pitcher Koji Uehara is probably the best Japanese relief pitcher to ever play in the majors. In 2009, his career in America began at the ripe age of 34, as he spent his first two-plus seasons primarily as a set-up man with the Baltimore Orioles. Uehara was then moved to the Texas Rangers near the July 2011 trade deadline in exchange for Chris Davis and Tommy Hunter.
He hung around Texas for the rest of 2011 and all of the 2012 campaign, before he signed with the BoSox prior to the magical 2013 "worst-to-first" year. David Ortiz, Dustin Pedroia, and Jon Lester may get most of the fanfare for that stunning turnaround season, but Uehara was phenomenal as the closer, a job that he was thrust into due to other injuries before the All-Star break.
The righty ended up going 4-1 with a microscopic 1.09 ERA that year, and posted a staggering 101:9 strikeout-to-walk ratio. He finished seventh in that year's AL Cy Young award race and racked up 25-plus saves for the team in both 2014 and 2015.
3. Yu Darvish
Career statistics: 39-25, 3.27 ERA, 545.1 IP, 454 H, 53 HR, 218 BB, 680 SO, 1.19 WHIP in 83 games pitched
Unlike the previous two players, Texas Rangers starting pitcher Yu Darvish began his major league career when he was younger than 30. Texas purchased his talents from the Nippon Ham Fighters of the Japan Pacific League on January 18, 2012, when he was 26 years old and great in his rookie season.
Darvish went 16-9 with a 3.90 ERA and struck out 221 batters in 191? innings pitched, good enough to earn him an All-Star bid, finish third in the AL Rookie of the Year voting, and rank ninth in the AL Cy Young chase. Without a doubt, 2013 was Darvish's best all-around season, as he went 13-9, but posted career-bests in ERA (2.83), games started (32), innings pitched (209 2/3), strikeouts (277), and WHIP (1.07). The effort was good enough to earn Darvish his second All-Star appearance and he finished as the runner-up in the Cy Young award race.
The righty only made 22 starts in 2014 before missing the rest of the year with an injury, but was amazing nonetheless. After undergoing surgery, the hurler missed all of last season and is still on the shelf, but he is expected to comeback in the coming months. Although his MLB career has been brief, Darvish's age and stellar success warrant him the No. 3 spot on this list. 
2. Hiroki Kuroda
Career statistics: 79-79, 3.45 ERA, 1,319.0 IP, 1,254 H, 129 HR, 292 BB, 986 SO, 1.17 WHIP in 212 games pitched
When sifting through the various Japanese arms to jump ship to the big leagues, former New York Yankees and Los Angeles Dodgers starter Hiroki Kuroda probably does not usually get the recognition he deserves. His 79-79 career record is certainly not indicative of how consistently solid he was over his seven-year MLB journey.
After signing with LA prior to the 2008 season, No. 18 went just 41-46 over four years in Dodger blue, yet he had a solid 3.45 ERA and 1.18 WHIP. Kuroda signed with the Yanks in early 2012 and arguably got better with age. His final three seasons in the bigs brought him 38 wins, a 3.44 ERA, and a 1.15 WHIP.
The only surprising thing about Kuroda's career was that he never made an All-Star team. Apparently the voters did not see that Mr. Consistency had an ERA between 3.07 and 3.76 every single season of his career.
1. Hideo Nomo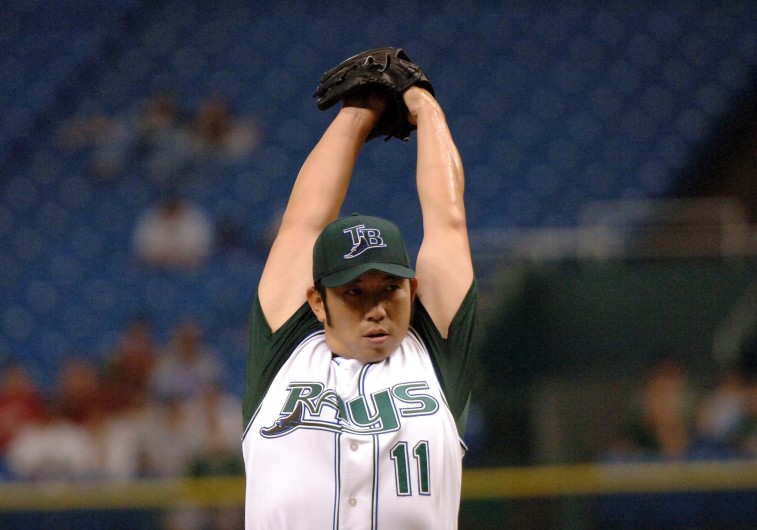 Career statistics: 123-109, 4.24 ERA, 1,976.1 IP, 1,768 H, 251 HR, 908 BB, 1,918 SO, 1.35 WHIP in 323 games pitched
No discussion about Japanese pitchers in America would be complete with Hideo Nomo. The now-47-year-old holds most of the MLB pitching records for natives of Japan, and really set the table back in 1995 when he broke in with the Dodgers, a benchmark that nobody has been able to surpass yet.
Nomo's career peak was during his first tenure in LA — when he won 45 games in just four-plus seasons — but even as he bounced around the league later in his career, he still found plenty of highlights, like his no-hitter for the Red Sox in 2001. When all was said and done, the appropriately nicknamed "Tornado," earned 123 career wins, posted a respectable 4.24 ERA, and racked up 1,918 strikeouts.
Nomo had three 16-win seasons — all ironically with the Dodgers across his two stints — threw 16 complete games and nine shutouts, surpassed the 200-strikeout plateau four times, and of course had that magical Rookie of the Year season to get it all started.
Follow Victor on Twitter @vbarbosa1127
Statistics courtesy of Baseball-Reference.com.