MLB: The 5 Best Starting Pitchers in Baseball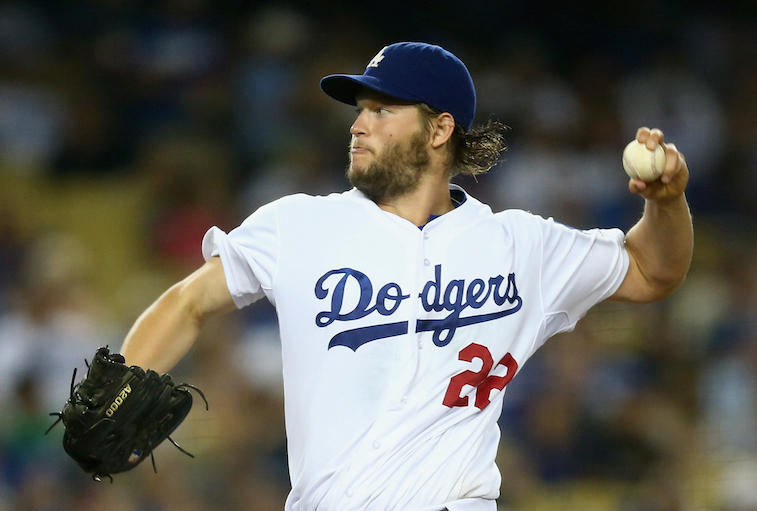 To be considered a top-notch starting pitcher in baseball, you must display consistency, durability, and downright nasty skills. Sure, a young stud or an established veteran may come out of nowhere to string together a month or two of masterful starts, or even put together a complete season of dominance. However, the best of the best build legacies based on multiple years of eye-popping numbers and endless accolades. Before we count down the five best starting pitchers in baseball, let's review some interesting facts regarding the group.
Three of the pitchers play in the National League, while two are on American League clubs.
There are a pair of lefties in the top five, versus three right-handers.
Two of the hurlers have spent their entire career with one team; one is with his third team; and two were on the move this very off-season (with one going to their fourth team and one going to their fifth.)
Neither of the two reigning Cy Young Award winners are on this list. Again, this is a group based on longevity and many seasons of success.
5. Felix Hernandez, Seattle Mariners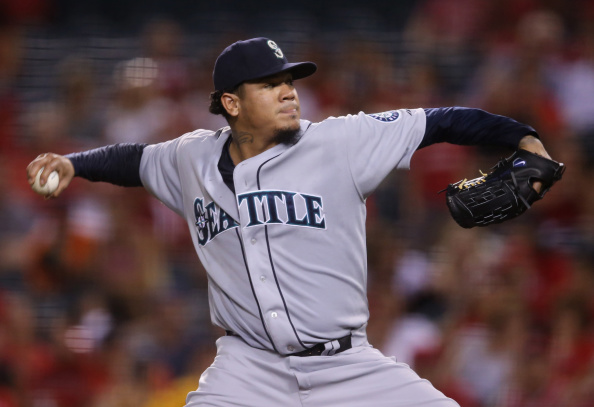 2015 regular season statistics: 18-9, 3.53 ERA, 201.2 IP, 180 H, 23 HR, 58 BB, 191 SO, 1.18 WHIP in 31 games started
Baseball's version of "The King" had, by his standards, a down season in 2015. The Seattle Mariners' ace, Felix Hernandez, posted an earned run average of 3.53 last year, ballooning to its highest mark since 2007. Still, nearly all starters in the MLB would likely take that figure in a heartbeat. Even with a higher than usual ERA, and punching out less than 200 batters for the first time since 2008, Hernandez still registered a terrific 18-9 record.
He hurled at least 200 innings for the eighth consecutive campaign, had two complete game shutouts, and posted a solid 1.18 walks and hits per nine innings mark. In order to reclaim his throne as the best right-handed pitcher in baseball, Hernandez may want to cut down on the number of home runs allowed. The 23 given up were the most since his rookie year in 2006.
4. Max Scherzer, Washington Nationals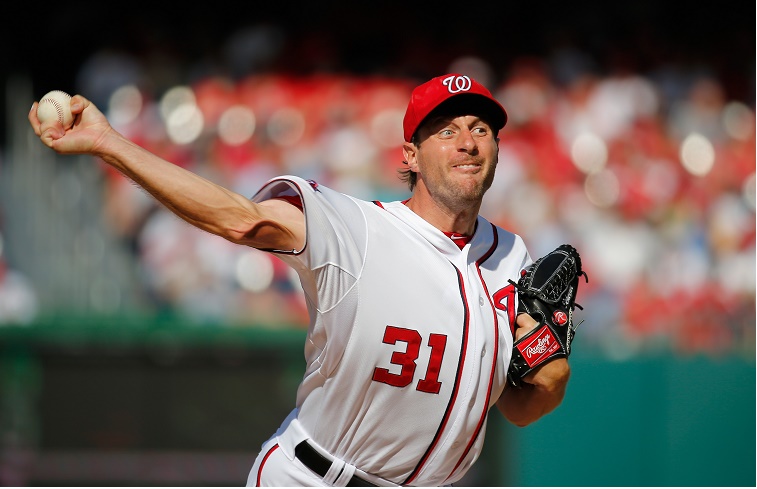 2015 regular season statistics: 14-12, 2.79 ERA, four complete games, three shutouts, 228.2 IP, 176 H, 27 HR, 34 BB, 276 SO, 0.91 WHIP in 33 games started
Don't be fooled by the mediocre 14-12 record put up by Washington Nationals flamethrower Max Scherzer a season ago; No. 31 had a year for the ages. With his second-best 276 strikeouts and minuscule 34 bases on balls, Scherzer's 8.12 punch-outs per walk ranked him first in the bigs by a wide margin. The 31-year old also tied for the league lead with 33 games started, four complete games, and three shutouts; numbers that ended up earning him fifth place in the NL Cy Young voting. Scherzer was extremely durable too, firing a career-high 228.2 innings and facing a league-high 899 batters. Suffice to say, 2015 was a mighty good first year in the nation's capital for Scherzer.
3. David Price, Boston Red Sox
2015 regular season statistics: 18-5, 2.45 ERA, 220.1 IP, 190 H, 17 HR, 47 BB, 225 SO, 1.07 WHIP in 32 games started
Let's just forget about his over-discussed postseason struggles for a second. Boston Red Sox new acquisition David Price is the best pitcher in the American League and comes in at No. 3 on our countdown. The powerful lefty has got it all: serious heat on the fastball, filthy stuff on his off-speed pitches, and tremendous statistics year after year.
Sure, Boston overpaid for their newest prize, but seriously, aren't the majority of all pro-athletes paid way too much money? Price's 2015 numbers (which were split with the Detroit Tigers and Toronto Blue Jays) are mind-blowing. With 18 wins, an AL-best 2.45 ERA, 220.1 innings pitched, and a stunning 225 strikeouts versus only 47 walks, the Vanderbilt product would have easily won his second AL Cy Young award if not for a special year from Dallas Keuchel.
2. Zack Greinke, Arizona Diamondbacks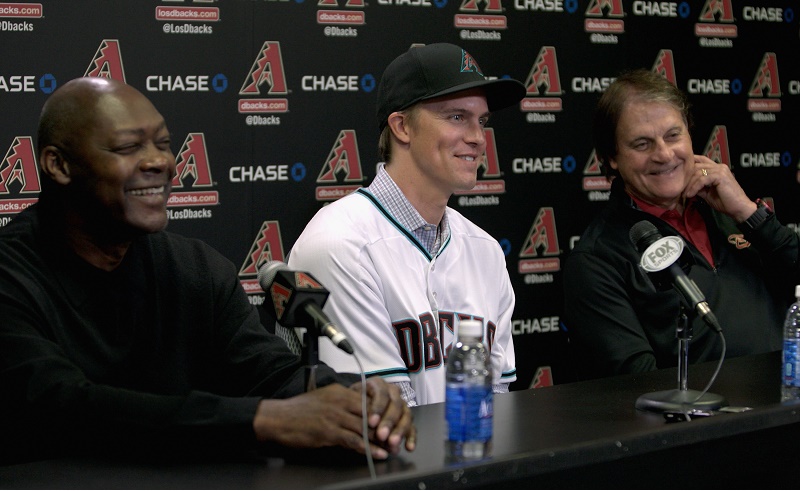 2015 regular season statistics: 19-3, 1.66 ERA, 222.2 IP, 148 H, 14 HR, 40 BB, 200 SO, 0.84 WHIP in 32 games started
When you look at the 2015 MLB league leaders, you'll see Arizona Diamondbacks ace Zack Greinke's name listed a whole bunch of times. In a career that has included an AL Cy Young award, three All-Star appearances, and a pair of ERA titles, last year may have been Greinke's best. Much like Price being narrowly outdone by Keuchel in the junior circuit, Greinke was barely edged out by the Chicago Cubs Jake Arrieta in the National League Cy Young chase.
The D-Backs new No. 1 set career-bests in wins (19), ERA (1.66), and WHIP (0.84), while co-leading the Los Angeles Dodgers to yet another NL West championship last fall. Greinke is still just 32 years old and along with fellow rotation newcomer, Shelby Miller, will look to spearhead Arizona to a division title over the likes of the Dodgers and San Francisco Giants in 2016.
1. Clayton Kershaw, Los Angeles Dodgers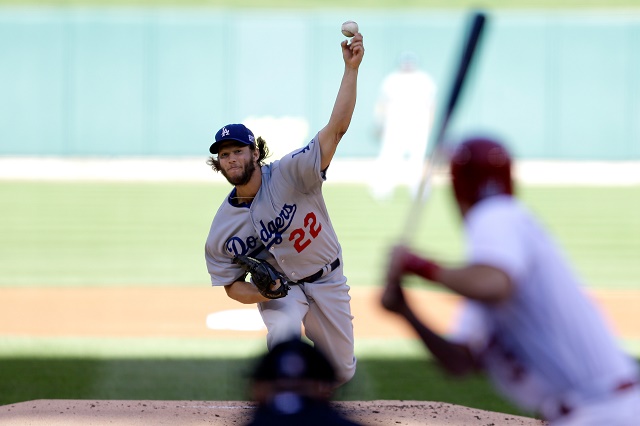 2015 regular season statistics: 16-7, 2.13 ERA, four complete games, three shutouts, 232.2 IP, 163 H, 15 HR, 42 BB, 301 SO, 0.88 WHIP in 33 games started
The honor of best starting pitcher in baseball should really only go to one man, and it's honestly been that same man for three or four years now. Like no other guy in the sport, Clayton Kershaw has been on an unstoppable roll since the turn of the decade — and he isn't showing any signs of slowing down. The Cy Young award has to be considered one of, if not the strongest indicator of a pitcher's annual success, and we like to think that the voters know a thing or two about what they're doing.
Just take a look at the third column where it lists all of the NL winners. Kershaw has won three of the past five awards. In 2012 and 2015, when the southpaw didn't take home the hardware, he finished in second and third in the voting, respectively. Still just 27 years old, we don't think it's too crazy to estimate that No. 22 could very well be a top-10 starting pitcher of all time when everything is said and done.
Statistics courtesy of MLB.com, Baseball-Reference.com, and ESPN.com.
Follow Victor on Twitter @vbarbosa1127