MLB Rankings: The 5 Greatest Hitters Accused of Steroid Use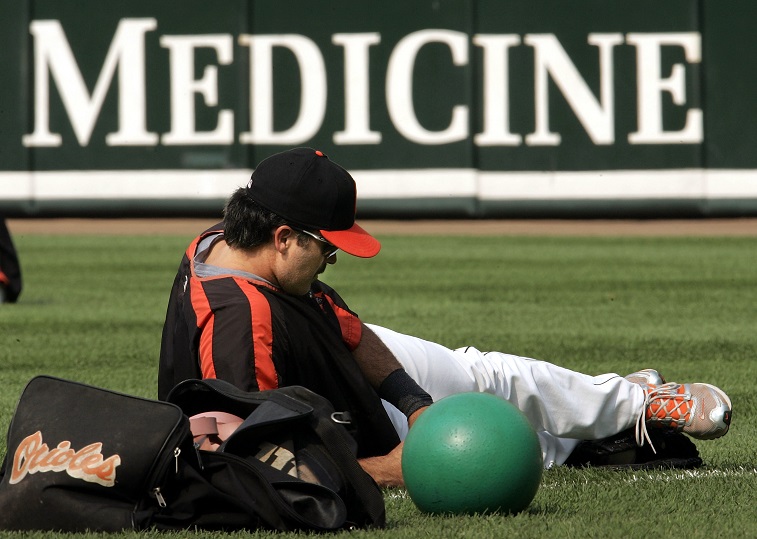 Baseball's steroid era, still very much shrouded in the fog of history, will always represent one of the more polarizing epochs in all of sports. With time, the all-encompassing term "performance enhancement drug" would extend out to cover steroids, human growth hormone, the cream, and the clear. Much of the confusion, of course, came down to who was taking what, and real legality of the entire sports medicine machine, and even today there are still claims about how "steroids saved baseball," usually tied into a cliché about how you're not trying if you're not cheating.
Beyond a quick dip into Chemistry 101, the steroid era was defined by a bizarre series of congressional hearings, improbably hulking sluggers, statistical anomalies, and, of course, the long ball. For many, the steroid era began in 1993 with the opening of homer friendly Coors Field, and ended unceremoniously in 2005, with the installation of a much more comprehensive drug-testing program.
The fallout from this new protocol included rushed retirements, sudden drop offs in production, harsh fines, and player suspensions that ran through the next decade. For many, the five greatest power hitters of the steroid era will each carry asterisks next to their names on the record books, and will likely spend their lifetimes watching their merit be debated around Cooperstown.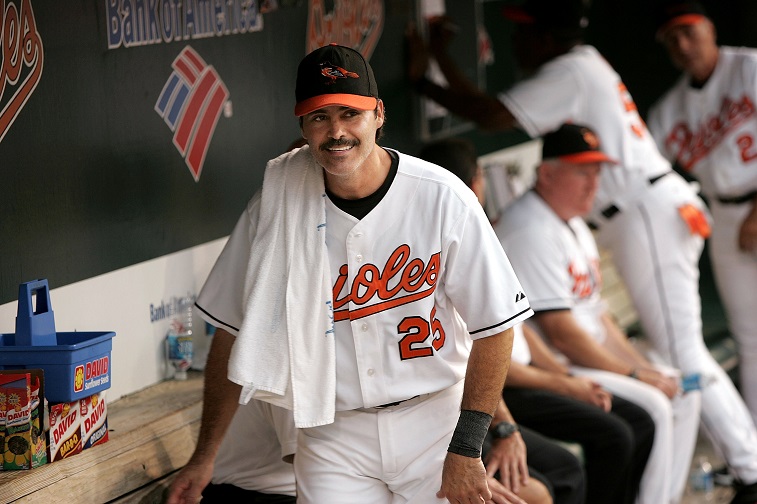 5. Rafael Palmelro
In 2005, under oath, a defiant Rafael Palmeiro punched at the air in front of Congress and declared, "I have never used steroids, period. I don't know how to say it any more clearly than that. Never." Later that year, however, Palmeiro tested positive for steroids and was suspended for ten days, after losing his appeal. He immediately backtracked – to claim that he had never intentionally taken steroids, and also implicated teammate Michael Tejada for passing on tainted Vitamin B12 supplements.
The Baltimore Orioles organization ultimately put two and two together, and immediately cancelled a planned ceremony to honor Palmeiro for racking up more than 3,000 hits and 500 home runs. To date, only Rafael Palmeiro, Hank Aaron, Willie Mays, Eddie Murray, and Alexander Rodriguez are members of this exclusive 3,000 / 500 club, all-time greats that can hit for both contact and power. Palmeiro, after the age of 30, bashed more than 38 homers and 100 RBI for nine consecutive seasons between 1995 and 2003.
In 2014, Palmeiro was unceremoniously dropped from the Hall-of-Fame ballot, after any real support for his career achievements had collapsed. By then, his career and stat line was often compared against arch nemesis and former college teammate Will Clark. At 30, Clark's body began to break down, while at the same time, Rafael Palmeiro inexplicably emerged as one of the more feared power hitters in all of baseball. A curious mystery that was not so curious at all.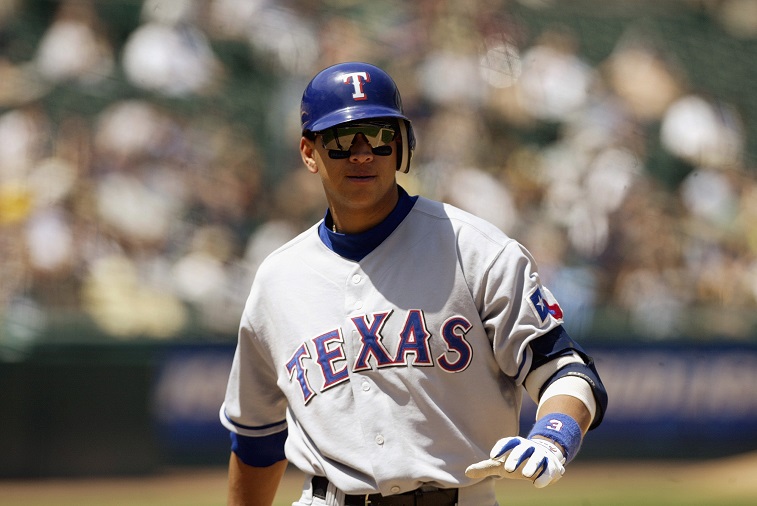 4. Alex Rodriguez
At 39, A-Rod still has a bit of time left to rehabilitate his image into that of a wily veteran. Rodriguez's redemption tour, of course, would be made all the more complete with one last deep postseason run for the New York Yankees, and he's helping them as best he can: he is currently batting .277 and has already belted in 13 home runs and 35 RBI through the first 63 games of this season. For his career, Rodriguez has racked up 3,000 hits, 667 home runs, and 2004 RBI. Only Hank Aaron has surpassed this type of production at the plate.
A power hitter, Alexander Rodriguez led the American League in home runs five separate times, between 2001 and 2007. During this stretch, A-Rod jacked 57 homeruns and 142 RBI in 2002. At the time, Rodriguez appeared to have avoided any real fall out from the steroid era. If anything, the term "A-Fraud" was more so in reference to his massive ten-year, $275 million contract, postseason failures, and cantankerous personality, which all stood in stark contrast to Golden Boy Derek Jeter.
In 2013, MLB did slam Alex Rodriguez with a 211-game suspension, after accusing the slugger of taking prohibited PEDs and obstructing justice over the course of several years. Rodriguez, however, adamantly denied any wrongdoing, appealed the suspension, and played out the rest of the 2013 season. Later that year, an arbitrator shortened the suspension to 162 games, which effectively banned Alexander Rodriguez from baseball for 2014.
The Drug Enforcement Agency, however, granted Rodriguez immunity from prosecution, in exchange for his cooperation and dishing the sordid details of his ties to the Biogenesis clinic in South Florida included fake doctors, drug deliveries, bribes, wiretaps, and a laundry list of shady characters looking to get paid. In sworn testimony, Alexander Rodriguez admitted to taking steroids as early as 2001. In retrospect, Biogenesis was the most infamous scandal in baseball, since the Chicago White Sox threw the 1919 World Series.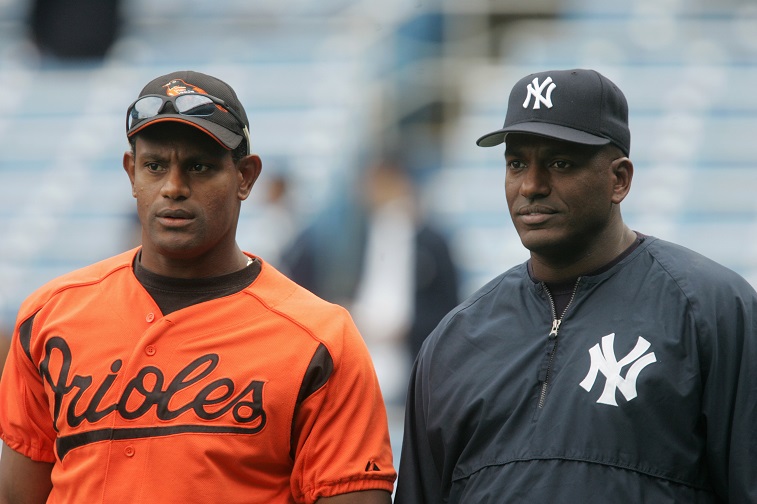 3. Sammy Sosa
In 2005 Sammy Sosa sat in front of Congress and pretended that he was unable to speak English. Sosa, then at the tail end of his career, had already worn out his welcome in Chicago, after breaking illegally corked bats, barking orders at teammates, blaring his boombox in the clubhouse, and simply taking off to go home from Wrigley Field, right in the middle of live games. By 2008, the phone had stopped ringing and Sammy Sosa was out of baseball.
As a young athlete, Sosa never hit more than 15 home runs, between 1989 and 1992. In 1997, Sosa went yard 36 times, and closed out a solid run where he belted 170 home runs in five seasons. This production set the stage for 1998, when Sammy Sosa and Mark McGwire put together their magical run. That season, every Sosa and McGwire was an event, as the two sluggers chased history and themselves, with 66 and 70 home runs, respectively. By September, both players had surpassed Roger Maris and his 61 home runs, a formerly unbreakable record that had stood since 1961.
After 1998, Sammy Sosa went on to bash 63, 50, 64, 49, and 40 home runs, with each successive season. In 2001, Sosa battered opposing pitching staffs with .328 batting, .737 slugging, 64 home runs, 160 RBI, 146 runs, and 425 total bases, in one of the more prolific offensive outbursts of all time.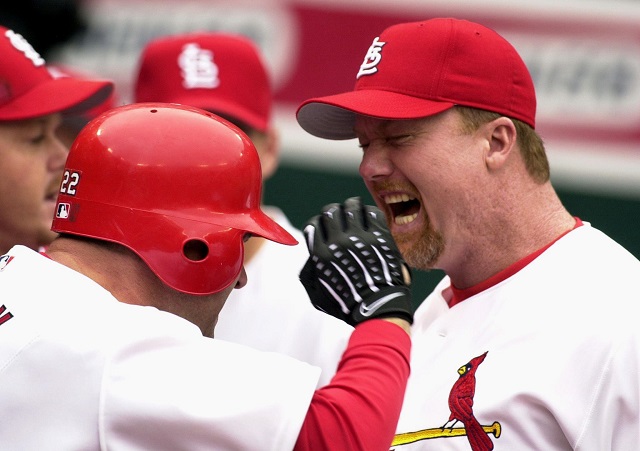 2. Mark McGwire
Not maIn Oakland, a young Mark McGwire and Jose Canseco formed the Bash Brothers (take note, Steph Curry and Klay Thompson). The A's won the 1989 World Series, and the Bash Brothers launched 617 home runs and 1,734 RBI through nine seasons together. As young sluggers, Canseco (1986 ROY) and McGwire (1987 ROY) each took home rookie of the year honors in back-to-back seasons, belting out 33 and 49 home runs, respectively. At home plate, Canseco and McGwire would meet to bash their forearms together after every towering shot hit into the stands.
In 1997, the Athletics dealt Mark McGwire to the St. Louis Cardinals in exchange for three pitching prospects. The following season, in 1998, Big Mac went deep 70 times, smashing Roger Maris's home run record. That year, McGwire led the majors in home runs, walks, slugging, and on-base percentage. The 1998 home run derby came amid a four-year stretch when Big Mac hit 245 out of his career 583 home runs. Images featuring Sammy Sosa and Mark McGwire hamming things up were largely credited for saving baseball, after the disastrous 1994 strike.
The ghost of Jose Canseco, quickly reemerged to haunt Mark McGwire and his legacy. Washington Post columnist Thomas Boswell had accused Canseco of taking steroids as early as 1988. Twelve years later, in 2005, Jose Canseco rocked the sporting world, in his tell-all book, Juiced. The book specifically implicated Mark McGwire, Rafael Palmeiro, Ivan Rodriguez, and Jason Giambi as, well, juicers. Apparently, Canseco and McGwire were squeezing themselves into bathroom stalls and injecting steroids.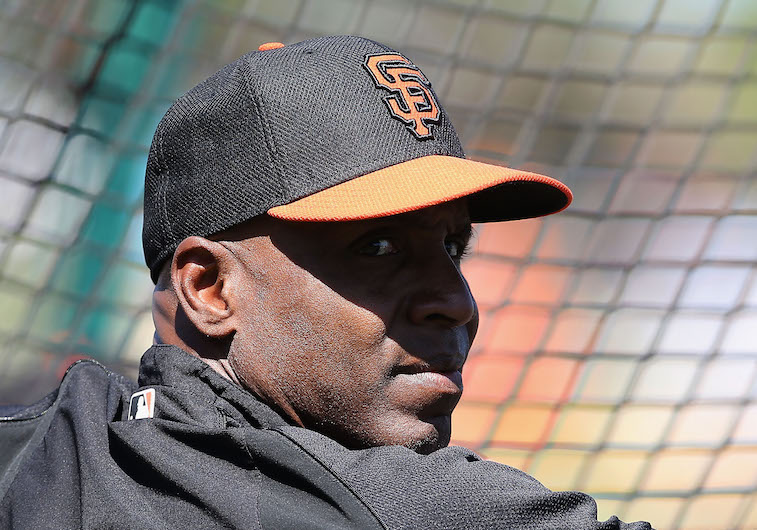 1. Barry Bonds
No one popularized the terms "the cream," " the clear," and "BALCO" more than Barry Bonds. As a young athlete, Bonds was a spry, five-tool left fielder in Pittsburgh, who hit for power, ran the bases, flashed the leather, and used his cannon arm to gun runners out at home. Bonds, at 25, won his first NL MVP award, after batting .301 and slugging .565 – to hit 33 home runs and 114 RBI. The then fleet-of-foot Bonds also stole 52 bases manufacturing even more runs that season.
In 1993, Barry Bonds began the second act of his career in San Francisco, after the small market Pirates simply could not afford his services. For the Giants, the gargantuan Bonds quickly emerged as the most feared batter of all time. In 1998, Buck Showalter and the Arizona Diamondbacks went so far as to call for an intentional walk on Bonds, with the bases loaded. For 2004, Bonds, at 39, drew 232 bases on balls, of which 120 were intentional walks. In all, Barry Bonds drew an unprecedented 2,558 walks and 688 intentional walks for his career.
At the height of his powers, Barry Bonds was capable of driving pitches anywhere near the strike zone over the right field wall and into the McCovey Cove water. In 2002, Bonds smashed a three-run jack high into the right field upper deck at Yankee Stadium. Even the most cynical of New Yorkers got up out of their seats to give Bonds a round of applause as he rounded the bases and admired the shot.
In 2001, Barry Bonds surpassed McGwire's total, to set a new record with 73 home runs. The next season, Bonds actually won his first of two batting titles, in hitting .370 at the clean-up spot. For his career, Barry Bonds hit .298 and bashed 762 home runs and 1,996 RBI. Barry Bonds, despite these unfathomable numbers, may forever remain on the outside looking in at Cooperstown.