MLB: The 5 Greatest Throwback Jerseys of All Time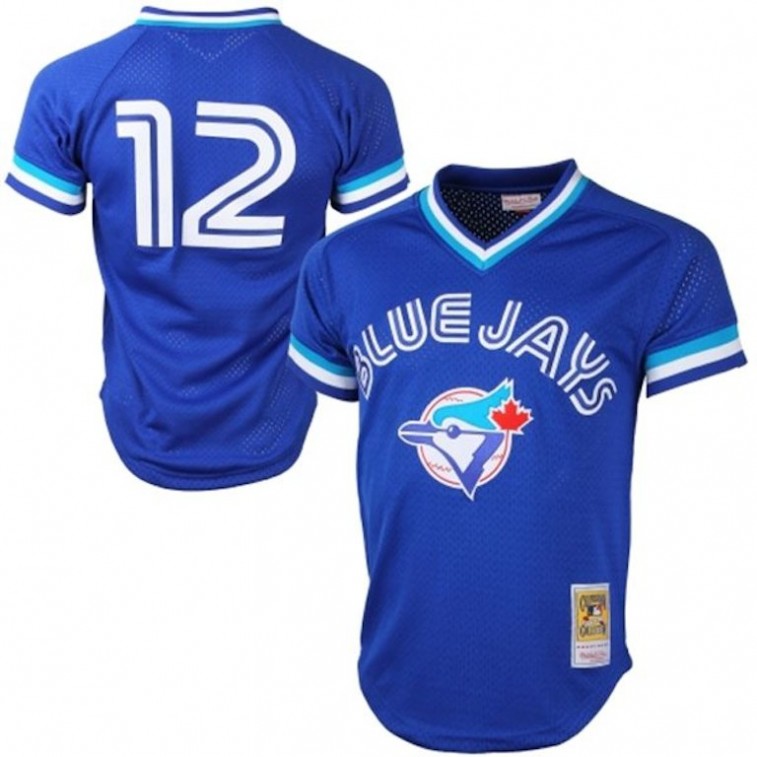 The sport of baseball isn't for everyone. It's not on the same physical level as football. It's not as action-packed as hockey. It's not as fast-paced as basketball. It truly is an acquired taste; some have it and some don't. But if you can manage to get into baseball, you'll come to realize that the beauty in the sport lays with its tradition and rich history. And if you take the time to enjoy it, it's truly undeniable.
There's a reason people refer to baseball as "America's Favorite Pastime." It's because when you attend a Major League Baseball game, you're not just going to a sporting event; you're having an experience. The energy, the atmosphere, the flow, it's all different around the baseball diamond. And in a way, that's what makes the game so special. Well, that and the unique jerseys.
The framework of baseball is still the same as it's always been, but with the changing of the times, things are still constantly evolving. The players are bigger, the salaries are greater, the ticket prices are higher, and the gear is way more modern. Sure there are examples of teams that look fresher because of an updated wardrobe, but that's not alwas the case. Some teams benefitted from an old school style. Some teams should revert back to the glory days of uniforms past.
The greatest part about ever-changing uniforms, is that we have something else we can debate. Therefore, this is as good a time as any to get the discussion started. With that in mind, here's a look at what we believe represent the five best MLB throwback jerseys of all time.
1. St. Louis Cardinals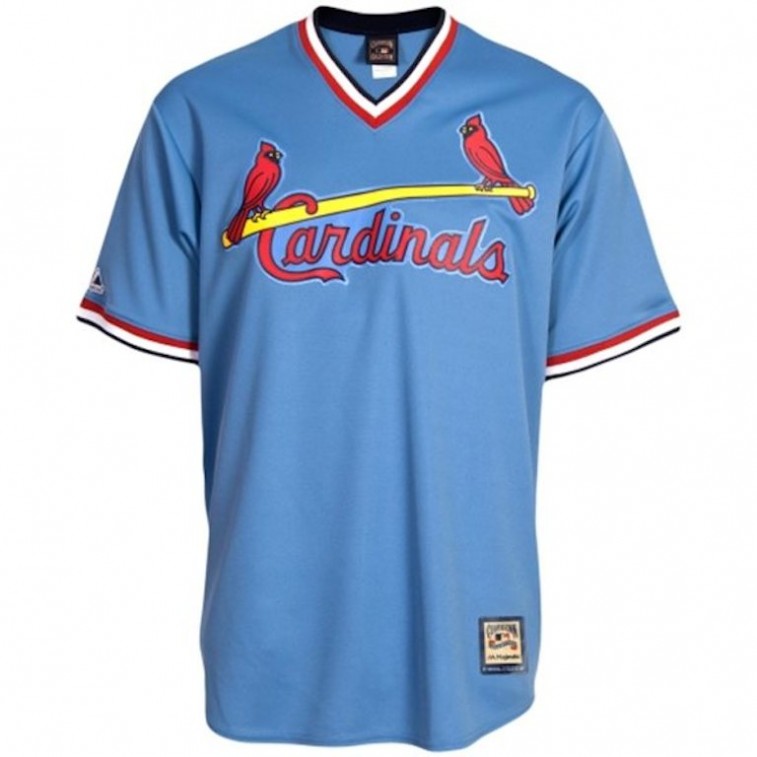 There's no point in discussing Major League Baseball throwback jerseys if you plan on playing it safe. Therefore, we figured we'd start this list off with a bit of a bang. Some may find these St. Louis Cardinals tops a bit of an eyesore, but we think they're pretty slick. The Cards wore the powder blue jerseys on the road from 1973-1984 and we have to believe they did nothing but grab the opposition's attention. We love the dual birds perched on the yellow bat, the beautiful cursive calligraphy of the "Cardinals" across the chest, and the three different toned stripes — navy, white, and red — along the sleeves and necklines. If we got to wear these jerseys, you better believe we'd be doing backflips like "The Wizard of Oz."
2. Philadelphia Phillies
We're not attempting to be biased by selecting this old school Philadelphia Phillies jersey, we're just simply stating a fact: This top is sweet. We wish Philly's baseball team would revert back to the maroon color the organization sported from the '70s to the early '90s. It's a simple look, yet it's sharp and effective. It's a white jersey, with maroon pinstripes, and a big, bold "P." No need to get to get too flashy — sometimes being overly bold can get you into trouble (no matter the sport). The way we see it, the current Phillies are so bad on the field, they might as well do something that will make them a winner in the eyes of the baseball community; like start wearing these jerseys again.
3. Oakland Athletics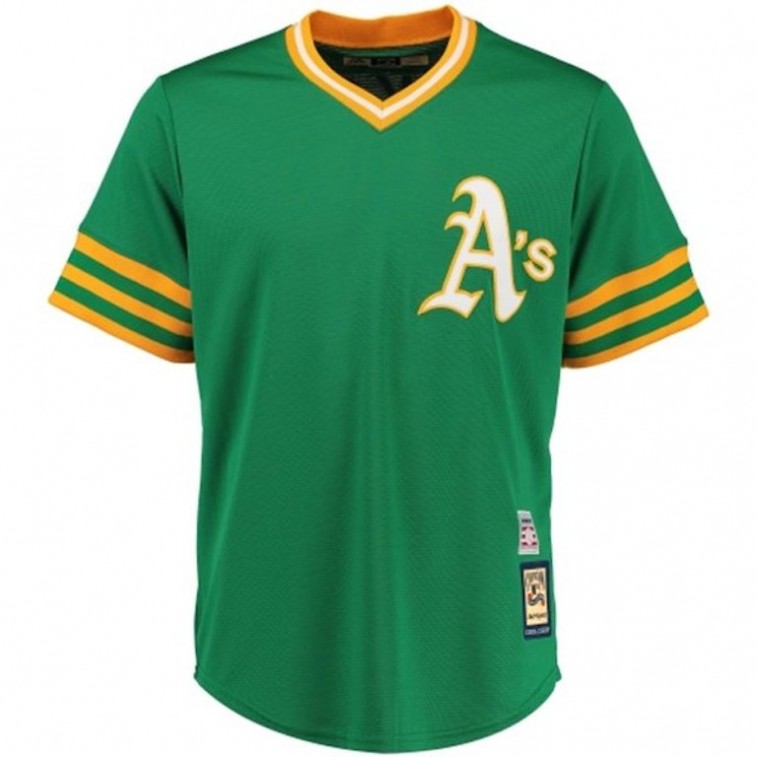 We would understand if this shade of green was too bright for some people. However, if it was good enough for Reggie Jackson, it's good enough for us. With this Oakland Athletics top, we have another example of simplicity at its finest. The A's wore this jersey on the road from 1973-1982 and had to be one of the most fashion-forward teams in the Major Leagues. The white "A's" looks beautiful and really stands out on account of the yellow outline. We think the stripes along the sleeves truly pop off the all-green jersey. Plus, let's be real, the yellow and white neck trim is just majorly cool. If we had a mic, this would be the perfect moment to drop it.
4. Chicago White Sox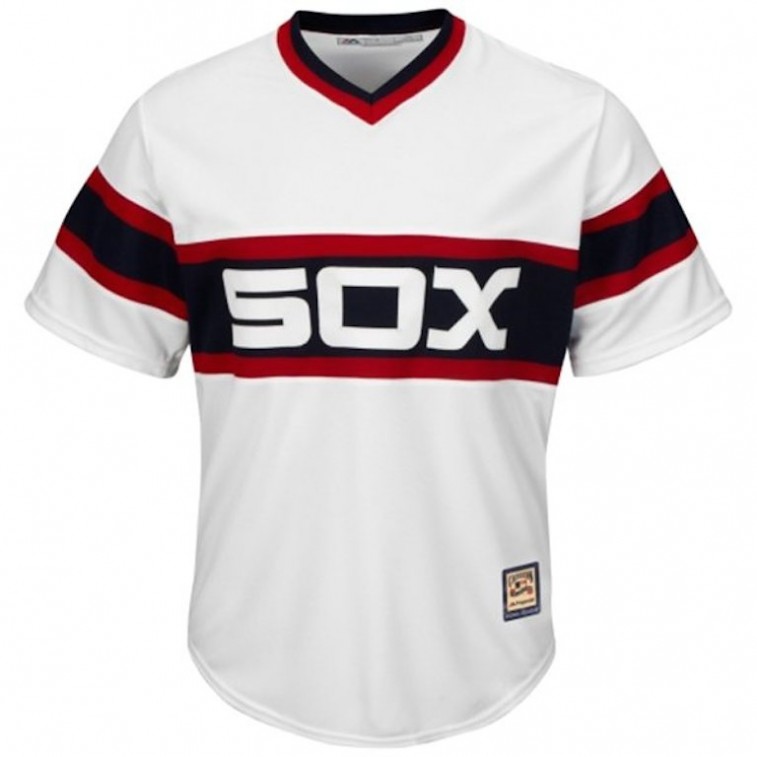 Is it obvious yet how we feeling about pullover jerseys?
From 1982-1986, the Chicago White Sox wore this top every time they stepped out onto their home turf. The bold "SOX" across the chest is both simple and strong all once. The red and blue striping is thick and definitive and screams "old school." But the real reason we chose this jersey, is because it manages to draws us in and take us back to an earlier time. Obviously that's what retro tops are supposed to do, but this somehow feels different. And if you take a look at the history of this organization's vintage looks, we have a feeling you'll get what we're talking about.
5. Houston Astros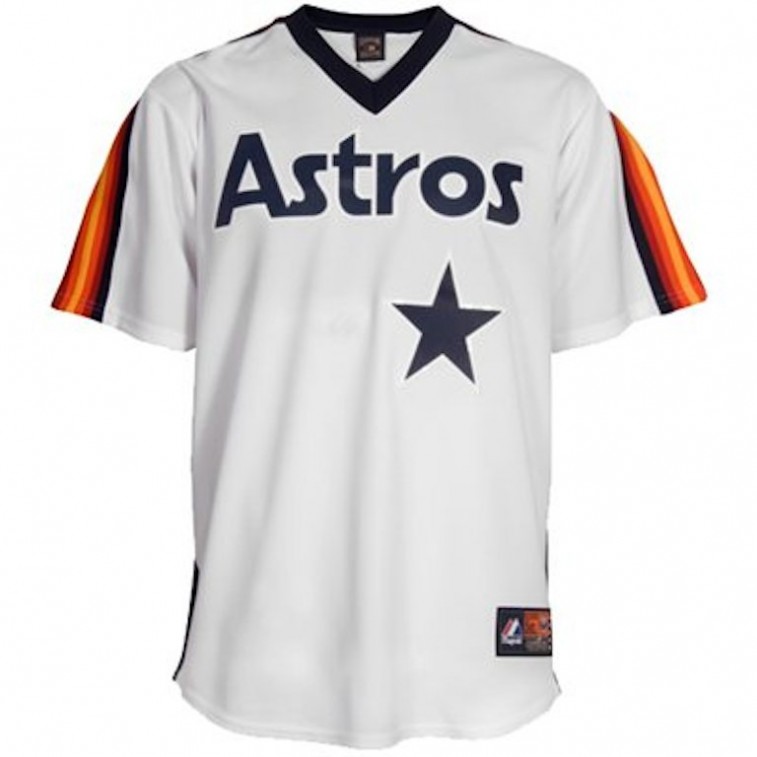 The Houston Astros are proving to be one of the biggest surprises of the 2015 MLB season. They're young, they're hungry, and they have what it takes to capture a World Series title. But more importantly, this franchise has a phenomenal throwback look. While there was a period when the Astros used the rainbow of colors in a more dominant manner, we love how this pullover jersey from the late '80s and early '90s has it limited to just the sleeves. With a subdued blue "Astros" across the chest and a colored-in star underneath it, this vintage top isn't overly showy, but it's also far from boring. This jersey may be from the past, however, it could certainly work in any era. The Houston Astros knocked it out of the park with this one.
All information is courtesy of SportsLogos.net.
To take a look at more awesome MLB throwback jerseys — courtesy of Fanatics — click here.