What Were the Most Iconic Moments of David Ortiz's Career?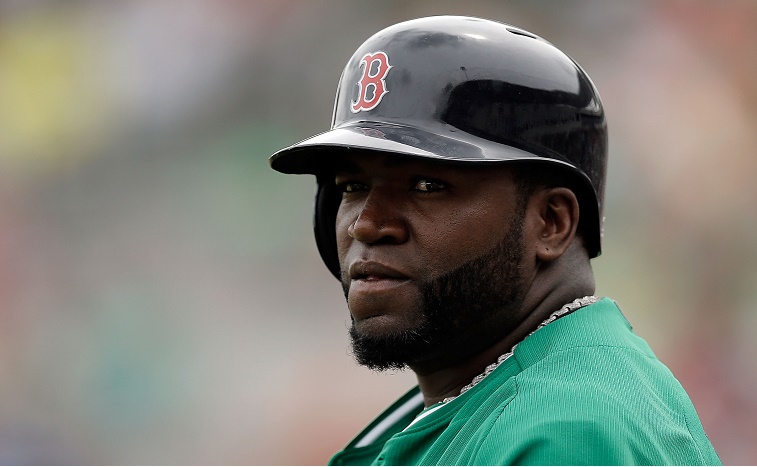 When talking about the best hitter in Boston Red Sox history, the conversation usually begins and ends with Ted Williams. Carl Yastrzemski typically gets plenty of love, too, and was certainly a fan-favorite during his lengthy BoSox career. Without a doubt, the man of the millennium and easily a guy who has to be in the discussion of the most clutch batter in MLB history is designated hitter David Ortiz.
Big Papi just saw an ignoble end to his 20th and final season of baseball as the Red Sox were swept by the Indians, and the curtain call on his the 14th season of calling Fenway Park his second home. No. 34's legacy is signed, sealed, and delivered, thanks to his bubbly personality, consistent power production since 2003, and, of course, his legendary postseason heroics. Without further ado, we now take a look at the five most iconic moments of Ortiz' career, listed in chronological order.
1. 2004 ALCS walk-offs
Ortiz is arguably the biggest New York Yankees killer in the franchise's long and storied history — and it all got started in October 2004. Although Big Papi certainly made his presence in Boston known during his breakout 2003 campaign, he formally introduced himself to the rest of the league the following season, particularly during the magical 2004 ALCS with the Yanks. We all know the story.
New York takes the first two contests at home and blows out their rivals 19-8 in Game 3 in Boston. With their backs against the wall and down to their last few outs against the greatest closer who ever lived (Mariano Rivera), Kevin Millar drew a walk, Dave Roberts pinch-ran and stole second, and Bill Mueller drove him in with a single to center. Then in the bottom of the 12th inning, Ortiz continued his playoff heroics, blasting a two-run walk-off home run to keep the faith alive. About 24 hours later, the big Dominican would be at it again:
2. Setting the franchise single-season HR record
2006 was somewhat of a lost season for the Red Sox. In fact, from 2004 through 2009, this was the only year in which Boston did not qualify for the playoffs. Since he did not have any extra opportunities for postseason magic in October, Ortiz made sure to make every at-bat in 2006 count, as he knocked 54, shattering Jimmie Foxx's previous franchise single-season home run record of 50.
In what was arguably Big Papi's finest regular-season output, he finished with a league-leading 137 runs batted in, 119 walks, and 355 total bases too, with a monster slash line of .287/.413/.636/1.049. With the team's tough campaign nearing a close on September 20, the main focus was on Ortiz's chase for Foxx's record. That night he took Minnesota Twins righty Boof Bonser deep to tie the mark. The next night against perhaps the best pitcher in baseball at the time, Johan Santana, Ortiz blasted the record-breaker, only further solidifying his place in Boston lore.
3. "This is our f***king city."
It is no big secret that Ortiz is not a Boston native, nor was he even born in the United States. After the Sox took a chance on the slugger nearly 13 years ago — picking him up off of waivers after he was dropped by the Twins — the city instantly became a part of his life. Over the past decade-plus, through a mutual admiration and respect, Beantown has earned a special place in the 40-year-old's heart.
At no other time was Papi's impact on the city felt more than in 2013. After the tragic Boston Marathon bombings and intense manhunt that took place in mid-April, the team finally returned home for their first game at Fenway Park since the attacks on April 20. Just as memorable as Daniel Nava's go-ahead homer late in the game that afternoon was Ortiz's brief yet stirring speech to the fans during the pregame ceremonies. "This is our f***king city," Ortiz said. "Ain't nobody going to dictate our freedom. Stay strong!" Just six months later, the lefty would let his bat do the talking in a big way.
4. 2013 ALCS grand slam
If you knew anything about this franchise and their comebacks in the postseason — in particular the ALCS — since 2004, and anything at all about the guy at the dish, you had to have seen this coming. The 2004 season saw the unprecedented three games to zero comeback against the rival Yankees; 2007 featured a seven-game classic league championship series victory over the Cleveland Indians after trailing three games to one; and then there was this.
After nearly being no-hit in a Game 1 defeat at home, the Sox were four outs away from dropping a pair before heading to Detroit. Big Papi came up with the bases loaded in the eighth against Tigers reliever Joaquin Benoit and his team trailing by four. Need anything else?
5. Joining the 500-home run club
The 2015 season was another tough one for the Red Sox, as they finished in last place for the second straight year and third time in the last four tries. On September 12, against the Tampa Bay Rays though, Big Papi etched his name in the record books yet again, knocking his 500th career regular-season home run and becoming the 27th member of the exclusive club. It is just another token in the icon's long list of achievements — ones that may put him in the National Baseball Hall of Fame some day.
When analyzing the list of 500-home-run club members, it's easy to forget that Ortiz surpassed some true legends in his final go-around: guys like Ernie Banks (512), Frank Thomas (521), the Splendid Splinter himself (521) Foxx (534) and even Mickey Mantle (536) on the all-time list. Based on what he has done in his career up to this point, we would bet that Ortiz would take a few October walk-offs over some summer knocks any day. As his swan song is soon to end, it is as simple as this; there will never be another David Ortiz.
Follow Victor on Twitter @vbarbosa1127
Statistics and video courtesy of Baseball-Reference and YouTube.