MLB: The Chicago Cubs' 5 Biggest Weaknesses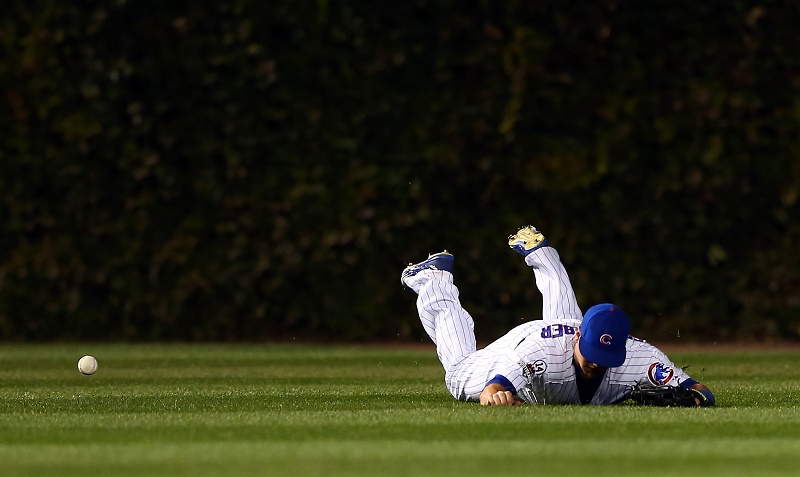 If you think the Chicago Cubs should start planning a victory parade, we have a few Washington Nationals World Series rings we'd like to sell you. Recent MLB preseason favorites have a terrible track record when it comes to converting esteem into titles. Unfortunately for the clubs involved, league officials refuse to accept projected run totals or Vegas odds as proof of victory, and it's been the undoing of baseball insiders and experts everywhere.
In 2016, the hype has taken Chi-Town by storm. By the account of prognosticators great and minor, the Cubs will waltz into the Fall Classic with the additions made to its impressive roster this offseason. Yet there are so many ways this formula can break down. Besides great health, there will have to be plenty of luck on the North Siders' side to end up as champions. Here are the Cubs' five biggest weaknesses to overcome.
1. Outfield defense
You don't need a degree in defensive metrics to see how bad the Cubs outfield was in last year's NLCS. Kyle Schwarber and Jorge Soler misplayed enough balls to send terror into visions of the future, and that future starts right now — with the two of them at the corners. The Jason Heyward signing appeared to settle this problem for the near term, but that came with the assumption that Chicago's front office would fill the hole in center vacated by Dexter Fowler [Update 3/22/2018: Fowler did, in fact, return to Chicago instead of joining the Baltimore Orioles].
With pitchers and catchers already reporting, no move has come, leaving the Cubs with below-average defenders at the corners. Just ask the Red Sox if you can cover a poor fielder at one outfield position (i.e. HanRam in left) with superior players as his neighbors. Both Soler and Schwarber are capable of improving, but expect awkward play and potentially costly runs coming on their watch.
2. Rotation depth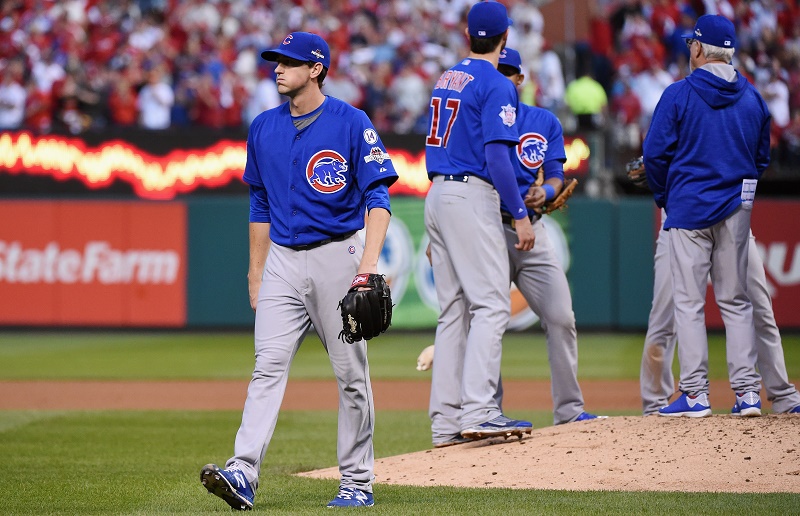 How could a rotation fronted by the reigning Cy Young Award winner and Jon Lester be weak in the slightest? If Arrieta repeats his historic season, Lester maintains his pace, and John Lackey delivers another career year at age 37, then the Cubs will have a dangerous top three. Getting all these would be a tall order, beginning with the performance by Arrieta.
After that group, Chicago will run out Kyle Henricks (8-7, 3.95 ERA in 2015) and Jason Hammel (69-77, 4.49 ERA in career) with Adam Warren as a swingman. In other words, any injury to Arrieta or Lester and the Cubs are left with a mediocre rotation. Management could have made a bigger splash on the free agent market in this department but decided to convert Heyward to a full-time center fielder instead.
3. High-strikeout bats
Much has been made of the Cubs' familiarity with the K. In 2015, the lineup produced 1,518 SO, some 126 more than the second-place Astros. The Cubs didn't exactly maul the competition with power to compensate for the whiffs. They were 12th in HR, 15th in runs, and 19th in slugging. The front office addressed the issue by adding two contact hitters (Heyward and Ben Zobrist), but strikeout pitchers will continue having their way with the power bats. By contrast, the Royals club that went all the way in 2015 led MLB with the fewest strikeouts (973).
4. Clutch hitting
Along with a weakness for the strikeout, Chicago hitters don't deliver much in the clutch either. As a team, they were 28th in MLB with a .236 average, with runners in scoring position (RISP) and one strikeout every 3.25 at-bats. The heavy K rate and average (.248) improved slightly in high-leverage situations, where Cubs hitters ranked 20th last season. Maybe the new bats in the lineup help even the score, but the club's hitters were overmatched last season when runs were sitting on base. Toronto (.286) and Kansas City (.282) paced MLB last season with RISP.
5. The division they play in
Give the Cubs home-field advantage in the NLDS and they will be tough for whoever rolls into town. However, put Chicago in a do-or-die Wild Card game and the path to the brass ring gets a lot tougher. The situation worked fine in 2015 because Arrieta was coming off the best second half ever. You only get the best … well, let's just assume it doesn't happen in back-to-back years.
As many can't-miss teams have learned, it only takes one lockdown ace performance to end your season. Should another big season by the Cardinals put St. Louis on top of the NL Central again, Chicago will find itself in the awkward position of defending its season in a winner-take-all playoff. Division competition plays a disproportionate factor in how the MLB playoffs shake out these days, and the Cubs could be on the short end of it this time around.
Connect with Eric on Twitter @EricSchaalNY
Statistics courtesy of Baseball-Reference.com and FanGraphs.