MLB
MLB: The Statistical Argument Against Adrian Gonzalez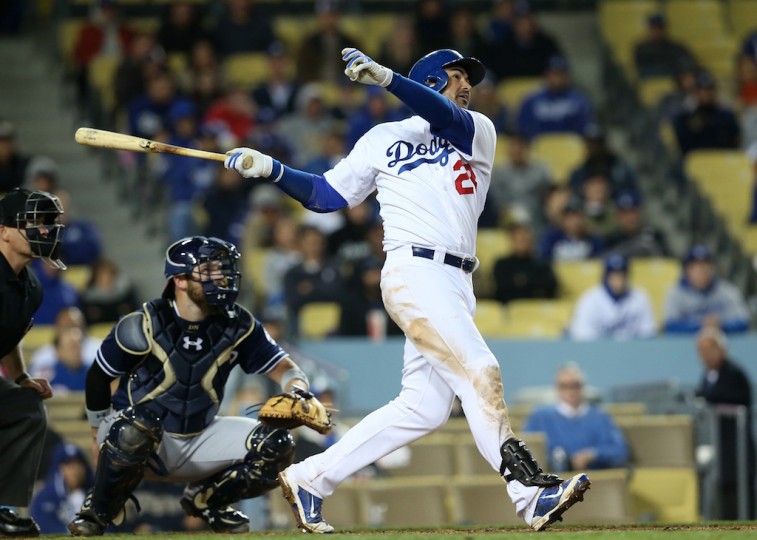 If Los Angeles Dodgers first baseman Adrian Gonzalez continues to smack baseballs over the outfield wall at his current rate, he could potentially hit 270 home runs this season. We're not kidding. That's what he's on pace for in 2015.
Gonzalez has homered in each of the Dodgers's games to start the MLB season, including jacking three in Wednesday night's 7-4 victory over the San Diego Padres. That gives him a total of five home runs in the first three games of the season — a major league record, according to Elias Sports.
After the first three-home run game of his career, Gonzalez was pretty humble about the whole thing. "I was able to run into three fastballs and I thank God they were able to go over the fence. It's definitely right up there as a personal feat," he said. Dodgers manager Don Mattingly was a bit more spirited when he spoke about his first baseman's performance. Said Mattingly, "He wasn't bad today, huh? When you get hot you're just feeling good. You want to ride that streak as long as you can as far as hitting the ball hard."
Mattingly is spot on in his assessment. What Gonzalez has done to start the season is pretty remarkable. He's in a major zone right now. He appears to be locked in at the plate, and there's nothing scarier for an opposing pitcher than a batter who's feeling it. Gonzalez needs to take full advantage of his current streak while he still can. There's no way he can stay this hot forever.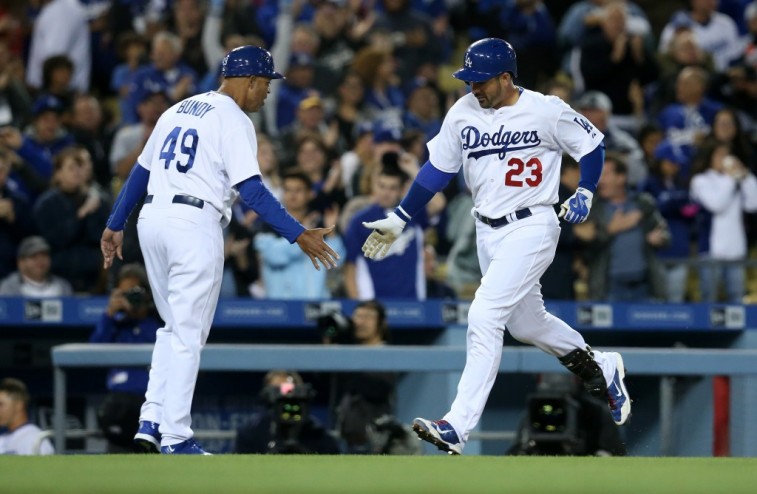 It's pretty safe to assume that Gonzalez will not hit 270 home runs this season. In his 12 years in the big leagues, the most homers Gonzalez has hit in a single season is 40. But that happened back in 2009. Last season he hit 27 and in 2013, Gonzalez went yard 22 times. It'd be great to see him continue to blast the ball out of the yard, but we're not holding our breath. If anything, the Dodger has a chance to make some noise in the RBI category. He is currently tied for the league-lead with 7 RBIs, and in 2014 he led the NL with 116. This will be interesting to follow as the season progresses, but it's unlikely that Gonzalez can continue to dominate the other offensive categories.
Three games into the 2015 season and Gonzalez is the leader in almost every offensive category in the National League. Aside from home runs and RBIs, Gonzalez is batting .769 with an on-base percentage of .769 as well. His slugging percentage is a ridiculous 2.077, with the next closest at 1.100. He leads the NL in runs scored, runs created, extra base hits, and times on base. Right now there is not a more exciting player in baseball than the 32-year-old playing first base for the Los Angeles Dodgers. But these statistics are simply too good to maintain. Still, it doesn't mean that things aren't exciting for baseball fans in Hollywood.
If you find yourself right now with the opportunity to check out a Dodgers game, we highly suggest to take full advantage. History is currently being made in Los Angeles, and there are few things more exciting than being a part of a hot streak. This is where Adrian Gonzalez finds himself at the moment. He is seeing the ball better than anyone else in the game, and he's making every pitch count. Everyone should enjoy it while they still can. There's no way it can possibly last.
All statistics are courtesy of Baseball-Reference.com and ESPN.go.com.