MLB: The Top 5 Candidates for the 2016 American League MVP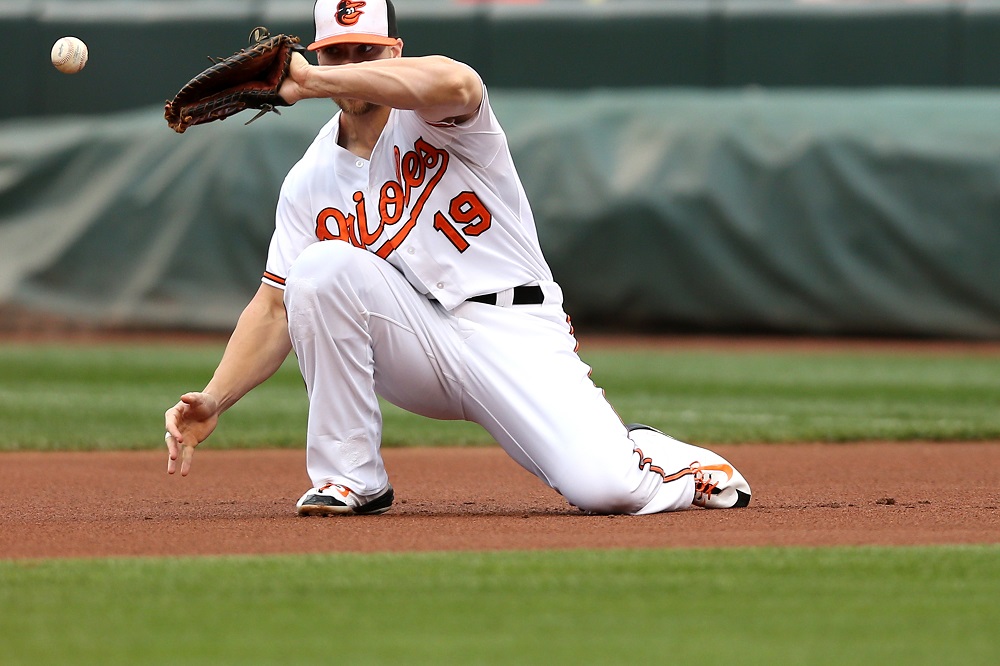 For the last three seasons, the American League has had three different winners of the MVP award, with each winner coming from a team that made the playoffs that season. In fact, the American League hasn't awarded an MVP to a player who wasn't on a playoff team since 1991 when Cal Ripken Jr. took home the award for his 67-95 Baltimore Orioles — excluding Frank Thomas and the 1994 strike-shortened White Sox, who were in first place.
That leads us perfectly into looking at the five players who are most likely to take home the award in 2016 — including why they might win and what would need to happen. So let's take a look at some of the players on the list, including a somewhat new entry to the discussion.
5. Chris Davis
Chris Davis just signed a seven-year, $161 million contract to return to the Baltimore Orioles. He and Manny Machado are the biggest stars of the team, which was an even 81-81 in 2015. If the Orioles want to be a contender this upcoming season, they couldn't afford to let their most productive offensive player get away.
Why he might win the MVP: Davis has crazy amounts of power, and he's led the American League in home runs twice in the last three years — hitting 53 in 2013 and 47 last year. Overall, Davis has a .256/.342/.533 slash line over the last four seasons in Baltimore.
What would need to happen: First, Davis would need to have another monster season to even be in the conversation for AL MVP. That means posting another year like he did in 2013, when he hit .286/.370/.634. He'll also need his Orioles to step up as a collective group and contend, as it's hard to see Davis prying an MVP award away from the rest of the list if Baltimore finishes around .500 — or worse — again.
4. Carlos Correa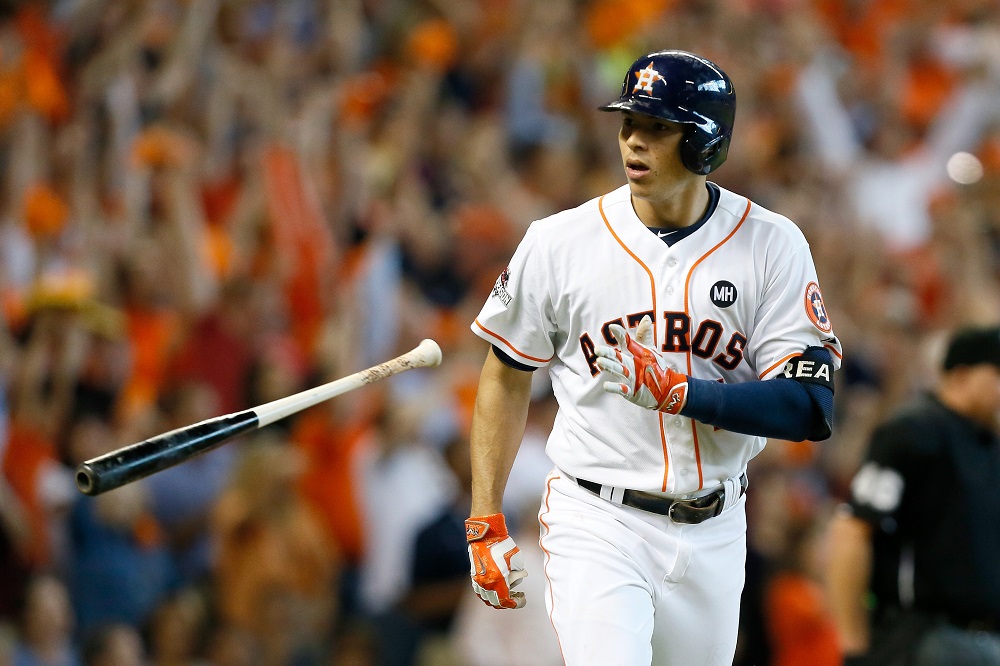 Carlos Correa is a 21-year-old shortstop who came up in the middle of the 2015 season. All he did last year was tear the cover off the ball, hitting .279/.345/.512 with 22 home runs in just 99 games played. Correa won the American League Rookie of the Year award and led the Houston Astros in a playoff run that ended in the ALDS against the Kansas City Royals.
Why he might win the MVP: Correa entered the 2015 season as one of the top-rated prospects in all of baseball. Drafted first overall by the Astros in 2012, Correa proves to be a special talent at one of the most important positions on the field. He posted 3.3 WAR last year, which is pretty impressive for a guy who didn't even appear until making his debut on June 8th.
What would need to happen: The Astros are the favorite to be the best team in the American League West division after winning 86 games last season. For Correa to get serious consideration for AL MVP among the other great names on the list, they will probably need to continue improving on that win total in 2016. Correa will need to establish himself clearly as the best player on the team and one of the best in the game overall.
3. Miguel Cabrera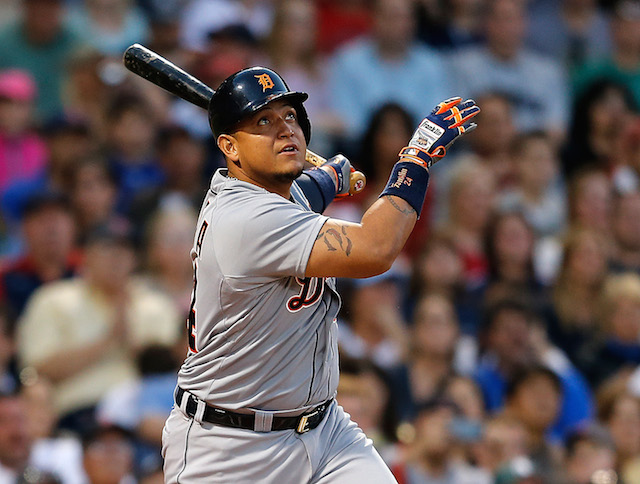 Miguel Cabrera saw his MVP credentials drop off in 2015 with the Detroit Tigers as he finished 74-88 and got into only 119 games due to injury. He still posted fantastic numbers, hitting .338/.440/.534 with 18 home runs, and at just 33 years old, he still looks primed to contend for an MVP again this year.
Why he might win the MVP: Cabrera will be a first-ballot Hall of Famer whenever he chooses to retire, with career averages of .321/.399/.562 with 408 home runs. He hasn't really shown any decline, either, so there isn't a ton to speak about here. A healthy Cabrera is quite possibly the best pure hitting in the game today.
What would need to happen: Health is the key, of course. Cabrera's injury and the Tigers' miserable season dropped him down to just number 11 in MVP voting in 2015 after finishing in the top 10 every season since 2008. The Tigers will need to contend in their division, which is wide open at this point, behind better health and new acquisitions such as starting pitcher Jordan Zimmermann and outfielder Justin Upton.
2. Mike Trout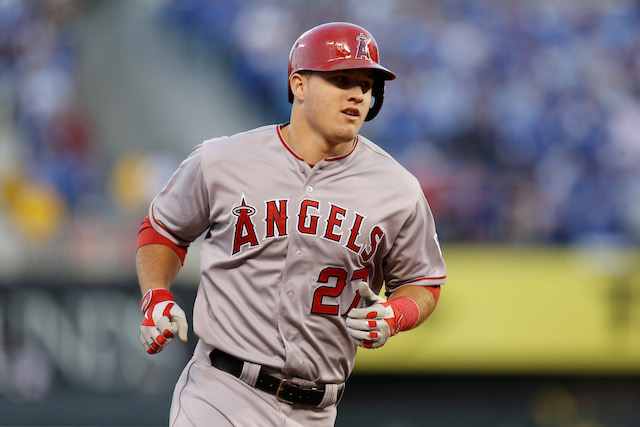 Mike Trout is a perennial MVP candidate, and for as long as he's been considered one of the top players in the game, it certainly feels like he's won more than just one AL MVP award. That's the case, however, as Trout pulled in his first MVP for the Los Angeles Angels in 2014 on the heels of a 36-home run, .287/.377/.561 campaign and 8.0 WAR.
Why he might win the MVP: Trout put up unprecedented numbers in his first four full seasons in the major leagues, hitting .308/.403/.568 with 134 home runs and a cumulative 38.5 WAR. Despite only having one AL MPV award, he finished second in the voting each of the other three years. There's no reason to believe that he'll slow down now; at just 24 years old, he's entering what is considered a batter's prime years.
What would need to happen: Trout is second on this list — and that's no accident. Assuming Trout puts up another jaw-dropping season, he will still likely finish no higher than second in the MVP voting. The Angels are a dumpster fire of a team, and with their thin starting rotation damaged by early injuries to Jered Weaver and C.J. Wilson, things are going to get worse before they get better. With tough teams such as the Astros and Texas Rangers in their division, a third-place finish for the Angels seems to be their ceiling in 2016 — no matter what kind of value Trout brings.
1. Josh Donaldson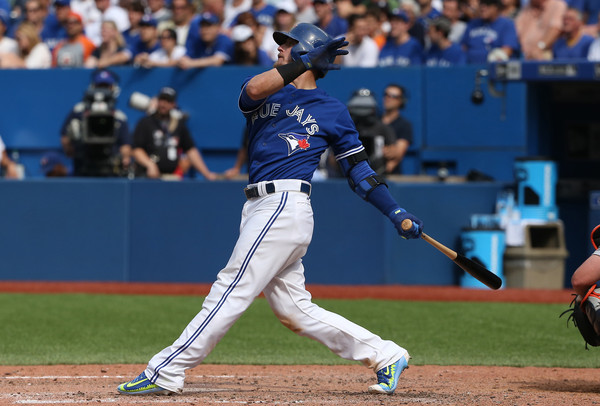 Josh Donaldson is the reigning AL MVP, and the odds look good for him to pull in another award. Donaldson was traded last offseason from the Oakland A's to the Toronto Blue Jays, where he took the leap from All-Star third baseman to budding superstar.
Why he might win the MVP: Donaldson had his first 40-40 season last year (doubles and home runs) and was the best offensive player on the best offensive team in baseball. He posted a .939 OPS and is just 30 years old heading into the 2016 season. The Blue Jays are set to have another strong offense, which could bode well for Donaldson's overall numbers.
What would need to happen: Much like the rest of the names on this list, other than his health and regular productivity, Donaldson needs his team to contend. It's not exactly fair that the MVP is so heavily predicated on this one issue, as team record is heavily related to team play, not just one player.
But in a year where Trout and Donaldson put up similar numbers — Trout had 9.0 WAR to Donaldson's 8.7 and both players finished with 41 home runs — Donaldson walked away with the award in large part due to the Blue Jays winning 93 games and the American League East while the Angels won just 85 games and missed the playoffs. With all things being relatively equal yet again, expect the great player on the best team to walk away with the American League MVP award.
Follow Ryan on Twitter @RyanDavisBP
Statistics courtesy of Fangraphs.com and Baseball-Reference.com.