MLB: The Top 5 Projected Corner Infields for 2016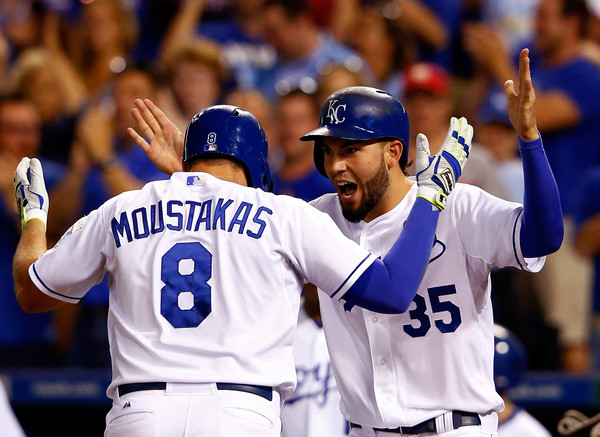 Those stuck in the Northeast are still seeing plenty of white stuff on the ground and experiencing temperatures below freezing, but those with the luxury of playing Major League Baseball for a living are enjoying the opening weeks of Spring Training in sunny Arizona and Florida. As we make our way around the diamond with our preseason projections for the upcoming season, we stop at two positions today: third base and first base.
In recent weeks, we broke down the top projected outfields and middle infields. The corner infield spots have long been home to some of the game's most legendary players. Lou Gehrig, Stan Musial, and Albert Pujols come to mind for first base, and Brooks Robinson, Mike Schmidt, and Chipper Jones jump out from the hot corner. Without further delay, here are the top five projected corner infields for 2016.
5. Los Angeles Dodgers (Justin Turner and Adrian Gonzalez)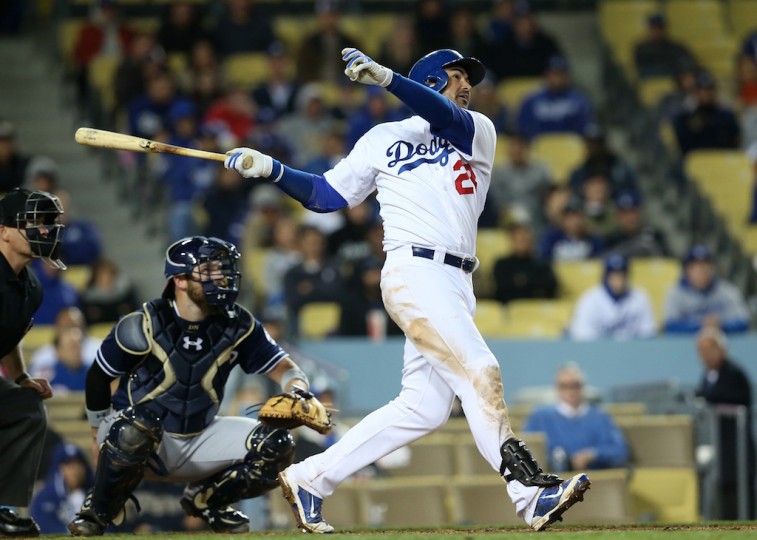 Justin Turner's 2015 regular season statistics: 55 R, 16 HR, 60 RBI, 5 SB, .294/.370/.491/.861, 11 errors, 3.9 WAR in 126 games played
Adrian Gonzalez's 2015 regular season statistics: 76 R, 28 HR, 90 RBI, 0 SB, .275/.350/.480/.830, 6 errors, 4.0 WAR in 156 games played
Los Angeles Dodgers first baseman Adrian Gonzalez was without a doubt the premier bat in the team's lineup during the 2015 campaign, but third baseman Justin Turner was easily the second-best. In just 126 games played, (fifth-most of all Dodgers position players), Turner ranked second behind Gonzalez in doubles (26), RBI (60), and wins above replacement (3.9) while pacing the team in on-base percentage (.370), slugging percentage (.491), and on-base plus slugging percentage (.861) among players with at least 350 at-bats.
Now let's see if he can stretch those numbers out over a full season. When you look at the Dodgers' batting leaders from 2015, the name Gonzalez is everywhere. Not only does the former San Diego Padre and Boston Red Sox player still have one of the prettiest swings in the game, but he is still producing big time. Sporting an even 4.0 WAR, Gonzalez stayed healthy to play in a team-high 156 games, knocking 28 home runs and picking up 90 RBI. His .275 batting average may have been a bit low for his standards, but you can't argue with the .350/.480/.830 slash line on the rest of the numbers.
4. Kansas City Royals (Mike Moustakas and Eric Hosmer)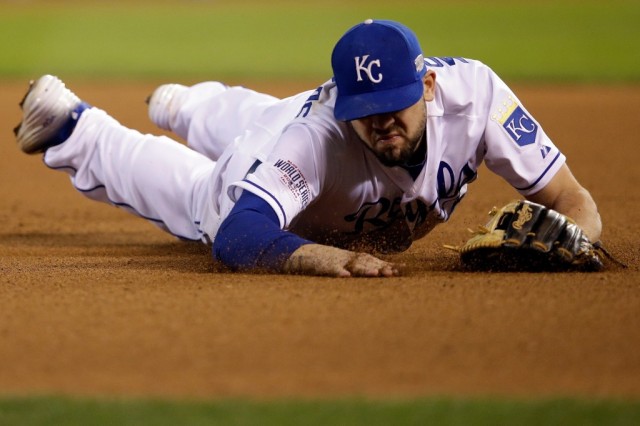 Mike Moustakas's 2015 regular season statistics: 73 R, 22 HR, 82 RBI, 1 SB, .284/.348/.470/.817, 12 errors, 4.4 WAR in 147 games played
Eric Hosmer's 2015 regular season statistics: 98 R, 18 HR, 93 RBI, 7 SB, .297/.363/.459/.822, 4 errors, 3.6 WAR in 158 games played
Not only do the Kansas City Royals' Mike Moustakas and Eric Hosmer kind of look like brothers, but they are both coming off fantastic breakout 2015 seasons. Moustakas, the third baseman, set career-highs in runs (73), hits (156), home runs (22), RBI (82), and walks (43). Moose also finished with his best figures in AVG (.284), OBP (.348), SLG (.470), and OPS (.817); made his first All-Star team; and produced a great 4.4 WAR.
Hosmer led the team in OBP (.363) and hits (178) — no easy feat when you've got Lorenzo Cain on your team. He also played in nearly every game, tying for the team lead with designated hitter Kendrys Morales at 158. Hosmer was just as impressive on the defensive side of things, as he earned his third consecutive Gold Glove award a season ago.
3. Baltimore Orioles (Manny Machado and Chris Davis)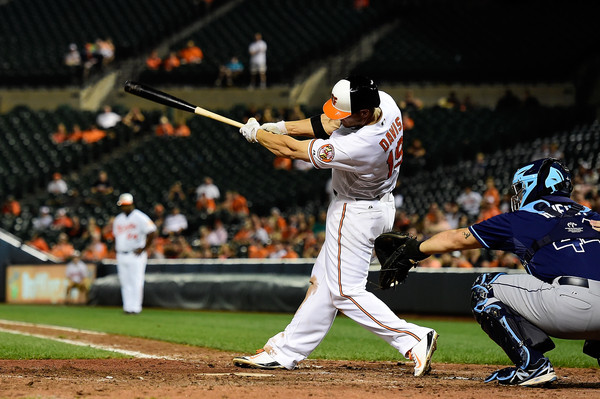 Manny Machado's 2015 regular season statistics: 102 R, 35 HR, 86 RBI, 20 SB, .286/.359/.502/.861, 21 errors, 7.1 WAR in 162 games played
Chris Davis's 2015 regular season statistics: 100 R, 47 HR, 117 RBI, 2 SB, .262/.361/.562/.923, 3 errors, 5.2 WAR in 160 games played
If we're looking at pure power alone, the Baltimore Orioles might have the best corner infield tandem in the MLB — or at least in the American League. Third baseman Manny Machado, a 2016 AL MVP sleeper candidate, is one of the more exciting, young players in the sport and had his best season by far in 2015. Despite a slightly alarming 21 errors made at the hot corner, you have to take into account that Machado played in every single one of the O's 162 games. Since he also had a nice 3.09 range factor, his defensive WAR from 2015 gets bumped up to a solid 1.9. When you add in his offensive talent, it just gets unfair.
We all know about the absurd power that first baseman Chris Davis possesses, but last season involved more than that for No. 19. Last year was about proving the doubters wrong and showing that he could still rake without PEDs (He was suspended at the end of the 2014 season). Crush not only led a powerful Baltimore lineup in homers with 47 a year ago, but also in doubles (31), RBI (117), total bases (322), walks (84), and OBP (.361). Sure, his new contract makes him one of the more overpaid guys in baseball, but he's still valuable to this team.
2. Chicago White Sox (Todd Frazier and Jose Abreu)
Todd Frazier's 2015 regular season statistics: 82 R, 35 HR, 89 RBI, 13 SB, .255/.309/.498/.806, 19 errors, 4.0 WAR in 157 games played
Jose Abreu's 2015 regular season statistics: 88 R, 30 HR, 101 RBI, 0 SB, .290/.347/.502/.850, 11 errors, 3.8 WAR in 154 games played
That's right, the Chicago White Sox actually make a rare appearance on one of our positional ranking posts. For what the Pale Hose may lack in their bullpen behind David Robertson and in their starting rotation behind Chris Sale, they will try to make up for it with their bats, particularly at third and first in 2016.
New acquisition Todd Frazier slides into the starting position at the hot corner and will try to prove that his great career offensive numbers so far have been primarily due to his talents and not from the help of the hitter-friendly Great American Ballpark in Cincinnati. If Frazier can produce anywhere near 35 home runs and 89 RBI during his first season with the White Sox, it'll be a pleasant change for fans wanting to see some offense.
First baseman Jose Abreu continues to impress and carry the South Siders' lineup in the early stages of his career, and he should be able to duplicate that in 2016. In 154 games played last year, Abreu led the team in hits (178), homers (30), RBI (101), total bases (308), and AVG (.290). The Cuban is 29 years old, so he is primed for a handful of big years as a part of this roster.
1. Chicago Cubs (Kris Bryant and Anthony Rizzo)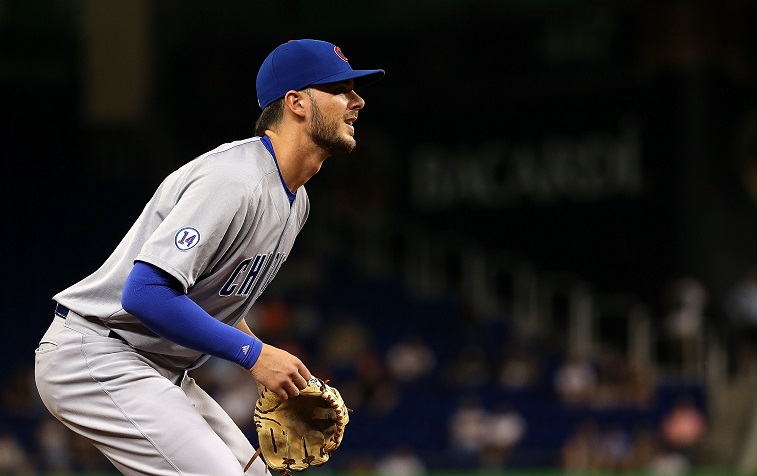 Kris Bryant's 2015 regular season statistics: 87 R, 26 HR, 99 RBI, 13 SB, .275/.369/.488/.858, 17 errors, 5.9 WAR in 151 games played
Anthony Rizzo's 2015 regular season statistics: 94 R, 31 HR, 101 RBI, 17 SB, .278/.387/.512/.899, 9 errors, 6.2 WAR in 160 games played
It seems like we mention the Chicago Cubs in every article previewing the 2016 MLB season. Like their strong projected outfield, starting rotation, and lineup, the Cubbies should have one of the elite corner infield duos as well in 2016. Third baseman Kris Bryant came exactly as advertised in 2015, blasting 26 homers and collecting 99 RBI in 151 contests — and those numbers should only get better if he plays a full season. The fact that he struck out in more than one-third of his at-bats in his rookie year hurts, but you'll surely take the good with the bad.
Anthony Rizzo combines with Bryant to form the runaway No. 1 on this countdown, as the hefty lefty can do it all on the diamond. He led the team in AVG (.278), homers (31), RBI (101), OBP (.387), and hits (163) among other categories last year and he may get better still. The 17 steals could be a fluke, but even if they are, Rizzo is an extremely well-rounded player. The Cubs rotation looks good on paper, their outfield could produce big time, and their corner infielders have the potential to be downright scary.
Follow Victor on Twitter @vbarbosa1127
Statistics courtesy of MLB.com, Baseball-Reference.com, and ESPN.com.