MLB: The Top 5 Projected Lineups for 2016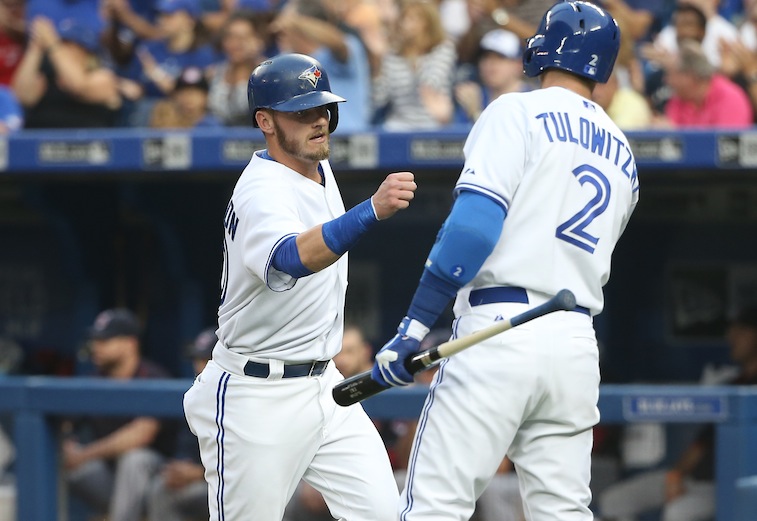 Continuing our series of way-too-early projections for the 2016 MLB season, today we look at which teams could have the top lineups. First, we broke down who we thought at this point, was slated to have the best starting five for the season, with the Washington Nationals taking the top spot. Then, the New York Yankees earned our No. 1 position for the potential best bullpen.
So, the task of starting with all 30 MLB teams and selecting just five for this countdown was difficult. We took many factors into account. The group's 2015 performance, their off-season additions and subtractions, and of course, early stat projections came into play. While we utilized many sources to make our final rankings, one of the more helpful tools was the work conducted at RotoChamp.com. The site, which does "projections, lineups, rankings, and web app for (fantasy) draft prep and in-draft help" has their latest 2016 regular season statistical estimations for every single roster in the big leagues.
In terms of which particular statistics we looked at, the ones commonly viewed as vital to an offense's success (AVG, HR, RBI, SB, OBP, SLG, OPS) were important. While it is still January and many more moves and changes will be made to these lineups, we based our top five on not only who makes up the starting nine, but where they are currently estimated to hit in the lineup. Before we unveil the list, here's an overview of some interesting facts about these rankings.
Three of the teams did not make the top five for either the starting rotation or bullpen list.
One team in this countdown was in the top starting rotation list and the other made the bullpen group.
Two of the teams are from the American League and three are from the National League.
Three of the teams made the 2015 postseason; one lost in the NLDS, one lost in the ALCS, and one lost in the NLCS.
5. Los Angeles Dodgers
Projected 2016 lineup: RF Yasiel Puig, 2B Chase Utley, 1B Adrian Gonzalez, LF Andre Ethier, SS Corey Seager, 3B Justin Turner, C Yasmani Grandal, CF Joc Pederson
This starting nine (eight without the pitcher) has few, if any holes. It's got sufficient power with Puig, Gonzalez, and Pederson, loads of veteran leadership with Gonzalez, Ethier, and Utley, and a nice mix of youthful talent with Puig, Seager, and Pederson. What prevents this group from ranking any higher though are the question marks.
Can Puig stay healthy and revert back to his 2014 form? Does Utley have anything left? Is this the year when Gonzalez finally starts slowing down? Will highly-touted studs, Seager and Pederson, pan out? Our best guess is that most of these questions will be answered sooner rather than later. If some of the starters fall apart, the team has a decent bench consisting of Carl Crawford, Scott Van Slyke, and Trayce Thompson among others.
4. Colorado Rockies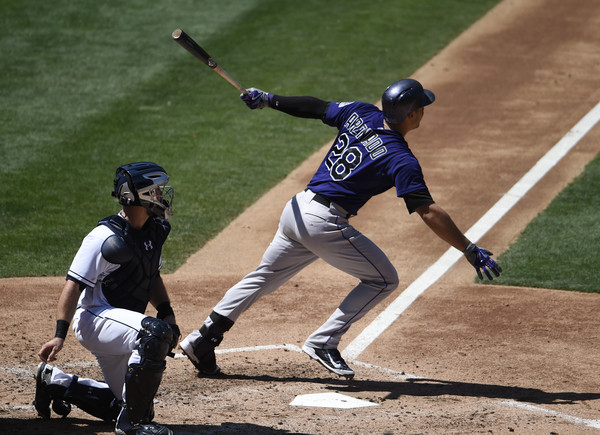 Projected 2016 lineup: CF Charlie Blackmon, SS Jose Reyes, RF Carlos Gonzalez, 3B Nolan Arenado, LF Corey Dickerson, 2B DJ LeMahieu, 1B Mark Reynolds, C Nick Hundley
Obviously, the Colorado Rockies' status on this list is largely based on the fact that right fielder Gonzalez is still with the team. If CarGo ends up being traded before Opening Day, Colorado likely gets the boot off of the rankings. However, even without their star hitter, the Rockies lineup is pretty solid. It starts with Blackmon at the top, a 29-year-old left-handed bat who broke out in a big way in 2015. He posted a stat line of .287/.347/.797 and had plenty of speed to burn with his 43 steals.
If Reyes is healthy, he's still very capable of getting hot for weeks at a time, as evidenced by his 111 total bases and 82 hits in just 69 games with Toronto before moving to Colorado last year. Backing up Gonzalez is the Rockies' MVP from 2015, Arenado. The 24-year-old had a monster season and along with Dickerson, showcases some serious pop in the middle of this lineup. LeMahieu mans second base and Hundley is slated for the starting catcher's job, both of whom sandwich new acquisition Reynolds in the seven spot. Reynolds should be able to produce big power numbers while calling Coors Field home.
3. Baltimore Orioles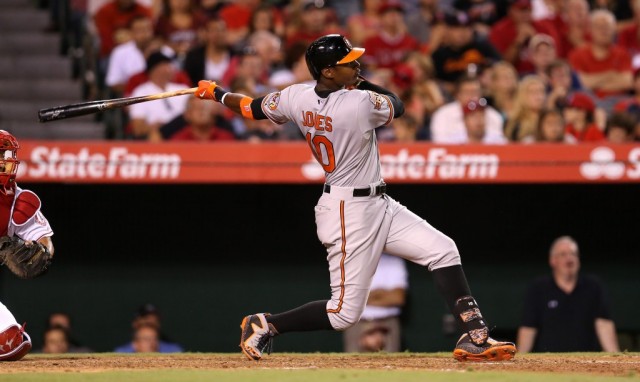 Projected 2016 lineup: LF Nolan Reimold, 2B Jonathan Schoop, 3B Manny Machado, CF Adam Jones, 1B Mark Trumbo, C Matt Wieters, DH Caleb Joseph, SS J.J. Hardy, RF Jimmy Paredes
Like the Rockies, the Baltimore Orioles projected lineup could very well take a significant hit in the next few weeks. Slugging first baseman/designated hitter Chris Davis, who represents the team's best pure power threat, is a free agent and may be on the move this month. Right now, the departure of Davis appears to be a bit more likely than that of CarGo. However, the O's should be able to sustain losing the big lefty bat.
Along with their stellar bullpen, Baltimore's bats are balanced and dangerous. The team has options in the outfield and thus, at the top of their starting nine. Reimold can play outfield but also has enough production to be a designated hitter. Schoop has really come on in his first two full seasons in MLB, setting the table nicely for the middle of this crew. The three-four combination of Machado and Jones is both salivating for O's fans and scary for the rest of the AL East.
Trumbo will enter his first season in Baltimore and provides both majestic power behind Machado and Jones, and plenty of versatility in the field. Wieters is a walking injury, but at this point is about on par with the catching options currently with division-rivals Boston and Tampa Bay. Hardy has been a constant force in all parts of the Orioles' lineup for a few years now, and we don't expect that to change any time soon. Even without Davis, this team should be able to get close to their third-place HR ranking from a season ago.
2. Chicago Cubs
Projected 2016 lineup: 2B Ben Zobrist, CF Jason Heyward, 1B Anthony Rizzo, 3B Kris Bryant, LF Kyle Schwarber, RF Jorge Soler, C Miguel Montero, SS Addison Russell
There's been lots of talk about how the Chicago Cubs' pitching staff seems to be one of the best this year. With Jon Lester, Jake Arrieta, and John Lackey at the front, this talk is legitimate. What we're most curious about is how this young lineup will respond to rising expectations. Significant upgrades at second base and in center field put this unit on pace to be the best group in the National League for the coming season. We love the idea of the Zobrist/Joe Maddon reunion and enough cannot be said about the value of Zobrist's ability to play multiple positions.
After a quick stint in St. Louis, Heyward will now move to both a new city and a new position. At least on offense, we don't see him having much trouble adjusting to a new ballpark. The big, young bats of Rizzo, Bryant, and Schwarber have mega-potential and we predict their continued growth in 2016. You could certainly do worse than Soler, Montero, and Russell as your six through eight hitters, and Maddon's bench including Chris Coghlan, David Ross, and the promising Javier Baez should be among the best in the league too.
1. Toronto Blue Jays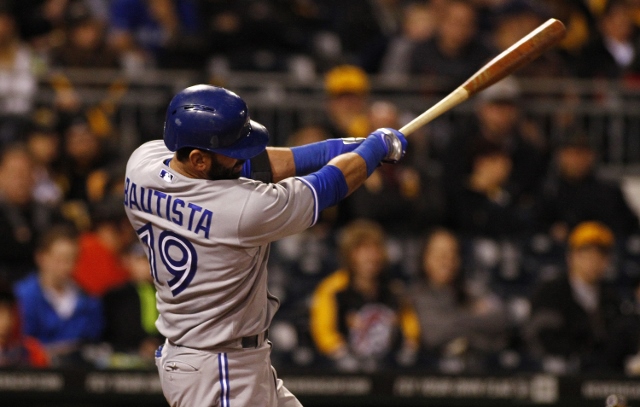 Projected 2016 lineup: LF Dalton Pompey, 3B Josh Donaldson, RF Jose Bautista, 1B Edwin Encarnacion, SS Troy Tulowitzki, DH Chris Colabello, C Russell Martin, CF Kevin Pillar, 2B Ryan Goins
Stacked. That is likely one of the first words that enters your brain when thinking about the Toronto Blue Jays' offensive onslaught. Up and down this entire lineup, there is something special at every stop. The team will bring back a similar cast of characters as a year ago — a season that brought them to the ALCS — and their batting statistics were quite impressive.
Led the league by a wide margin in runs scored with 891? Check. Finish No. 1 in doubles at a staggering 308 two-baggers? You betcha. Pace MLB with an impressive 232 long balls? Yep. We could continue listing all of the offensive statistics that this group led the league in, but that may take all night.
With the recent Ben Revere trade to the Washington Nationals, Pompey will attempt to step up as the engine that gets this lineup going. The Donaldson/Bautista/Encarncion/Tulowitzki two through five production is unmatched. Martin is still producing big time, not only as the starting catcher, but as a strong force at the bottom of this powerhouse. Maybe Canada should be worried a bit about the starting rotation after the loss of David Price, but their lineup should be the best of them all again.
Statistics courtesy of MLB.com, ESPN.com, and RotoChamp.com.
Follow Victor on Twitter @vbarbosa1127