MLB
MLB: The Top 5 Projected Outfields for 2016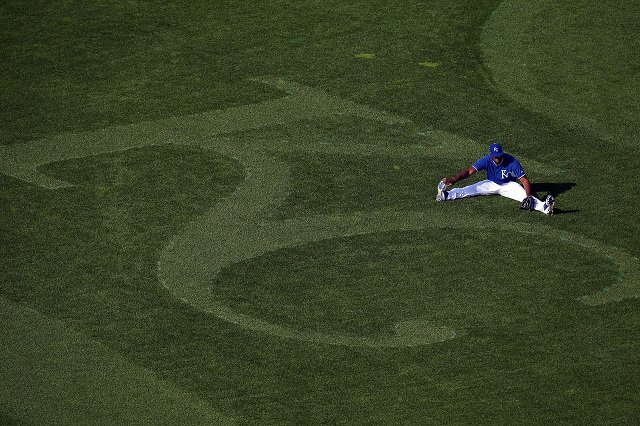 It's finally March and that means the Major League Baseball offseason is mercifully coming to an end. There are still more than a few weeks remaining until Opening Day, but Spring Training is in full swing, and team and player projections are coming out daily. Today brings us a ranking of the expected top outfields for the upcoming campaign.
These teams' rankings are based on their respective projected starting three outfielders, as well as the current guys slated for the fourth and/or fifth spots. Players who excel or are predicted to excel on defense, as well as in offensive categories like batting average, runs scored, runs batted in, home runs, stolen bases, on-base plus slugging percentage, and wins above replacement, greatly enhanced their team's chances at making the list.
To emphasize, the best projected outfields were based on the starting unit and bench options as a whole, so although Los Angeles Angels of Anaheim's Mike Trout — the best player in the game — is a stud, he is not surrounded by the talent that would help them make the cut. Here are the top five projected outfields for 2016.
5. Kansas City Royals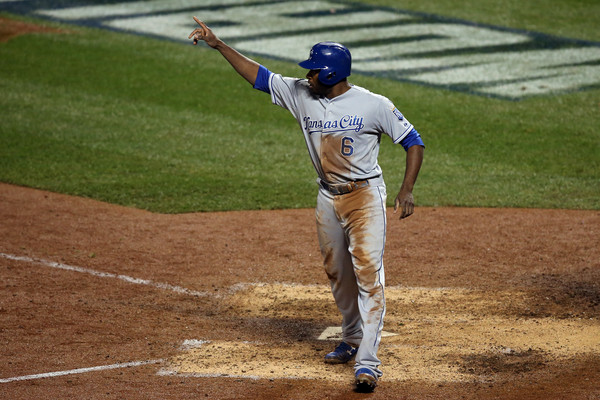 2016 projected starting outfield: Alex Gordon (LF), Lorenzo Cain (CF), Jarrod Dyson (RF)
Even with the Detroit Tigers' addition of Justin Upton and the Minnesota Twins projected offensive combination from Byron Buxton and Miguel Sano, the Kansas City Royals still reign supreme in the outfield for the American League Central. KC re-signed franchise cornerstone Alex Gordon over the winter to roam left field and return five-tool stud Lorenzo Cain (pictured above) to the fold for center. Last year's regular starting right-fielder Alex Rios is gone and speed demon and defensive wizard Jarrod Dyson likely in his place.
Cain — who could make some noise in the 2016 AL MVP race — hit 16 home runs, drove in 72 runs, stole a team-high 28 bases, and had a terrific slash line of .307/.361/.477/.838 in 2015. He did make 10 errors, but also contributed six assists and displayed terrific range and ability. Gordon played in just 104 games a season ago, but posted good numbers (13 HR, 48 RBI, .271/.377/.432/.809). He had four outfield assists, did not make a single error, and already has four career Gold Gloves to his name. Dyson's top-notch speed is obvious, as he went 26-for-29 on steal attempts, despite playing in just 90 games. In 79 games in the outfield, Dyson made only two errors and should be a fine replacement for Rios.
4. Washington Nationals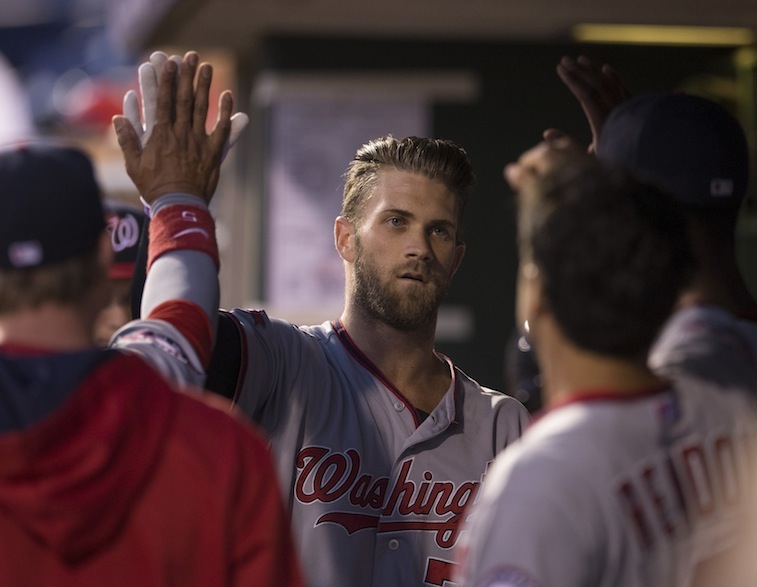 2016 projected starting outfield: Jayson Werth (LF), Ben Revere (CF), Bryce Harper (RF)
Some of the Washington Nationals' outfield success will hinge on the health of the oft-injured Jayson Werth, who is slated to start in left. Even with limited production from that spot though, they still have two of the best in the business in center and right. When he was in action, Werth showed power and production in the lineup with 12 homers, 42 RBI, and 51 runs scored in 88 games. Revere comes over from the Toronto Blue Jays in the Drew Storen trade and the 27-year-old has shown both elite defense and base-running over his six-year career, going over 30 stolen bases four times.
Bryce Harper (pictured above) is, of course, the reigning NL MVP and is in place for another monster year on defense and especially at the dish. Depending on how the 25-man roster plays out, the Nationals could have rare access to both late-game, pinch-hitting power in the name of Matt den Dekker (.800 OPS in 99 at-bats last year) and quality defense with Michael Taylor (six assists, three errors, 2.33 range factor) from their outfield spots. The balance of speed, power, and defense from this trio of outfielders in the nation's capital make it a surefire top-five group.
3. Houston Astros
2016 projected starting outfield: Colby Rasmus (LF), Carlos Gomez (CF), George Springer (RF)
The Houston Astros already have the best projected middle infield for 2016 and a top-five starting rotation in place for the season, so why not add on a quality group of outfielders? Colby Rasmus punished the ball to the tune of a career-high 25 dingers in 2015 — obviously enjoying his first season in Houston orange — and had a splendid nine assists combined from playing all three outfield positions.
Carlos Gomez (pictured above) will begin his first full season with the Astros in 2016 after a disappointing stint last summer. His age (30), track record (two-time All-Star), and defense (one error in 39 games with Houston) create plenty of promise for a bounce back. George Springer is the lone homegrown starter in the outfield, yet arguably has the most to prove. The right fielder struggled with injuries in 2015 and has failed to prove his first-round draft pick value.
Still, the Connecticut native shows plenty of pop in his limited big-league action and finished third on the team among position players in WAR with a solid 3.8 value a year ago. Depth is provided by youngsters Preston Tucker (25) and Jake Marisnick (24), both of whom have shown the ability to hit major league pitching over their short careers.
2. Chicago Cubs
2016 projected starting outfield: Kyle Schwarber (LF), Dexter Fowler (CF), Jason Heyward (RF)
We all know that the Chicago Cubs are stacked, having immediately placed themselves as World Series favorites before a pitch is even thrown. Among the potential elite could be the athletes spending half of the game tracking down fly balls in front of the Wrigley Field ivy. Analysts and fans are rightfully skeptical of Kyle Schwarber's defense, but with more experience, he'll hopefully ease those concerns. Besides, the dude can rake.
With the recent re-signing of Dexter Fowler to man center, the biggest Cubs acquisition of the off-season, Jason Heyward (pictured above), should be able to shift over to start in his more customary right field post. Fowler is coming off of a good year, when he knocked 17 home runs, picked up 46 RBI, stole 20 bases, and had a solid .346 OBP. He also scored a team-high 102 runs and posted a .988 fielding percentage.
Heyward comes over after playing one season with the rival St. Louis Cardinals, a year when he set career-bests in hits (160), doubles (33), stolen bases (23), and batting average (.293). The Cubs should have plenty of extra options in the outfield to work with, as Jorge Soler and Ben Zobrist will likely get many at-bats.
1. Pittsburgh Pirates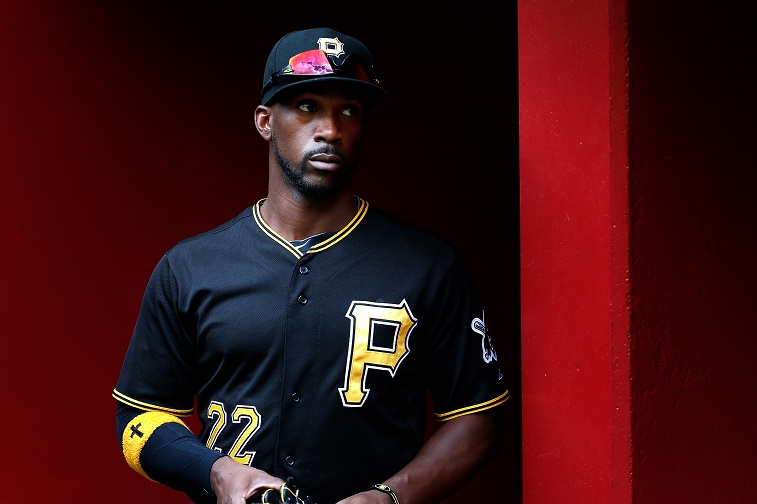 2016 projected starting outfield: Starling Marte (LF), Andrew McCutchen (CF), Gregory Polanco (RF)
The future of the Pittsburgh Pirates is bright and nowhere does the sun shine brighter than in their outfield. The three projected starters are all under 30 years old and have each shown to be lethal forces at the plate and good-to-great defenders in the field. Starling Marte has steadily gotten better each season over his three-and-a-half year journey in the bigs, showing massive potential in 2015. He displayed power (19 HRS, 81 RBI), speed (30 SB), phenomenal glove work (16 assists, two errors in 151 games), and was an overall beast (team-leading 5.4 WAR).
Marte may been on the rise to greatness, but center fielder Andrew McCutchen is already there. After a slow start to the 2015 season, No. 22 quickly turned it around and finished as the team leader in games played (157), runs (91), RBI (96), OBP (.401), SLG (.488), and OPS (.889) among other statistics. At 24, Gregory Polanco is the baby of the group, but was still terrific in his first full season. He hit 35 doubles, legged out six triples, stole 27 bases, and had a respectable 2.6 WAR. Utility guys Sean Rodriguez and John Jaso look to be the fourth and fifth outfielders should anything happen to the starters.
Follow Victor on Twitter @vbarbosa1127
Statistics courtesy of MLB.com and Baseball-Reference.com.