MLB: The Top 5 Projected Starting Rotations for 2016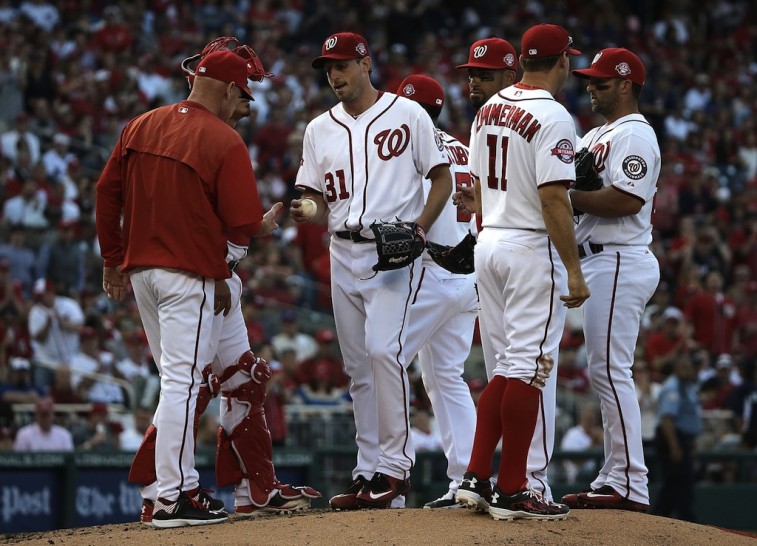 So much could change between now and April 3, when the 2016 MLB season is tentatively scheduled to begin. It's already been a hectic offseason with mammoth player signings and mega-trades seemingly happening every other day. As of this week though, some teams are clearly ahead of the game, stuffing their Christmas stockings with plenty of strong arms for next year. MLB.com's Paul Casella recently revealed his top five pitching rotations in baseball, ranking them based on the collective WAR for the current projected starting group. So we decided to tackle the task, too (although we base our list on personal opinion).
Casella's list is somewhat similar to ours, as we both have the same top three rotations (although our No. 1 and No. 3 group have swapped positions). While his list includes the Los Angeles Dodgers and Cleveland Indians at No. 5 and No. 4 respectively, we did not include them in our countdown. The Dodgers and Indians, along with the St. Louis Cardinals, were strong candidates for inclusion, but just missed the cut. Before we unveil the rankings, here are a few interesting notes regarding our selections:
Four of the groups are from the National League and just one is from the American League.
Three of the teams on the list made the playoffs last year (one made the World Series, one lost in the NLCS, and one lost in the ALDS).
Three of the five teams have either lost one noteworthy member of their 2015 rotation or added a marquee arm.
5. San Francisco Giants
Projected 2016 rotation: Madison Bumgarner, Johnny Cueto, Jeff Samardzija, Jake Peavy, Matt Cain
X-Factor: Samardzija
Whether or not the San Francisco Giants can continue their crazy pattern — alternating seasons of missing the postseason and then winning the World Series — will hinge largely on the success of the starting pitching. This group, which already ranks ninth in baseball in ERA, figures to be even better in 2016 with the additions of Cueto and Samardzija. You basically know what you're going to get with Bumgarner, one of the most reliable aces of the past few seasons. Cueto is still on the right side of 30, coming off a season where he played an instrumental role in the Kansas City Royals' championship.
The Giants are banking on Samardzija's ability to forget about his underwhelming 2015 campaign in Chicago and rekindle his magic with a return to the NL. San Fran will have options for the fourth and fifth starters, as Peavy and Cain represent proven veterans whose careers are slowing down, but they still have the experience. Mr. No-No Chris Heston is also a more youthful, intriguing option for the back end of the group.
4. Houston Astros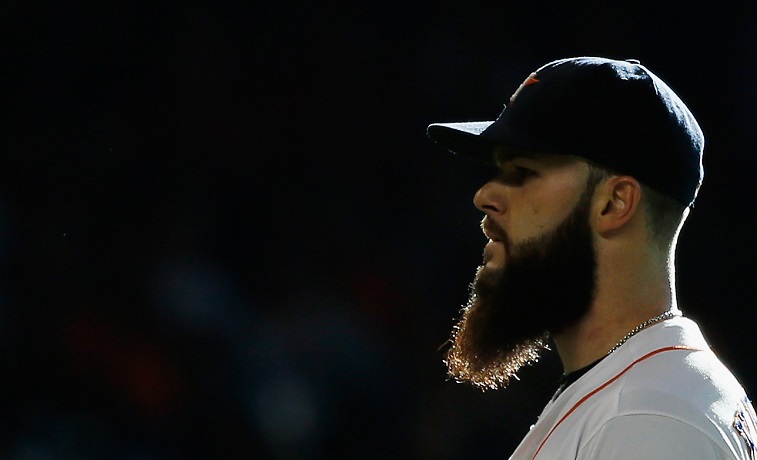 Projected 2016 rotation: Dallas Keuchel, Collin McHugh, Mike Fiers, Lance McCullers, Scott Feldman
X-Factor: McCullers
The Houston Astros stunned the world last season as they controlled the AL West for much of the year, ultimately making the playoffs as a wild card. They advanced to the ALDS before bowing out — but it'd be hard to find anyone who had this team in the elite eight before 2015 began. Obviously, much of their Cinderella run can be attributed to the performance of AL Cy Young award winner Keuchel, but this was a solid rotation all-around too.
Unlike San Francisco, Houston will likely trot out a similar starting five next season and should be confident in Keuchel's ability to repeat at least some of last season's success. McHugh should be in the prime of his career right now, at 28 years old; he is coming off back-to-back great seasons (earning 30 combined wins). After spending the first four-and-a-half years of his career in Milwaukee, Fiers adjusted well to his move to Houston and could be a solid No. 3. At 22, McCullers is the X-factor and will improve the rotation significantly — if he can build on his solid rookie year in 2015. Feldman and Brad Peacock could battle it out for the last spot in the rotation, but for now we give the edge to Feldman.
3. Chicago Cubs
Projected 2016 rotation: Jon Lester, Jake Arrieta, John Lackey, Kyle Hendricks, Jason Hammel
X-Factor: Arrieta
The Chicago Cubs have been mighty busy this offseason and may not be done yet. While this team is stacked with fresh faces in the infield and outfield, their starting rotation is full of veterans. That's not to say that these five are over the hill; in fact they're far from it. Starting with the Cubs, these last three rotations have the greatest potential to be truly elite next year, in our opinion.
Making an absurd amount of money and having played in Boston and now Chicago, Lester is hard to pin as underrated. But when discussing stud lefties like Clayton Kershaw, David Price, and Bumgarner, Lester's name seems to come up less frequently (along with Chris Sale). It may seem odd to call the reigning NL Cy Young award winner, Arrieta, the X-factor for this rotation, but we want to make sure that he isn't another flash in the pan, like Brandon Webb or Pat Hentgen.
At 37 years old, Lackey seems to get better and better and is hoping to continue his NL Central dominance after spending a season and a half with the Cardinals. Hendricks is clearly the youngster of the group and fits the bill as a prototypical fourth starter, a guy who can eat up innings and throw lots of strikes. Hammel went 10-7 with a 3.74 ERA in 2015, pretty darn good for a No. 5 starter.
2. New York Mets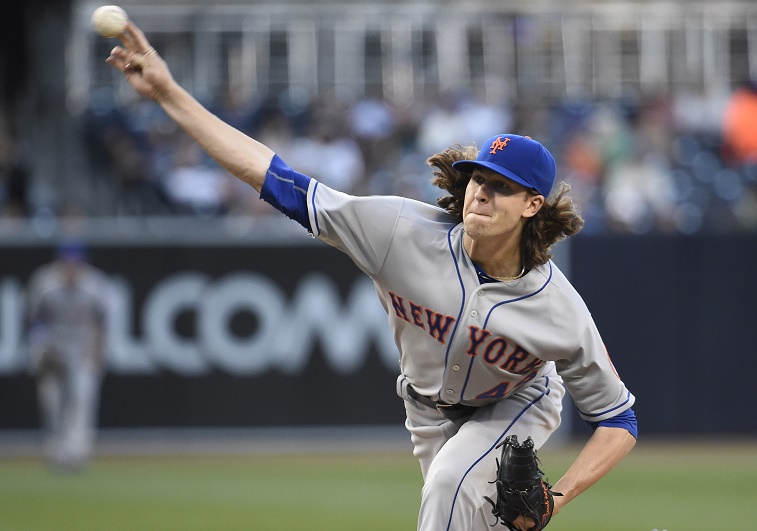 Projected 2016 rotation: Jacob deGrom, Noah Syndergaard, Matt Harvey, Steven Matz, Zack Wheeler/Bartolo Colon
X-Factor: Harvey
After 2015's incredible run to the World Series, everybody knows about the New York Mets' impressive starting rotation. They have barely done anything this offseason — and can you blame them? Barring injury, we'd be shocked to see this group of five change much before spring training. DeGrom is projected to be the No. 1, and after his masterful playoff performances, he's earned it.
It's tough to say who manager Terry Collins will slate as the second starter, but MLB.com's Mets depth chart currently has Syndergaard occupying that spot. The right-hander may get overshadowed a bit by deGrom and Harvey, but he's a solid No. 2. Speaking of Harvey, we put him as our X-factor for the Mets' rotation. Let's see if the outspoken hurler can increase his workload in 2016, his second season removed from Tommy John surgery.
Matz could probably be a two starter in many other rotations, but the Mets like him fine where he is, and if any of the top three guns get hurt, Matz should slide up a rung. The No. 5 spot in New York could be a toss-up between Wheeler (who is recovering from TJ surgery and may be able to pitch by June) and the veteran fan-favorite Colon. Either way, the Mets should be fine as far as pitching is concerned.
1. Washington Nationals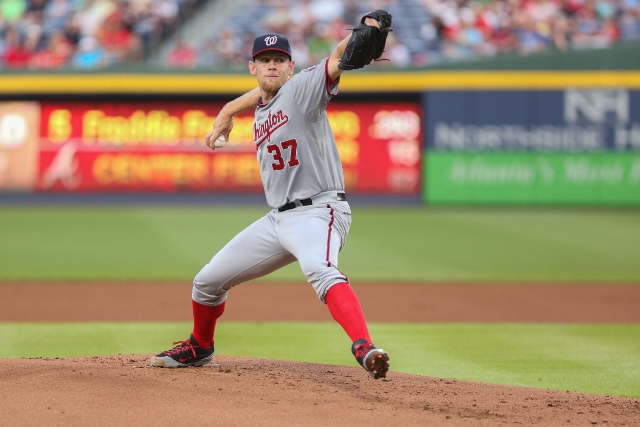 Projected 2016 rotation: Max Scherzer, Stephen Strasburg, Gio Gonzalez, Tanner Roark, Joe Ross
X-Factor: Strasburg
Yes, the Washington Nationals lost Jordan Zimmermann to the Detroit Tigers and yes, they are projected to still have the best rotation in baseball. It all starts with one of the filthiest, most dominant pitchers in the game, Scherzer. He's about as good of a No. 1 option as you're going to get.
One could say that Strasburg has been the X-factor of the Nationals rotation throughout pretty much his entire career. When you have that much raw talent and are injured as much as Strasburg has been in his still young stages, that's what's going to happen. After injuries plagued much of the first half of his season, Strasburg dominated in rehab outings with the Triple-A Syracuse Chiefs and continued his dominance at the major league level at the tail-end of the season.
Gonzalez is an underrated pitcher and a terrific candidate to lead this group as a No. 3. The back-end of the rotation is where it gets dicey. With the departure of Zimmermann, Roark likely becomes a figure in the rotation. The 29-year-old has spent his three seasons in the bigs in and out of the bullpen, making 12 starts in 2015. Ross is the other piece, along with infielder Trea Turner who came over to D.C. from San Diego in the Steven Souza/Wil Myers three-team trade. Ross showed great poise and promise in the second half of 2015 with the Nationals.
Statistics courtesy of MLB.com, Baseball-Reference.com, and ESPN.com.
Follow Victor on Twitter @vbarbosa1127