MLB: 5 Times Rougned Odor Sparked Mayhem on the Field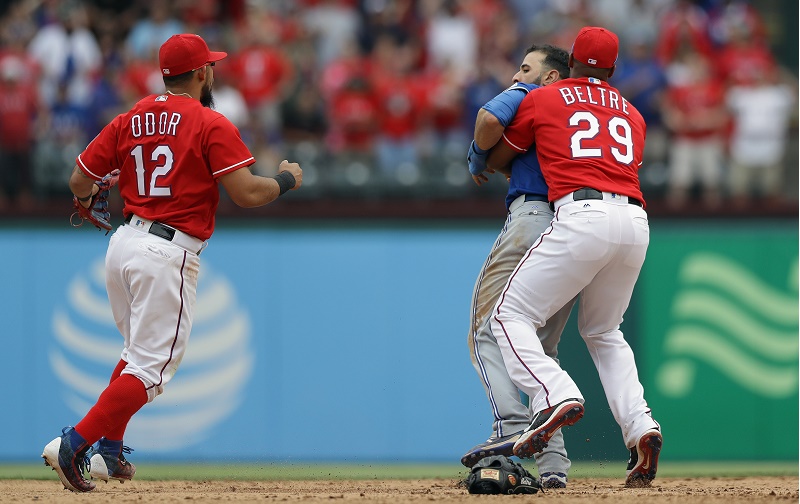 Rougned Odor of the Texas Rangers may be the most hard-nosed player in Major League Baseball. Sports fans from around the world got a taste of Odor's ultraviolence on May 15, when the Rangers second baseman pushed Toronto's Jose Bautista, then slugged the Blue Jays right fielder with a vicious right cross. The beef between Texas and Toronto dates back to last year's ALDS, and Odor was more than ready to settle scores.
While Odor's shove and punch to Bautista's face have received the most attention, the incident is not an isolated one. The 22-year-old Texas infielder has been at the center of several benches-clearing episodes since he broke into U.S. baseball with the Spokane Indians of the Northwest League five years ago. Here are five of Odor's greatest "hits" from the minors and parts of the last three seasons with the Rangers.
1. Odor vs. Hank Conger and the Astros
In July 2015, Odor took his sweet time getting into the batter's box in the ninth inning of a game versus Houston. When Astros catcher Hank Conger implored him to step in and let his pitcher throw, tempers flared. Within seconds, Conger was out of his crouch and in Odor's face. Prince Fielder intervened and both teams made their way onto the field to discuss things further. No punches were thrown in this one.
However, Odor was not done with his provocations. After hitting the ball well into the outfield, the Rangers' 2B flipped his bat with reckless abandon while screaming on his way to first base. He has not proven to be a hard-liner when it comes to bat flips or engaging bat-flippers on opposing teams.
2. Odor tackles the Giants
Why is everyone yelling?? http://t.co/GOGg303fwapic.twitter.com/YVoFja3icF

– MLB GIFS (@MLBGIFs) August 1, 2015
Later on in July 2015, Odor had a run-in with San Francisco Giants second baseman Joe Panik. In what would be an illegal slide in 2016, Odor took out Panik's legs with his arms in the interest of disrupting a double play. Later on in the inning, Rangers rookie Delino DeShields popped out to end the inning and hurled his bat toward the dugout.
Madison Bumgarner, on the mound for the Giants, started screaming in the direction of the Rangers dugout, drawing both teams onto the field. When we get to the root of the problem, we can see the fingerprints of the Rangers' 2B all over it. It started with a dirty slide.
3. Rougned Odor vs. the Vancouver Canadians
If you thought Odor's push-and-punch combination against Bautista were well-timed, you might not be surprised to learn he's pulled it off successfully before. In this vintage clip from the minor-league archives, we see a 17-year-old Odor introducing himself to the Vancouver Canadians while playing for Spokane's Indians.
According to a firsthand account in the Spokesman-Review, this game was the finale in a five-game set that included multiple beanings and at least one benches-clearing melee. Yet this fight appears to be classic Odor. He makes an aggressive slide into second base, cuts in front of the Canadians player on his way back, then promptly lashes out at him when getting brushed by his glove. Within seconds, he is swinging at everyone in sight.
4. Odor spikes Johnny Giavotella
In terms of malicious intent, Odor's spiking of Johnny Giavotella might top the list of his most lethal shots in the big leagues. (His low throw toward Bautista's head from the 2B bag would be a close second.) Giavotella had the misfortune of catching the ball from third base while Odor came in hard and late, spikes up, during an October 2015 both clubs desperately needed to win.
Odor shows no hesitation when going full-bore into Giavotella, who eventually drove in the game-winning run. The Angels' second-baseman said Odor apologized for sliding "a little late" and opening a gash in his shin. Texas eventually won the division while the club from Anaheim missed the postseason by one game.
5. The hammer-drop on Joey Bats
Major League Baseball's disciplinary crew deemed Odor's actions worthy of an eight-game suspension — not the most, but near standard for brawls in which punches are thrown. So far, in his comments since he clocked Joey Bats, Odor has expressed no contrition and seems surprised that he risks getting a bad reputation for the brawl. (For the record, several former and current players enjoyed him unloading on the bat-flipping Bautista.)
Some players are fiery and intense to the point of being dirty. Odor seems to straddle the line if not crossing over to the dirty side completely. Who knows, by the time his career ends, we may see him as the modern incarnation of Ty Cobb. If so, he won't win popularity contests any time soon. But there are plenty of old-schoolers, including Chipper Jones, who just became big fans of Rougned Odor.
Connect with Eric on Twitter @EricSchaalNY
Stats courtesy of Baseball-Reference.com.