MLB: Top 5 Outfielders in the League Today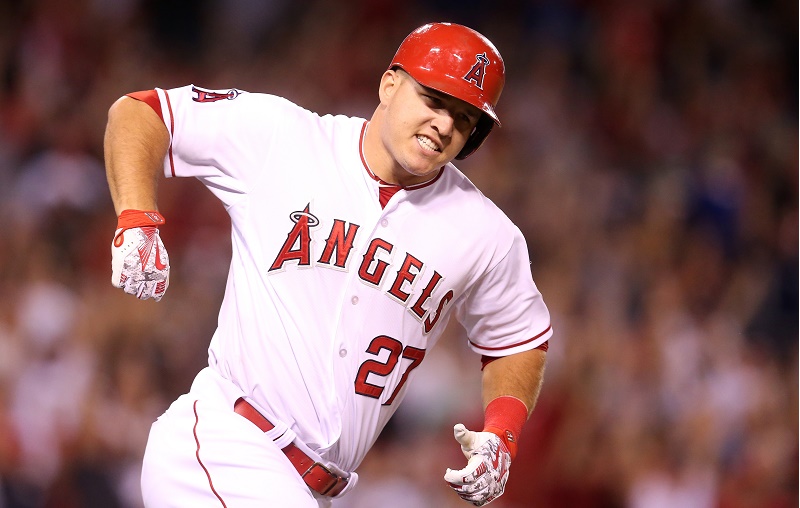 The MLB is full of talent at each position, and the outfield is no exception. This group features some of the most important players in the league and in many cases the faces of franchises. Some of the game's brightest young stars, such as Los Angeles Angels' Mike Trout and Washington Nationals' Bryce Harper, fall within this category. 
It's an extremely difficult task to narrow down the group to just the top five outfielders. There's plenty to take into consideration, such as their impact on the teams and their individual skill sets. Here are our picks for the top five outfielders in the majors.
5. Adam Jones
When the Baltimore Orioles acquired Adam Jones from the Seattle Mariners during the 2008 offseason, there was plenty of hope that he could fulfill his potential with a shot at a full-time opportunity to play. It didn't take long for him to make an impact as he collected his first All-Star game nod in his first full season in the majors.
Since then, Jones has earned four more All-Star selections, four Gold Glove awards, and a Silver Slugger award. He has become a staple in the Orioles' lineup as the No. 3 hitter and is one of the game's premier fielders at his position, playing a major part in Baltimore's recent resurgence into a playoff-caliber team.
Jones is in the prime of his career, and should be in line for several more Gold Gloves and All-Star game appearances. He may not receive much national recognition, but the 29-year-old is certainly one of the game's best outfielders.
4. Andrew McCutchen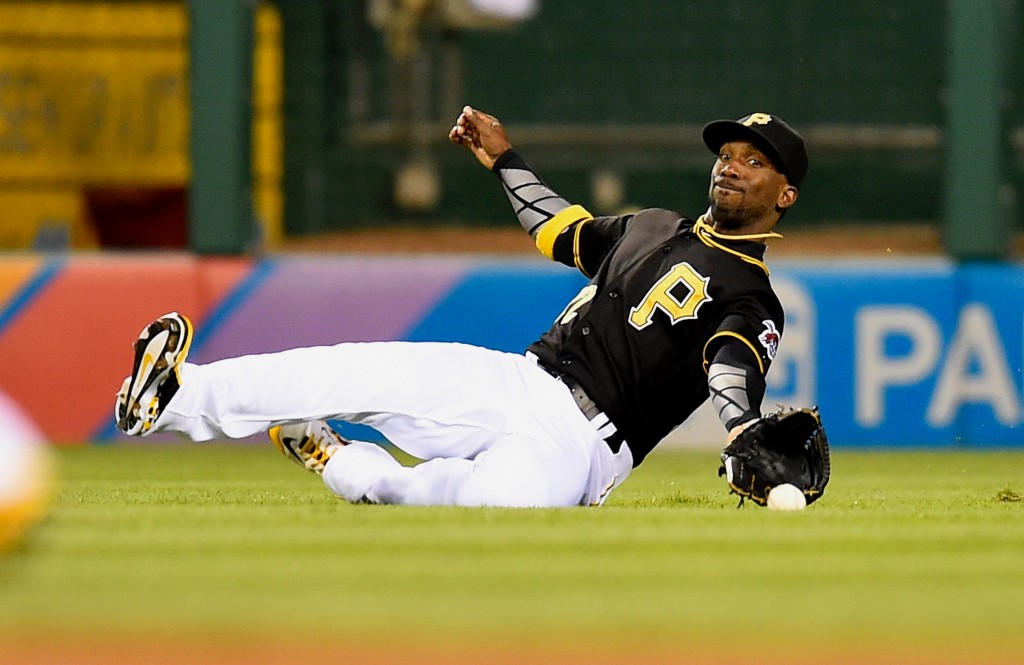 Over the last three years, the Pittsburgh Pirates have become a perennial playoff team, and the player at the center of the success is five-time All-Star Andrew McCutchen.
The 29-year-old has become one of the game's elite players with his bat and glove. He is a four-time Silver Slugger award winner, one-time Gold Glove award winner, and a former NL MVP. McCutchen is an extremely consistent hitter in the middle of the Pirates' lineup, batting nearly .300 with over 20 home runs, 80 RBIs, 30-plus doubles, and at least 90 runs scored in each season.
Although his number may not be spectacular, he's an excellent fielder at his position. This, combined with his speed and power, places him among the best in the league. McCutchen also proves to be the unquestioned leader and face of the franchise for Pittsburgh. In short, he's a complete package who possesses a nearly flawless game.
3. Giancarlo Stanton
When Miami Marlins outfielder, Giancarlo Stanton, comes up in any conversation, the first thing that comes to mind is his mammoth power. The 26-year-old has developed into one of the best power hitters of his generation, knocking out 34 or more home runs in three of his first six seasons in the majors.
His power numbers would certainly be higher if injuries weren't a nagging issue, which to some degree have tempered his production and potential. Nonetheless, Stanton is only the third player in the last 40 seasons (behind Alex Rodriguez and Ken Griffey Jr.) to hit 56 home runs before his 22nd birthday — and he holds the record for most home runs in Marlins history.
Stanton is also a solid outfielder who shows that he is willing to sacrifice his body to make plays. He has a strong arm, which he has showcased on numerous occasions as he throws out players, attempts to stretch singles into doubles, and scores from second base on a hit. The only flaws that the three-time All-Star has in his game are a high strikeout rate and difficulty staying throughout an entire season. Aside from that, Stanton is one of the league's brightest stars and most exciting players to watch.
2. Bryce Harper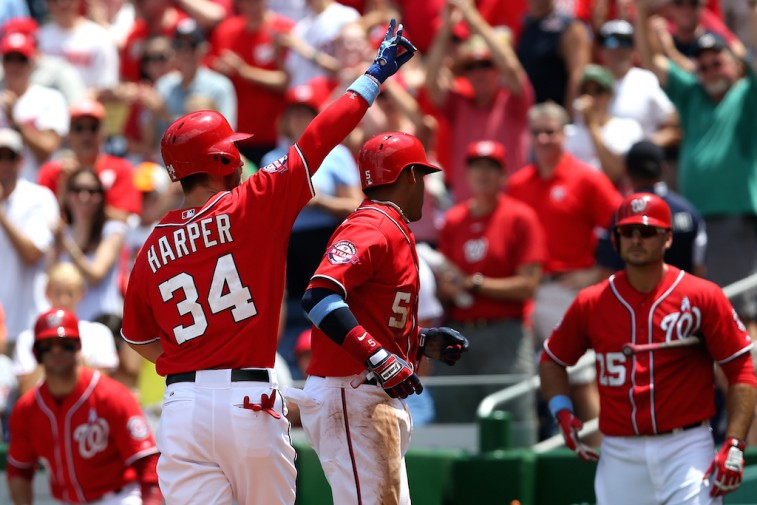 Through his first three years in the majors, Washington Nationals outfielder Bryce Harper was viewed as a player with more hype than talent. This all changed this past season as the 23-year-old had a breakout year, batting .330 with an NL-best 42 home runs, a career-high 99 RBIs, and a major-leading 9.9 WAR (Wins Above Replacement).
Harper initially burst onto the scene as a 19-year-old phenom who zoomed through the minor league in mere months after being selected with the first overall pick in the 2012 MLB draft. He struggled at times, but everyone finally saw his potential in 2015, which was one of the best seasons from a player age 23 or younger. He also led the National league in runs scored (118), slugging percentage (.649), On-base percentage (.460), OPS (1.109), and runs created (161).
Like Trout, Harper possesses a unique talent that only comes along every so often in the majors. He's still years away from his physical prime, which could mean more outstanding seasons and more hardware for the promising Nationals outfielder.
1. Mike Trout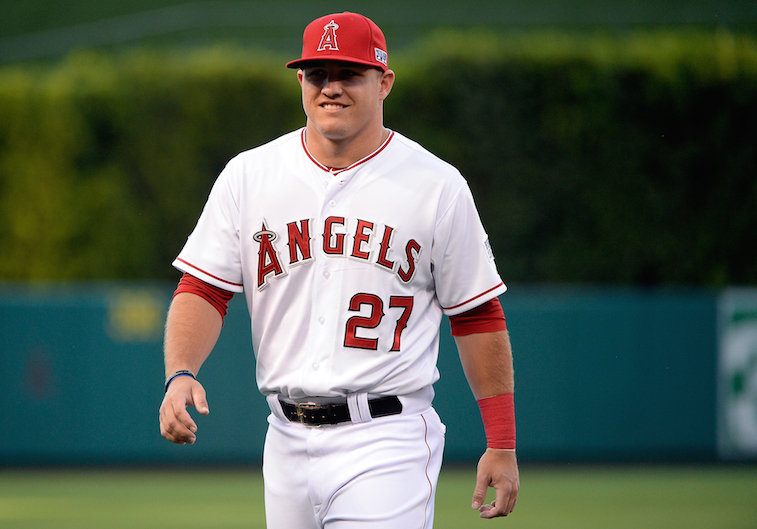 There isn't much of an argument to be made about who is the game's best. Los Angeles Angels star outfielder Mike Trout has quickly become the league's top player in his first four seasons.
Trout has already racked numerous accolades in his short career, earning four Silver Sluggers, four All-Star game nods, two All-Star game MVPs, AL Rookie of the Year, the Hank Aaron award, and an AL MVP. He is the youngest player in MLB history to reach 100 home runs and 100 stolen bases, and he holds the highest WAR (Wins Above Replacement) for any player in MLB history through his age-23 season.
What's most impressive about Trout's play: He isn't anywhere near the prime of his career, but he has already become one of the league's feared hitters and best outfielders. He continues to make jaw-dropping plays like his home run robbery of Seattle Mariners catcher Jesus Montero.
Trout has already drawn comparisons to past greats, such as Mickey Mantle. He is a five-tool player in every essence of the word that will only get better, which is truly indicative of the special talent that he possesses. If he can stay healthy, Trout could finish his career with a valid case for being the best player ever.
All statistics courtesy of ESPN.go.com and Baseball-Reference.com.
Want more great content like this? Sign up here to receive the best of Cheat Sheet delivered daily. No spam; just tailored content straight to your inbox.