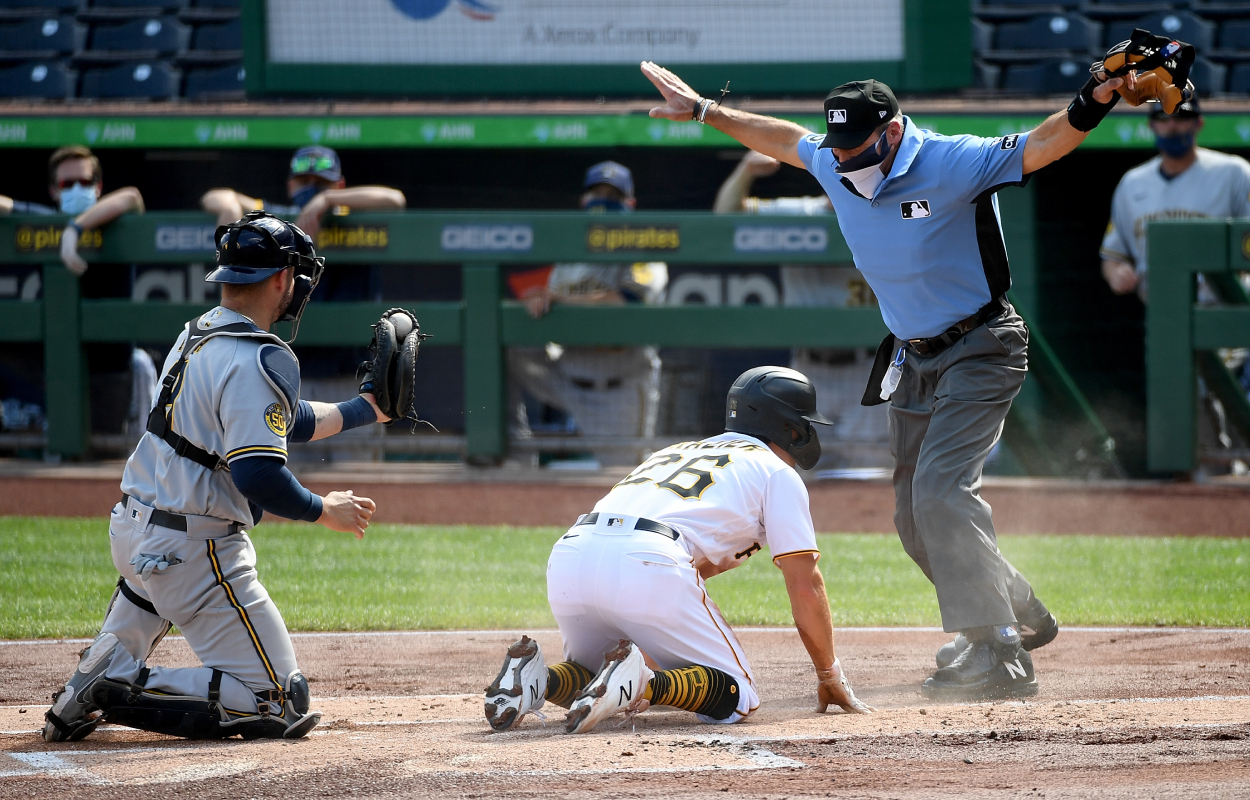 MLB Umpire Angel Hernandez Already in 'Midseason Form' and That's Not a Good Thing
Not even an inning into 2021 spring training and MLB umpire Angel Hernandez was labeled as being in "midseason form." That's not a good thing.
Spring training wasn't even a full inning old and already one Major League Baseball umpire was taking some heat. Angel Hernandez absorbed a verbal jab from some announcers during the first game of spring training Sunday. Usually, when people are told they are in "midseason form" in the first week, it's a compliment. For Hernandez, it's anything but.
Angel Hernandez is a 30-year MLB veteran
Angel Hernandez's reputation isn't good as a Major League Baseball umpire, but he must be doing something right. Hernandez has been an MLB umpire for 30 seasons, making his debut on May 23, 1991. Hernandez had worked a pair of World Series and seven league championship series.
Despite his longevity in Major League Baseball, Hernandez has taken a lot of heat in his career. In a Major League Baseball Players Association survey taken in 1999, Hernandez was ranked 31 of 36 umpires, according to the Pittsburgh Post-Gazette. Hernandez was listed as the third-worst umpire in a Sports Illustrated poll among players.
During Game 3 of the 2018 American League Division Series between the Boston Red Sox and the New York Yankees, Hernandez was under the microscope. He was overruled on three of four video reviews of his decisions at first base during Boston's 16-1 victory. "Angel was horrible," Hall of Famer Pedro Martinez said on TBS' postgame show, according to The Associated Press. "Major League Baseball needs to do something about Angel."
Hernandez has been part of several questionable calls
During a 1998 game between the Atlanta Braves and the New York Mets, Braves runner Michael Tucker tagged up from third base in the 11th inning of a tie game. TV replays showed the ball got to Mets catcher Mike Piazza before Tucker reached the plate. Replays also showed Tucker never touched the plate.
Tucker was called safe, angering Piazza and the Mets. According to The New York Daily News, Piazza said it was the worst call he'd seen in his career. In 2017, Detroit Tigers' second baseman Ian Kinsler was fined $10,000 for comments he made to Hernandez. According to ESPN, Kinsler said Hernandez was "messing with baseball games, blatantly," adding: "He needs to find another job, he really does."
During that Game 3 of the 2018 ALDS between the Boston Red Sox and New York Yankees in which Hernandez had three of four calls overturned at first base, Hernandez was blasted. "I think back to the replay of the Luke Voit play at first base, that Angel Hernandez actually got right. And when he came back, next to Voit, he made a little comment to him and smiled a little bit, almost like, you know, 'I got one right,'" former Yankees catcher Flaherty said on the Yankees' YES Network, according to The Chicago Tribune. "It's not that funny, Angel. These are playoff games. These are big deals."
One game into 2021 spring training and Hernandez is getting blasted
Even when calls are questionable and Angel Hernandez is involved, Hernandez won't get the benefit of the doubt. If it's close, fans and even announcers will likely take the opposing view of Hernandez.
During Sunday's spring training game between the Washington Nationals and the St. Louis Cardinals, the much-maligned Hernandez was being mocked in the first inning. On a borderline pitch from Cardinals starter Jack Flaherty, Hernandez called it a ball. Flaherty wasn't too pleased with the call, but then Cardinals announcer Dan McLaughlin got in on the action.
"Angel Hernandez is in midseason form," McLaughlin said. McLaughlin's partner, former Cardinals outfielder Jim Edmonds, quipped, "Let's not make this game too fast, Angel."