MLB Umpire Jim Joyce Showed How to Handle the Hardest Calls
Umpiring in MLB is one of the most pressure-filled jobs in all of sports. Umpires are rarely credited for their good calls and often chastised for the bad ones. An umpire only gets noticed when they fail to do their job. This is evidenced by Jim Joyce, who wrapped up a 30-year career as an MLB umpire in 2017.
Despite his multi-decade time serving the baseball community, many MLB fans know him for one famously bad call. While he did experience a horrible moment in baseball, he also knew how to make the tough calls. Here's what we mean.
Umpire Jim Joyce's MLB career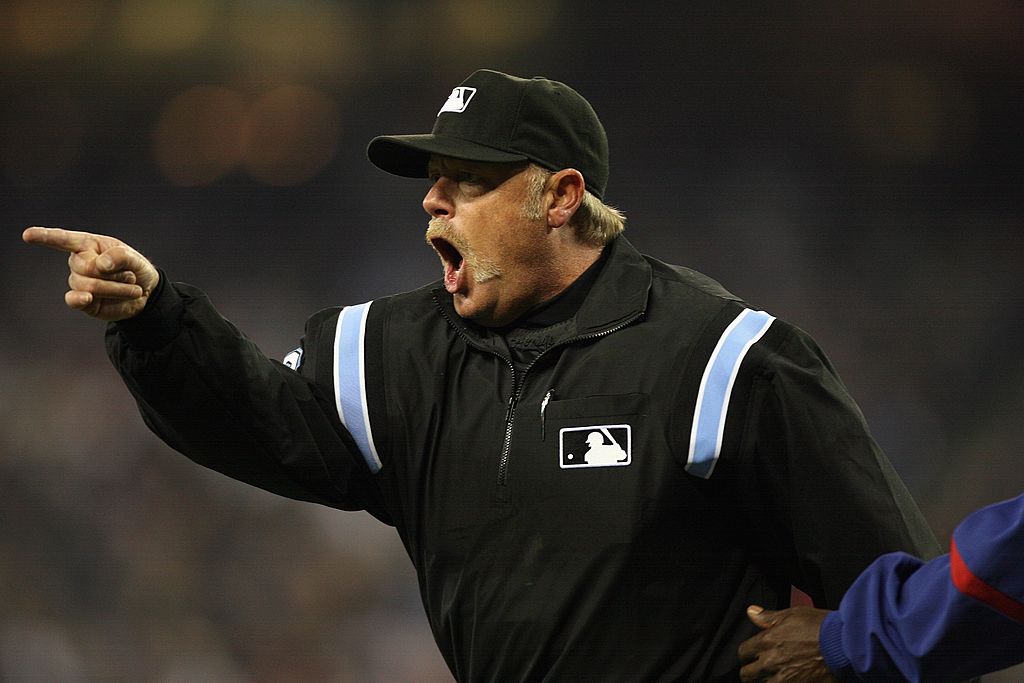 Joyce worked 12 years in the minors before getting to the big leagues. In fact, he started as an umpire right after he finished playing baseball himself: "I was lucky enough to go to Bowling Green on a baseball scholarship, back 100 years ago," Joyce told MLB.com. "My dad was an amateur umpire. Umpiring always infatuated me. When my playing career came to an end after college, I knew I wanted to stay in the game." 
Joyce made the decision to retire because he said he didn't want to "overstay my welcome." He also cited knee problems as another deterrent from continuing. He left behind a legacy as one of the game's most respected umpires. 
Fans know Joyce for some respectable and difficult calls, but they also know him for one historically terrible one. And the way he reacted to it made the call even more memorable.
The worst call of Joyce's career
In 2010, Detroit Tigers' pitcher Armando Galarraga was exactly one out from pitching a perfect game, as ESPN reports. There have only been 17 perfect games in MLB history, so any time it happens it's historic. Galarraga was down to his final out when he induced a groundball.
While the Tigers got the runner, Joyce blew the call, ruling the runner safe when he was clearly out. And he stuck to the call despite boos and malice from fans. Afterward, Joyce tearfully apologized to Galarraga, who forgave the umpire. "I just cost the kid a perfect game," Joyce said, which was true.
The two remain friends to this day. Joyce showed what good umpires do when confronted by a mistake: hold themselves accountable and apologize. While he still got the call wrong, he couldn't have handled his mistake better.
The hardest call of Joyce's umpiring career
In Game 3 of the 2013 World Series, the Boston Red Sox and St. Louis Cardinals were tied 4-4 in the bottom of the ninth, with the Cards at the plate. The Red Sox fielded a ground ball and threw the runner out at the plate.
When they threw to third base, the ball went into the outfield. Third basemen, Will Middlebrooks, blocked baserunner Allen Craig from going directly home. He eventually got there and even though he was thrown out, the umpire, Joyce, ruled him safe due to obstruction. 
He did not hesitate to point it out and knew the exact rule. These two instances make it clear that Joyce is a study in contrasts. Though he was capable of missing a call, he knew how to apply a rule correctly in a pressure-filled spot. If he'd made this call incorrectly, the whole World Series would've turned out differently.
The image of Joyce getting it right should be the lasting legacy he leaves on the game.