MLB Videos: 5 Greatest Defensive Plays of 2015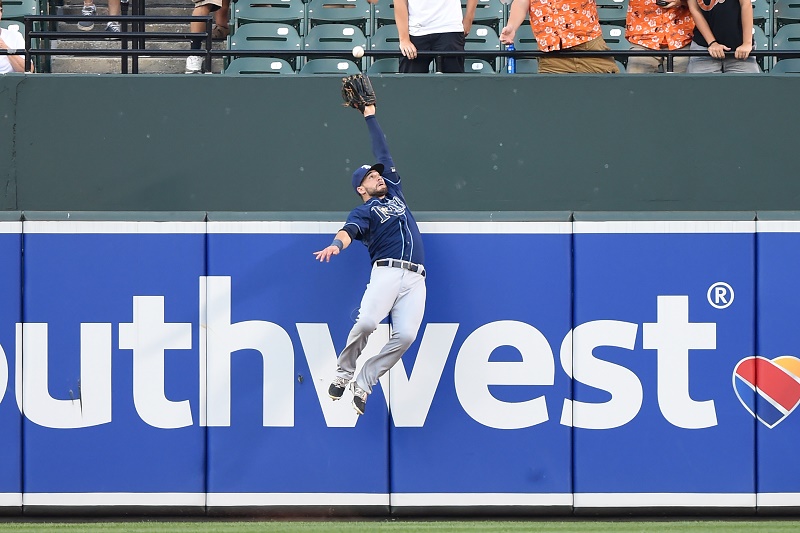 With designated hitters loafing around on the bench the entire game and starting pitchers taking the mound once a week, you might forget about the extraordinary athletic ability of Major League Baseball players. Then you see a Gold Glove fielder at work and you quickly remember. As we continue rounding up the best baseball stories of 2015, we take a look at the best defensive plays of the year. If you like players who climb walls, dive into stands, and disregard their own safety in pursuit of a fly ball, you're going to like these picks.
What's extraordinary about a few of them is that they involve foul balls. Were they to land, the batter wouldn't even get a hit. As you check out our selections, you might find yourself voting for No. 2 (or No. 3 or No. 4) as best of the year — and you'd probably be right. Each of the top plays could take the honor depending on your criteria. Feel free to let us know on Twitter. Here are the five best defensive plays of the 2015 season.
5. Gordon gives it all
We're guessing that Alex Gordon's agent has this catch on his highlight reel as his client searches for a new contract. The four-time Gold Glove winner showed everyone why you don't want to hit the ball in his direction, even if it's a few rows into the seats. Gordon covers a lot of ground before taking lift-off and snagging the ball. For an idea of how unlikely the catch was, have a look at the expressions on the faces of White Sox fans in the section. They were there and couldn't believe what just happened.
4. Perez puzzles Piscotty
Juan Perez may not be a household name, but Stephen Piscotty must know the Giants centerfielder well after seeing a home run turn into an out. Perez does a few unconventional things for this sensational pull at Busch Stadium in August. He steps on the wall for the extra boost, then makes a basket catch — two hands, like they teach you in Little League — to ruin Piscotty's day. You have to give him credit for the last-second redirect to put him in line with the ball's flight, too.
3. Pillar scales and soars
Depending on your perspective, April 15 either represents Tax Day or Jackie Robinson Day. If you're Tampa's Tim Beckham, you might remember it as the day Toronto's Kevin Pillar climbed up a wall and robbed what would have been your second career home run. This show of bad manners was commonplace for Pillar in 2015, though this amazing grab showcased his skills at their best. By the way he pauses and calmly walks up the fence at Rogers Centre, it looks like something he'd been practicing. American League batters better hope not.
2. Kiermaier kisses the sky
Who said baseball players aren't great athletes (besides John Kruk)? In this clip from late August, Rays center fielder Kevin Kiermaier jumped so high his shoulders cleared the wall at Oriole Park at Camden Yards before snagging a no-doubt home-run from Manny Machado. Kiermaier's athleticism and willingness to pounce were without par in center this year, and he justly won his first Gold Glove for the effort. For a little perspective, an AL Gold Glove in center field means you were better at your position than Pillar (see No. 3 on this list) and Mike Trout.
1. Arenado gets ludicrous

We called this the best of the 2015 season's first half, and we're sticking with that after seeing the rest from an eventful campaign, glove-wise. It happened on April 15 (a terrible day for hitters), and it doesn't get any more difficult than what Nolan Arenado attempted. The fact that he traveled so far, made the catch, flipped over the tarp, and still had the presence of mind to look for a double play makes it superhuman. Center fielders don't face this type of peril when they climb the wall. Don't try this at home, kids. For the grownups out there, the same goes for your beer league.
Connect with Eric on Twitter @EricSchaalNY