MLB: Watch the 5 Longest Home Runs of April
Here is video proof of the 5 biggest bombs launched by hitters in April.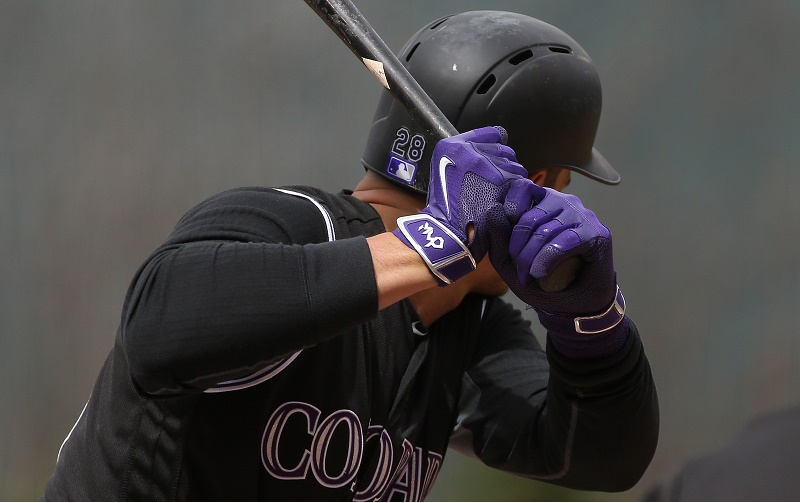 If you like long home runs, you probably enjoyed the first month of the 2016 MLB season. Power hitters hit the ground running in April, leaving veteran aces and hapless rookies alike under attack around the league. In the first week alone, six home runs measuring 450 feet or longer had left MLB ballparks.
The rest of April wasn't any kinder to pitchers. By the conclusion of the season's first month, 17 homers had traveled over 450 feet to the delight of fans. We're not trying to pick on pitchers here. We're just celebrating the top displays of raw power this young season. Hell, even Greg Maddux had to concede the draw of the long ball. Here are the five longest home runs of April.
5. Giancarlo Stanton (April 30 at Miller Park)
At first glance, this Giancarlo Stanton blast may look like your average round-tripper to left center at Miller Park, but where it lands is not where it was headed. Before touching down, it nailed the TMJ4 sign about 15 feet above the walkway and over 20 feet behind the fence. Statcast freezed it upon impact and provides the exit velocity; a searing 116.8 miles per hour off the bat. According to the hit tracker, it traveled 460 feet.
4. Jordy Mercer (April 22 at Chase Field)
This laser beam comes courtesy of Jordy Mercer, the fifth-year Pirates shortstop who has only 25 career home runs to his name. On this arid Arizona night, Mercer victimized D-backs southpaw Patrick Corbin with a screaming liner that cleared the bleacher area left of center and dinged the wall where the outfield concourse begins. He may not hit a lot of them, but he certainly makes them count. This shot landed 461 feet from home plate.
3. Byung Ho Park (April 16 at Target Field)
After a brief adjustment period, Korean slugger Byung-Ho Park got down to doing what he did so prolifically back home: launch mammoth home runs. In this blast-off, he cleared the batter's eye in center field and reached a new seating area a projected 466 feet from home plate. Unfortunately for American fans, Park decided to leave his trademark bat flips back in Korea on the advice of Twins teammates. That's what we call bad advice.
2. Sean Rodriguez (April 22 at Chase Field)
If the phrase "long home run off Patrick Corbin at Chase Field on April 22" rings a bell, that's because the Diamondbacks lefty served up several titanic blasts that evening. Whereas Jordy Mercer (No. 4 on this list) merely pummeled the wall behind the bleachers, Pirates infielder Sean Rodriguez cleared it with a 468-foot shot. Like Mercer, Rodriguez is not known for home-run power, but he's already matched his 2015 total (4) in 21 games this season. Something is in the air at Chase Field.
1. Nolan Arenado (April 10 at Coors Field)
Think the ball carries well at Coors Field? We know Nolan Arenado can hit it out to any field in any park, but this monster home run seems to defy physics. Arenado reached for a low pitch and crushed it to left-center, where it cleared the bleachers entirely and slammed into the King Soopers sign many feet above the concessions window out there. It was clocked at 471 feet. If it had been a few feet higher, it probably would have left the building.
Source: ESPN Home Run Tracker.
Connect with Eric on Twitter @EricSchaalNY
Video and statistics courtesy of MLB.com.