MLB: What's Behind the Dodgers' Early-Season Surge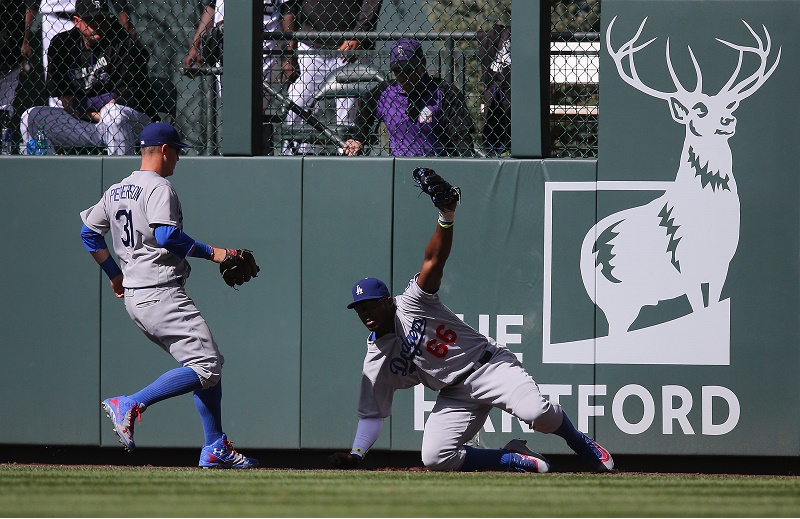 No Andre Ethier? No Brett Anderson? No problem. The Los Angeles Dodgers shrugged off the big injuries and doubts surrounding the club in Spring Training to pace the NL West in April. Behind the club's early-season surge is an all-around attack that includes the resurgence of Yasiel Puig and the emergence of Kenta Maeda in his first MLB season.
Most of the concerns LA had on Opening Day have yet to become a factor on the field. Strong play by Puig, who is the Dodgers' best position player so far this season, has reminded everyone why he was such a sensation in his rookie campaign. The scintillating defensive play, daring base running, and general offensive menace are all working for No. 66 in the early going. Puig seems to be having fun in the midst of this revival, and it's likely rubbing off on his teammates.
Joc Pederson (.891 OPS in 64 PA) and Kike Hernandez (.932 OPS in 49 PA) were at their best in the season's opening month, and you have to credit rookie manager Dave Roberts for the excellent handling of their playing time so far. LA's new skipper is not afraid to sub in or out either Dodgers outfielder with Trayce Thompson, contributing his share in kind. Injuries to Carl Crawford and Scott Van Slyke are an afterthought with Roberts' deft management here.
Still, LA's most pleasant surprise is the rise of Maeda, who has allowed only one earned run through 25.1 IP (4 GS) and kicked off his MLB career with a 3-0 record. The crafty Japanese right-hander has been the Zack Greinke who the Dodgers expected to miss — and Arizona hoped to get — at a fraction of the price.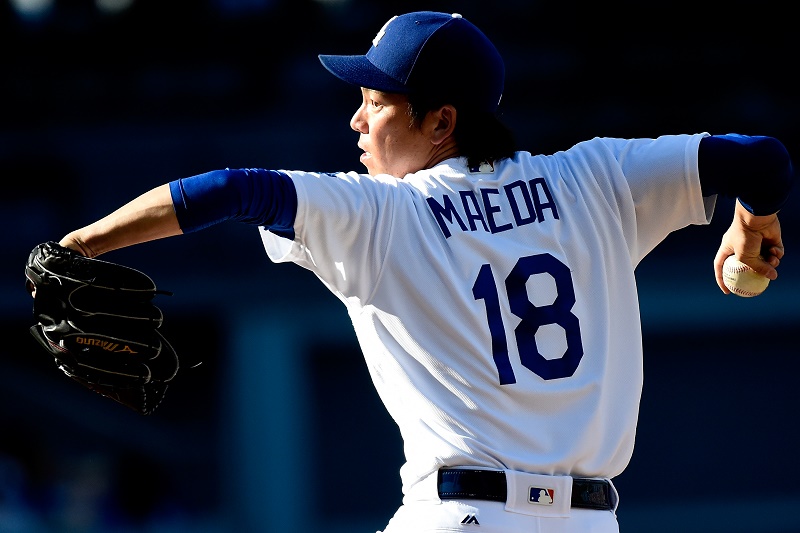 The 6-foot-0 and 154-pound listings on Maeda seem generous, and the slim 28-year-old hurler has not cracked 93 miles per hour on the radar gun to date in America. None of these metrics seem to matter. Maeda's exquisite control (23 SO, 5 BB) and command of his two-seam and four-seam fastballs have kept hitters in check. According to Pitch f/x data, no one has gotten a base hit off his straight fastball yet. His slider (16 SO) has been the wipeout pitch.
Ross Stripling is another pleasant surprise for Roberts in his scramble for rotation help. While Hyun-Jin Ryu remains on the shelf and Brandon McCarthy's return is still months away, Stripling is currently one of the club's most valuable pitchers with a 3.22 ERA through 22.1 IP (4 GS). While Scott Kazmir (6.63 ERA in 19.0 IP) stumbles out of the gate, Stripling has become an essential element of the pitching staff.
Meanwhile, the anchors of the Dodgers team are everything the club expected they would be. Clayton Kershaw sports a 1.50 ERA and a 10:1 K/BB ratio while averaging 7 1/2 innings per start; Kenley Jansen (0.00 ERA) has 11 SO versus 1 BB and a perfect 9-for-9 in save opportunities; and Adrian Gonzalez sports a .347 BA, .916 OPS, and a team-best 15 RBI.
Sure, the Dodgers have drawn San Diego, Colorado, and Atlanta in the opening weeks, but you can't pick your opponents. You can only beat them, and LA has, while posting series wins against the Giants and Diamondbacks for good measure. This team is firing on all cylinders, and that includes Roberts in the dugout. They'll see a test in early May when they face the Blue Jays, Mets, and Cardinals in the span of a week, but for now LA is still the class of the NL West.
Connect with Eric on Twitter @EricSchaalNY
Statistics courtesy of Baseball-Reference.com and FanGraphs.