MLB: What's Wrong With the New Diamondbacks Uniforms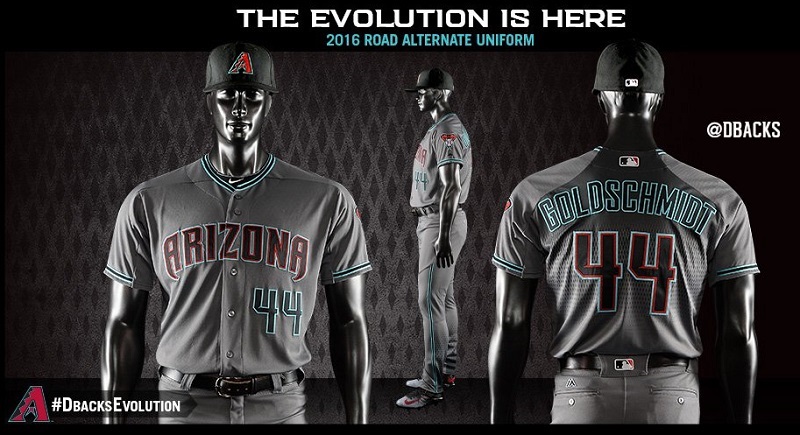 Depending on your perspective, the 2016 Arizona Diamondbacks uniforms either signal a revolution in baseball style or the death of sartorial splendor for the boys of summer. Unfortunately, there is little in between for MLB fans and fashionistas in this post-Black Friday reveal. Among the plunges taken by the expansion franchise, sublimation dyes and multiple looks on a single pant leg will raise the most eyebrows. There are also designs that may terrify you.
Arizona unleashed its new line of unis for 2016 with a fashion show featuring players the night of December 3. The Diamondbacks also announced that players would model the different looks at malls throughout the Phoenix area on December 5. (If your schedule is free, see Rubby De La Rosa sport the alternate road uni at the Arrowhead Towne Center near Dick's Sporting Goods in Glendale at 4 p.m.) For those who can't make it, the eight (count 'em, eight) styles can be seen in this photo.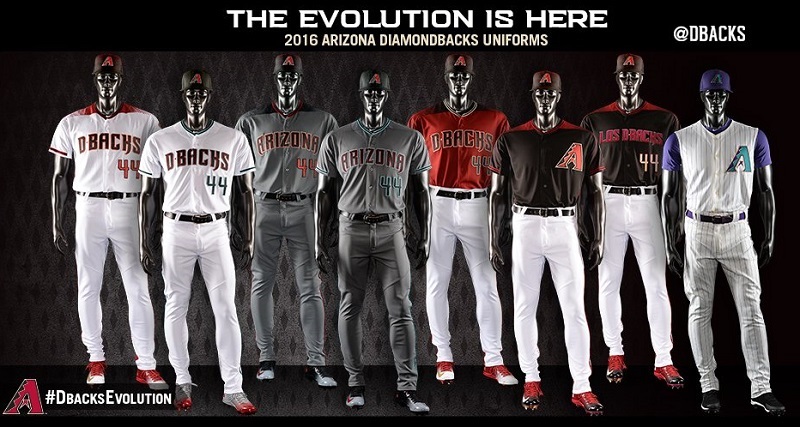 Though it is a lot to take in, we suggest starting with the standard home model on the far left. As promised, sublimation inking of a snakeskin pattern is visible at the shoulders, and you can see it on the back of the pant leg as well (below). Another interesting detail is the piping running down the pant leg, visible in the side view. Yes, the piping stripe does not start until the lower thigh area, while sublimation snakeskin design blends with the road gray at the back of the calves.

Many will have thrown in the towel by this point. However, anyone who can stomach some of these touches may want to know more. For example, why would anyone put dark gray, teal, black, red, and sublimation snakeskin on the same uni top (as in the road alternate)?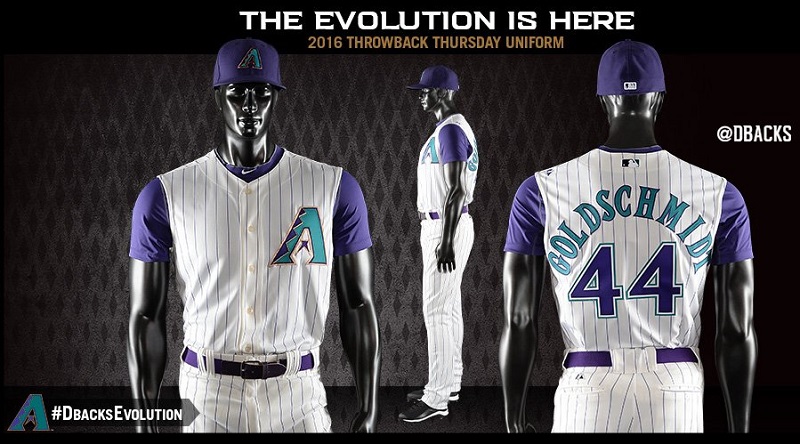 There is no clear answer to these questions. As Paul Lukas noted in his Uni Watch column, no MLB team has ever done sublimation, though a few clubs have tried it in other sports. Usually, when we see a uniform as objectionable as what the D-Backs players will wear in 2016, we see them as batting-practice whimsy.
Not so in this case. Unless a fierce public backlash relegates these unis to the bargain bin deep on the MLB.com store, you will find Paul Goldschmidt, Ender Inciarte, and Rubby himself donning these threads at Chase Field and at a ballpark near you next season. (Check your schedule if you fear the road alternates invading your hometown.)
As for the eyesore pastiche that is the throwback uni from Arizona's World Series run of 2001, that model will return for Throwback Thursdays in Phoenix next summer. Previously, we wondered if this edition wasn't the ugliest uniform in the game, but we must say its stock has risen sharply since December 3. It's all about the company you keep.
Follow Eric on Twitter @EricSchaalNY