MLB: Where Does Bruce Bochy Rank Among the Best MLB Managers of all Time?
At the end of the 2019 MLB regular season, baseball said goodbye to one of its longest-tenured managers: Bruce Bochy of the San Francisco Giants. As Bochy calls it a career, it's natural to ponder the man's legacy and how he'll be remembered when compared to other great managers. So, where does Bruce Bochy rank among the best MLB managers of all time?

Bruce Bochy's career managerial achievements
Bochy managed for two teams during his long MLB career: the San Diego Padres and the San Francisco Giants. Here's what he accomplished during his illustrious 25-year career:
Three World Series championships
Four National League championships
A career win-loss record of 2,003-2,029 over 4,032 games managed
Eight playoff appearances
One NL Manager of the Year Award (1996)
Four NL All-Star teams managed (1999, 2011, 2013, 2015)
Bochy managed the Padres from 1996-2006, taking them to one World Series appearance where the New York Yankees swept them. In 2007, Bochy took his managerial talents to San Francisco, where he had more success. He led the Giants to World Series victories in 2010, 2012, and 2014.
Who are some of the greatest managers of all time?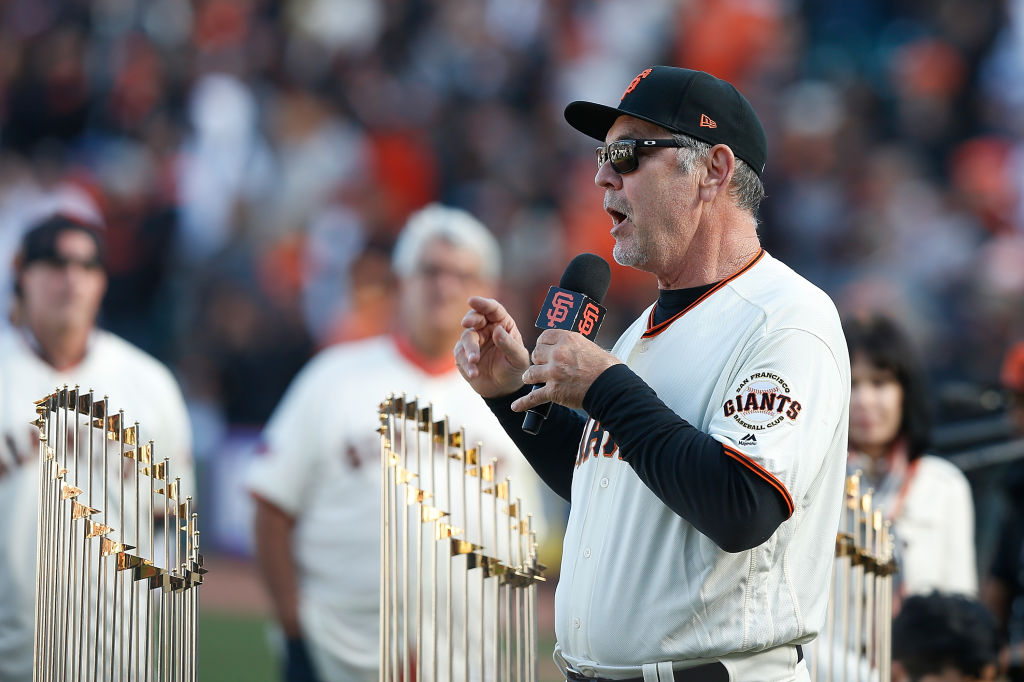 Before looking at how Bruce Bochy stacks up against the all-time greats, it helps to understand who those greats are. Below are the top ten managers considered to be among the best, ranked by the number of championships won:
Joe McCarthy — 7
Casey Stengel — 7
Connie Mack — 5
Walter Alston — 4
Joe Torre — 4
Sparky Anderson — 3
Bochy — 3
Miller Huggins — 3
Tony LaRussa — 3
John McGraw — 3
Those are some legendary names, and you may notice that Bochy is located right in the middle of them.

Where does Bruce Bochy rank among the best managers ever?
One may be tempted to evaluate Bochy solely on his win-loss record. That would be foolish. Someone managing as long as Bochy did was bound to lose a lot of games. The fact that Bochy managed more than twenty years, oversaw multiple rebuilding projects, and finished anywhere close to .500 is nothing short of a miracle.

The front offices in San Diego and San Francisco both respected Bochy as a tactician and manager of personalities. They knew that even if they equipped him with inferior talent, he was still the right man to lead the team. It's why he was able to survive despite his teams finishing with losing records multiple times.

Bruce Bochy needed just five more wins to enter the top 10 all-time among MLB managers, and yet he walked away from the game. Now it's only a matter of time until he received his Hall of Fame call. Every skipper ahead of him, and several behind him, made it to Cooperstown. 
Is Bruce Bochy the best postseason manager of all time?
The true testament of his abilities is how he performed in the postseason, and Bochy performed well. Of the eight teams he led into postseason play, four of them made the World Series, and three won it. That means that half the time Bochy-managed teams made the playoffs, they got to the ultimate stage.

When it comes to World Series' won, Bochy is tied for fourth all-time. He's right there with legendary Reds and Tigers skipper Sparky Anderson, New York Yankees' manager Miller Huggins, St. Louis Cardinals and Oakland Athletics' manager Tony LaRussa, and New York Giants' manager John McGraw.

What's most impressive than Bochy's accomplishment, however, is that he won his championships in baseball's modern era. Before 1969, teams simply had to win the most regular-season games in the league to qualify for the World Series. Now, they need to make the playoffs and win two rounds. Managers like LaRussa and Anderson didn't have to play the ALDS, but Bochy did for all three of his championships. In fact, one of his titles came after the Giants won the Wild Card game (2014).

Forget Bochy's regular-season record. His ability to win in the postseason makes him certainly one of the greats of his era, but also of all time.