MLB: Which Player Could Each NL Contender Least Afford to Lose?
Injuries early in the season can be demoralizing for teams and their fans. For example, the Chicago Cubs just lost a talented hitter, Kyle Schwarber. It's not the same as, say, the Cleveland Cavaliers losing LeBron James. But Major League Baseball teams certainly have players who would be devastating to lose. With that in mind, which player on each National League contender would be the most crushing to lose to injury?
New York Mets
If you had to pick one Mets player who would be devastating to lose, it would be Yoenis Cespedes. While the power arms in this rotation are what make the team great, there are four who can make up for the one they'd lose. Cespedes, on the other hand, is on an island offensively.
Last season, the Mets averaged just 3.5 runs per game before trading for Cespedes, and then 5.75 runs per game in the two months after the deal. There were other factors involved, such as the return of David Wright and other hitters' improved performances, but a big part of the Mets' late-season run to the playoffs — and eventually the World Series — had to do with Cespedes' hot hitting.
Washington Nationals
Is there any question here? Losing Bryce Harper would be huge for the Washington Nationals, considering how much of their offense is predicated on his performances. Harper was attributed with 151 runs in 2015, which is roughly 21% of the Nationals' total offense.
The Nationals do have some extra outfield depth this season, with young prospect Michael Taylor, veteran Jayson Werth, the other starters, and Ben Revere making a solid fourth outfielder when healthy. But none of those players come close to the kind of production that Harper has. Losing him for any amount of time would be killer to the Nats' playoff chances.
Chicago Cubs
The Cubs already lost Schwarber, and Jorge Soler will pick up the slack in left field. (He gained relative fame for reaching base nine consecutive times in the playoffs against the St. Louis Cardinals last year.)
The big injury that would cripple the Cubs involves ace pitcher Jake Arrieta, who was an automatic victory for the team during August and September last season. The Cubs have a strong starting rotation, but nobody of Arrieta's caliber. With hopes of contending for the World Series, it's difficult to imagine the Cubs doing it without Arrieta involved.
St. Louis Cardinals
The Cardinals dealt with plenty of injuries last season, losing pitcher Adam Wainwright for the majority of the year and left fielder Matt Holliday for roughly half the season. But they were carried offensively by third baseman Matt Carpenter, who exploded for 28 home runs. In 2016, The Cards offense is lacking yet again, with Jason Heyward gone and the team relying on unproven young players.
If the Cardinals lost Carpenter for the season, they may have one of the worst offenses in Major League Baseball. Considering that they're in the same division as the Cubs and the Pittsburgh Pirates, it's hard enough to envision them winning the division right now — much less without their most productive offensive player.
Pittsburgh Pirates
The Pirates are top-heavy when it comes to their best players. Gerrit Cole is an absolute stud on the mound. But as Andrew McCutchen goes, so do the Pirates. Take last season for example: Through his first 38 games played, McCutchen hit .225/.321/.370 and the Pirates stumbled to an 18-20 record. Over his final 119 games, McCutchen hit .313/.426/.526 and the Pirates rolled to an 80-39 record — the best in baseball during that span.
In reality, losing Cole might doom the Pirates just because of the flimsy rotation depth behind him, Francisco Liriano, and promising rookie Tyler Glasnow (who many expect to move up to the big leagues sometime soon). But losing McCutchen would be killer for the Pirates in their tough division.
San Francisco Giants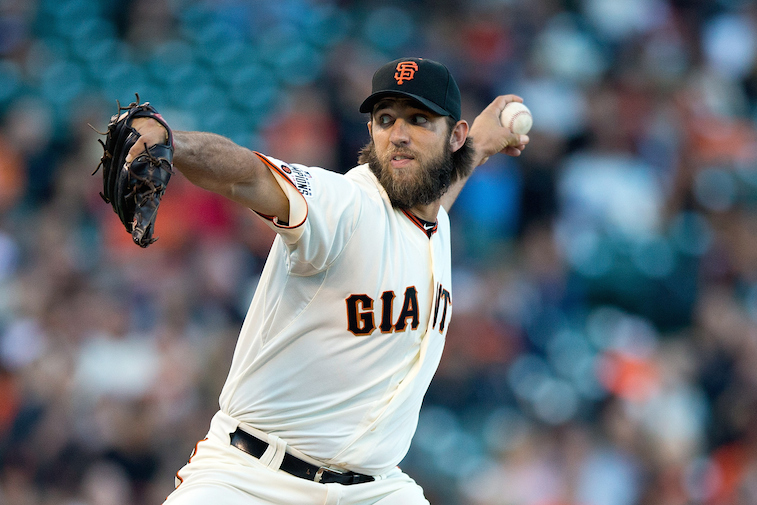 The Giants have a talented team with a well-balanced offense. The first 14 home runs hit by San Fran this season came from a total of 11 different players. If that's not balance, what is? On the pitching side, they have a few high-potential guys such as Johnny Cueto, Jeff Samardzija, and Matt Cain. But the only one you can rely on to be your shutdown ace? Madison Bumgarner.
Bumgarner is as clutch as they come, especially in the playoffs. He has a 2.14 ERA in 12 starts in the postseason, all before the age of 25. In his three trips to the World Series, he's thrown 36 innings and allowed just one earned run in five appearances. If there is a definition of the kind of player we're identifying here, Bumgarner is it.
Los Angeles Dodgers
Similar to the Giants' Bumgarner, the Los Angeles Dodgers also have a left-handed starting pitcher who represents their most valuable player, Clayton Kershaw. To demonstrate how dominant Kershaw is, we give you this example: Last season, Jake Arrieta won the NL Cy Young Award by posting a monster second half that lowered his ERA to 1.77. Many marveled at Arrieta's success, but also lamented that there's no way a pitcher could sustain that kind of performance.
Since the start of the 2013 season, Kershaw has compiled a 1.90 ERA in 95 starts. Over that span, he's struck out 786 batters in 682 innings for a K/9 of 10.4. Those are ridiculous numbers. The Dodgers have a decent starting rotation to go along with a deep roster full of position players, but with Zack Greinke no longer by Kershaw's side, it's clear which Dodger they could least afford to lose.
Statistics courtesy of ESPN.com and Baseball-Reference.com.