MLB: Why Baseballs Wouldn't be the Same Without Some Help From New Jersey
Imagine yourself sitting in the stands of your favorite baseball team's stadium. You're situated in foul territory along the third base line with a perfect view of the action. A hitter comes to the plate and pops a foul ball in your direction. You reach out and miraculously grab it, giving yourself a souvenir for life.
Now imagine the baseball in your hand. What does it look like? It may not be as perfect a souvenir as you think.

The process behind getting MLB baseballs ready for games is actually a bit complicated. There's more to it than simply manufacturing the balls and sending them to the various teams in bulk. Each ball is specially prepared, and the state of New Jersey plays a critical role in the preparation of each ball. Here's how.

Where are major league baseballs manufactured?
A baseball's journey begins not in New Jersey or even the United States, but Costa Rica. That's where the Rawlings has its manufacturing plant. A plant in the city of Turrialba churns out 2.4 million baseballs per year. It's the only plant of its kind in the world.
Three hundred workers sew the materials together. Those materials include "cork and rubber cores, Tennessee Holstein cowhide and gray New Zealand sheep's wool yarn" per a Reuters report.

Once completed the factory ships the balls to Miami, Florida, before MLB teams get their hands on them.

How many balls are used in a typical MLB game?
Baseballs have a ridiculously short shelf-life. There's no official record of how long each ball stays in play or how many are used, but within a few pitches, most balls get switched. That happens for several reasons. The pitcher or catcher might request a new ball, a foul ball, or a player throwing a ball into the stands after the end of an inning.

A Minnesota Twins equipment manager posited that the team went through between 15 and 18 dozen balls during a particularly long 15-inning game in 2012.
How New Jersey plays a part in it all
Fans may think of each fresh, new ball used in a Major League game as being a crisp, pristine white. That's incorrect.
Baseball players can't use a ball straight off the production line. A 2017 Fox Sports story on what MLB uses to season baseballs explains why:

"Fresh baseballs right out of the box are too slippery. In a league in which every team has at least a few pitchers who throw in the mid-to-upper 90s, you don't really want them armed with slippery baseballs. To counteract this, Major League Baseball has been using a special rubbing mud from New Jersey to allow pitchers to get a better grip on the ball."

According to the Huffington Post, each ball is rubbed with Lena Blackburne Baseball Rubbing Mud. A top-secret spot from a Delaware River tributary bank in New Jersey provides the mixture of clay and silt the balls need.

Muddying baseballs is part of the rule book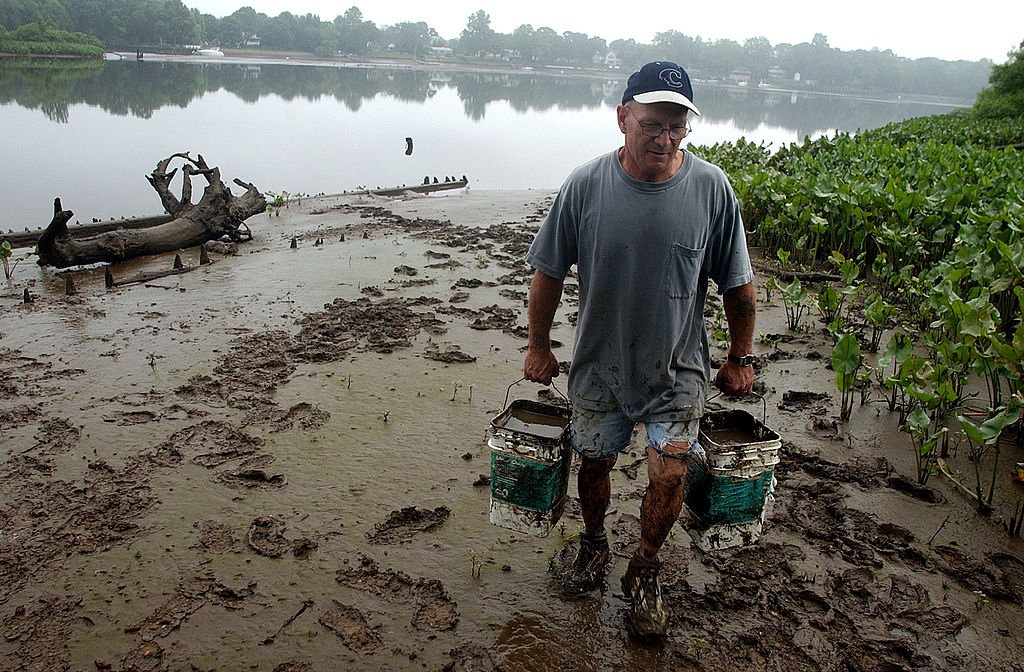 If this news is surprising or even a little absurd, know the practice exists because of MLB's rule book. Specifically, rule 4.01 (c):

"The umpire shall inspect the baseballs and ensure they are regulation baseballs and that they are properly rubbed so that the gloss is removed. The umpire shall be the sole judge of the fitness of the balls to be used in the game."

What seems like an odd custom or superstition is actually a necessity. It may be hard to believe that a riverbank in New Jersey has such an important role in one of America's beloved sports, but it does. In a world in which automation is increasing, and old school methods of production are going by the wayside, this is one traditional approach that still stands.