MLB: Why Carlos Correa Deserved to Win AL Rookie of the Year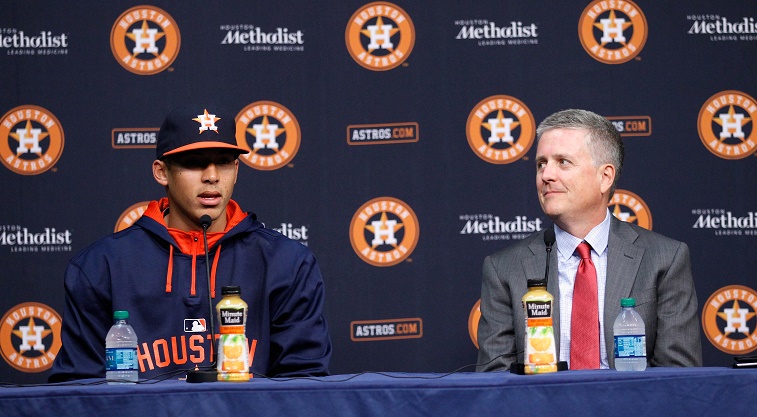 On Monday night, Houston Astros shortstop Carlos Correa edged out Cleveland Indians shortstop Francisco Lindor to capture the 2015 AL Rookie of the Year award, becoming just the second player in the team's history to earn that honor; the other being Jeff Bagwell in 1991. The Astros made arguably one of the biggest turnarounds in 2015 — from one of the major league's bottom-dweller teams to a legitimate playoff contender with a roster chock-full of young, promising talent.
A huge part of the Astros' success this year was due to the emergence of Correa, regarded by many as one of the best prospects in minors as he had a triple slash of .313/.392/.491 with 28 home runs and 199 RBIs in 282 games over four minor-league seasons. His steady development eventually led to his call-up on June 8, and he proceeded to take the majors by storm. He made an immediate impact with his bat and glove, showcasing the many reasons why Houston decided to select him as the first overall pick in the 2012 MLB draft.
Correa posted phenomenal numbers in just 99 games played, batting .279 with 22 home runs and 68 RBIs. This included leading all shortstops and AL rookies in home runs while holding a 4.1 WAR (Wins Above Replacement). He also set the franchise rookie record for home runs and broke the Astros' mark for most home runs by a shortstop in a single season. Correa was just as electric defensively, making highlight-reel plays with his glove on a daily basis.
What was most impressive about Correa's play was that he made a huge impact while playing just a little more than half of the regular season. If he had played the entire year, there's no question that he could have been in the AL MVP conversation with more than 30-plus home runs with near or above 100 RBIs and 100 runs scored. Additionally, his production would have elevated him far above any other player from his position.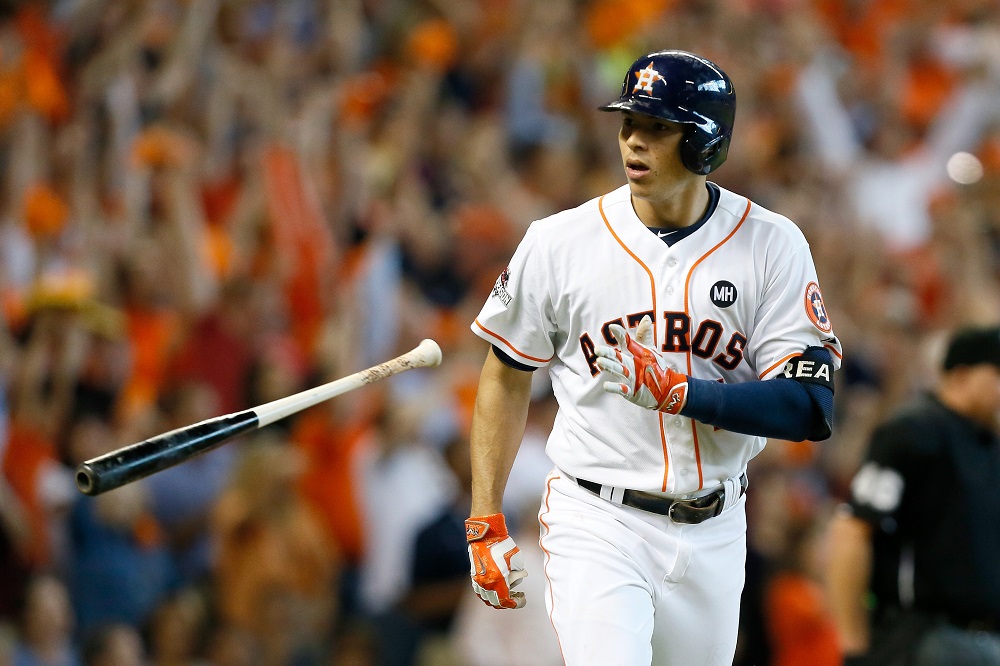 In essence, Correa was one of the major spark plugs that helped the Astros become one of the best teams in the league. The fact that he has become the main source of production in the batting order for Houston at just 21 years old is a rare commodity. His meteoric rise is comparable to that of Los Angeles Angels outfielder Mike Trout and Washington Nationals outfielder Bryce Harper.
Yes, there were other viable AL Rookie of the Year candidates, such as the Cleveland Indians' Lindor, who batted .313 with 12 home runs and 51 RBIs in 99 games, and the Minnesota Twins' designated hitter Miguel Sano, who hit .269 with 18 home runs and 59 RBIs in 80 games. However, neither player impacted his team the way Correa did.
Beyond his production, Correa also showed poise and leadership well beyond his years. In his short time in the majors, he has become a legitimate middle of the lineup hitter and a steady glove in the field, playing one of the most difficult positions. He was clearly a major factor in bringing the Astros back to relevancy in the majors — and he's become a face of the franchise.
Correa is a budding star in the league and could very well be a legitimate AL MVP candidate next season. It's not too often that a player of Correa's capabilities comes along, which could make the AL Rookie of the Year award the first of many accolades for the promising young shortstop.
All statistics courtesy of ESPN.go.com.
Want more great content like this? Sign up here to receive the best of Cheat Sheet delivered daily. No spam; just tailored content straight to your inbox.