MLB: Why Curt Schilling Should Be in the Hall of Fame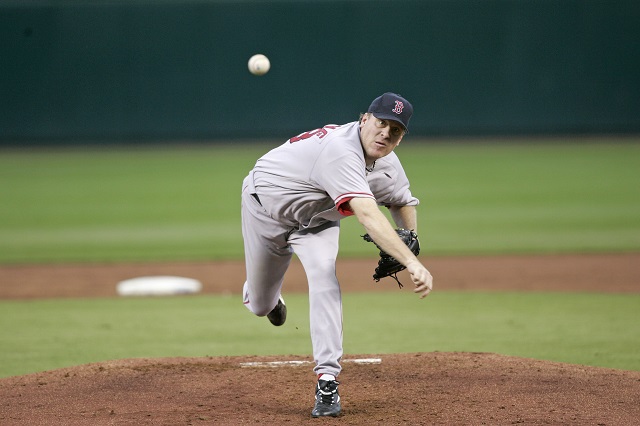 This is the eighth entry in a series of MLB debates focused on baseball-related topics. Victor Barbosa and Eric Schaal write pieces about what's trending across the league, offering analysis and opinion on a particular topic in a point/counterpoint format.
During the MLB off-season, the hot stove action of trades and free agent signings often dominate the headlines. A sub-plot in the early portions of November shift loads of attention to the announcements of the yearly awards from the previously completed season. While we realize the importance of these categories and have been covering that news, one of the other intriguing items is debating various retired players' hall of fame chances.
We recently looked at both sides of the argument for all-time home run leader Barry Bonds and all-time hit leader Pete Rose. Now, we move from the batter's box to the mound and focus our thoughts on legendary hurler Curt Schilling.
Like with Bonds and Rose, Schilling has been surrounded by his fair share of controversy both during and following his playing career. Whether it's the 49-year-old's strong, right-wing political views and statements, the well-documented financial struggles with his former video game developing company or tension-filled relationships with former teammates or coaches, Schilling has seen it all. The bottom line though, is that despite the various bumps in the road, none of them should really affect his credentials for the hall. Sure, there are plenty of things not to like about the Alaska native and he no doubt will rub many voters the wrong way, but unlike Bonds and Rose, there are no known allegations of cheating the game. Schilling has been adamant – perhaps to a fault – about the (hopefully former) PED issue in baseball and he himself has not been implicated for usage.
Let's also not forget that just because the pitcher's numbers don't jump off the page, the six-time all-star's regular season career statistics were solid and put him on the bubble. If evaluating a player's career legacy was based solely on their play in April through September, this argument would have a different ending. October – the most important month of the baseball calendar – is where Schilling made his presence known though, time and time again.
Schilling's postseason heroics can essentially be broken down into three separate eras. First, let's start in Philadelphia back in 1993. After struggling mightily as a reliever during the first four and a half seasons of his career, Schilling made the move to full-time starter in 1992. The following year, the righty finished 16-7 with a 4.02 earned run average. He turned it up in the postseason though, earning NLCS MVP honors and leading the Philadelphia Phillies to the World Series.
Fast forward eight years and the 216-game winner was a crucial co-ace of the Arizona Diamondbacks. After going 22-6 with a 2.98 ERA in the 2001 regular season, Schilling (shown above hugging Luis Gonzalez) absolutely dominated in October. He went 4-0 and allowed just six runs in a remarkable 48.1 innings of work. Schilling pitched 7.1 innings in Game 7 (on three days' rest) and was named the World Series co-MVP with Randy Johnson.
The final chapters of his storied career were a perfect bookend, as the ace was instrumental in the Boston Red Sox' 2004 and 2007 World Series titles. After being traded to Boston around Thanksgiving nearly a dozen years ago to the day, Schilling ran through American League lineups in 2004 to finish 21-6 with a 3.26 ERA in one of his finest seasons (at 37 years old by the way.) Entering the post-season as a co-ace once again (this time with Pedro Martinez), Schilling severely injured his ankle in the ALDS, but fought through it to pitch against the New York Yankees in the ALCS. After getting hammered in Game 1 in the Bronx, Schill got a chance for redemption in Game 6 and turned in a performance for the ages. You know the rest of the story; the Sox win Games 6 and 7 and move on to sweep the St. Louis Cardinals in the World Series (where Schilling was again dominant in a Game 2 win.)
The 2007 Schilling is often overshadowed by what he did in 2004, but four more starts in that year's playoffs included three gems and wrapped up the right-hander's career with a postseason mark of 11-2 with a sparkling 2.23 ERA. When looking at his postseason game log, you can see that when on the biggest stage, Schilling consistently gve his club a chance to win.
Say what you want about Schilling's personality and frequent abrasive comments, but one thing is for sure, when you include his playoff career, this pitcher belongs in the hall of fame. Where so many other great arms have have fallen under pressure, Schilling was as big of a big-game pitcher as there ever was.
All data courtesy of Baseball-Reference.com.
Follow Victor @vbarbosa1127.