MLB: Why Free Agent Nicholas Castellanos Isn't Worth $100 Million
Nicholas Castellanos isn't a household name because he spent the first six-plus years of his major league career playing for a Tigers team that hasn't made the playoffs since 2014. More people learned about him this summer when he was thrust into a playoff race when the Tigers traded him to the Cubs at the trade deadline. He took advantage of being on a bigger stage with the Cubs and performed well for them. Now he's entering free agency this winter and looking for a big payday. He — and his agent Scott Boras — may be looking to land a nine-figure deal, but he's not likely to get that much. Here's why.

Nicholas Castellanos' WAR is expected to decline
Castellanos upped his offensive numbers after the trade to the Cubs, but even with those increased stats taken into consideration, FanGraphs' ZIPS projections show his WAR is expected to decline steadily.

Over the next five seasons, which is likely the length of a contract that Castellanos and Boras are going to seek, ZIPS projects Castellanos tp become less than a one-WAR player by the end of that period. It gives him a 2.1 WAR next season, dropping to 1.8 in 2021, 1.6 in 2022, and 1.4 in 2023. The ZIPS projections have Castellanos' WAR dropping by another half-game to 0.9 in 2024.

Positional disadvantage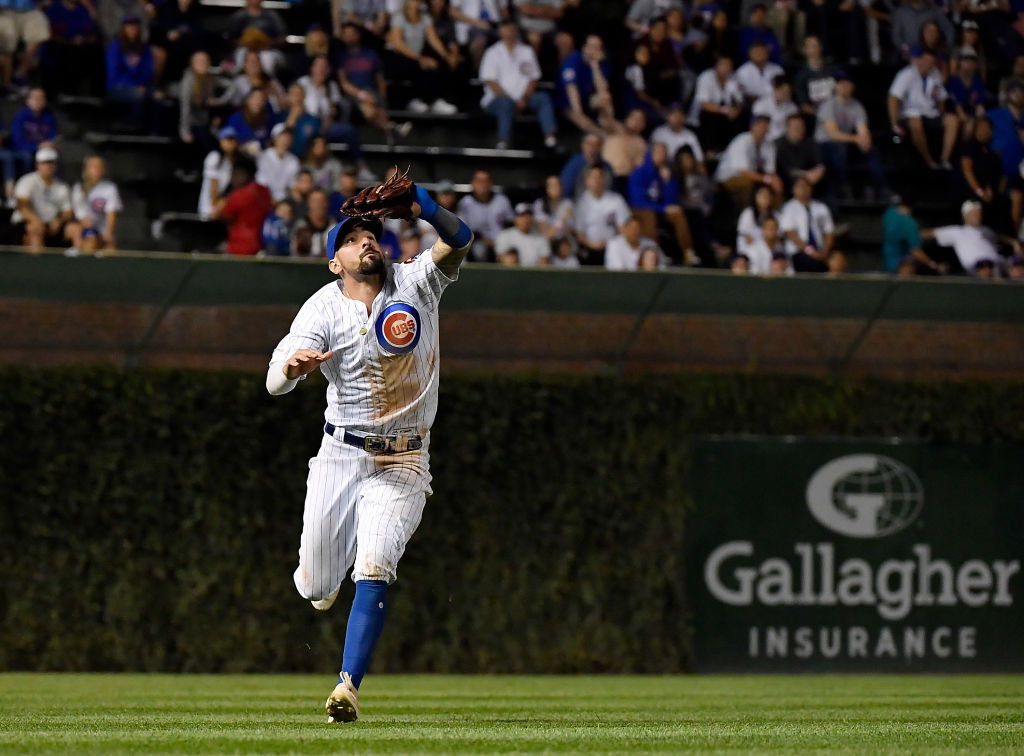 While he played some third base early in his career, Nicholas Castellanos has become mainly an outfielder since 2017, and his numbers don't necessarily line up well with the offensive output a player needs to have to get a nine-figure contract in the outfield. It's a position where players are expected to excel at the plate, and while Castellanos is above average, he's not exceptional.

FanGraphs projects Castellanos to have a slightly better WAR as a designated hitter, but that doesn't really help his case much. If Boras markets him as a DH this winter, he's already eliminating half of the 30 teams as destinations.

Plus, many of the top teams in the American League don't need a DH — or an outfielder, for that matter. The Astros have likely AL Rookie of the Year winner Yordan Alvarez in their DH spot, and they are having a hard time finding time for young outfielder Kyle Tucker. The Yankees also have a glut of outfielders and DH types, and the Red Sox also don't have much room at those positions. Even if J.D. Martinez opts out of his contract, the Red Sox would be more likely to pursue a new deal with him instead of giving Castellanos an offer close to what he would want.

The "hot stove" is cooling down
One of the biggest factors working against Nicholas Castellanos in his quest for $100 million has little to do with him and more to do with the general trend in baseball in recent years. Teams aren't willing to give middle-of-the-pack free agents the big contracts that they were doing as recently as a few years ago. Unless you're one of the top free agents, like Bryce Harper or Manny Machado this year, teams aren't willing to break the bank to give you a long-term deal.
This winter, players like Gerrit Cole and Anthony Rendon — and Martinez if he opts out — are the guys who are going to get the huge deals, while guys like Castellanos are unlikely to. A team would be more willing to give a mid-level free agent like Castellanos a one- or two-year contract with a higher average annual value than commit to him for a longer period with a contract in the range of five years and $100 million. That is a big reason why Nicholas Castellanos isn't worth $100 million in modern-day Major League Baseball.