MLB: Why Gary Sanchez Is Not the Next Jesus Montero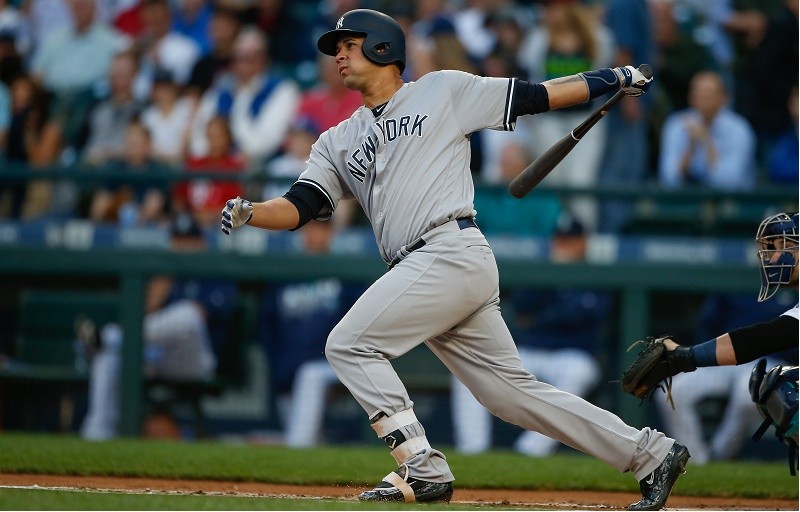 Somewhere, the T-shirts are already in production. They read "Got Sanchez?" or "Jesus Gave Hope [front] Gary Saves [back]" or simply "Sanchize." There are New York Yankees fans ready to buy and wear them to soon-to-be-played games in the Bronx. But in the back of their minds, there will be a lingering doubt, something that makes the T-shirt a risky purchase.
The doubt can be summed up as, "What if Gary Sanchez becomes the next Jesus Montero?" Or, in an equally bad though different way: "What if he's the next Shane Spencer?" Sanchez, the 23-year-old Yankees rookie who was recalled August 3 and named AL Player of the Week on August 22, has the hype of Montero (a former top catching prospect) and the explosive impact of Spencer (the slugging phenom of 1998) combined in a single package.
Sanchez's lightning-fast acclimation to big-league pitching has already earned him the job of starting catcher for the Yankees, and his ability on offense and defense makes him look like a cornerstone of the organization's rebuild. But before that happens, the Dominican Republic native who was signed at the age of 16 has to prove he's more Jorge Posada than Montero; more Robinson Cano than Spencer.
If he could, the Yankees would seamlessly transition at catcher with hopes of doing the same at first base (with Greg Bird) and in right field (with Aaron Judge) beginning in 2017. But before any of that happens, Sanchez must maintain a longer shelf-life than sensations of the past. Here's a look at his predecessors in the Bronx and what makes Gary Sanchez different.
The rise and fall of Jesus Montero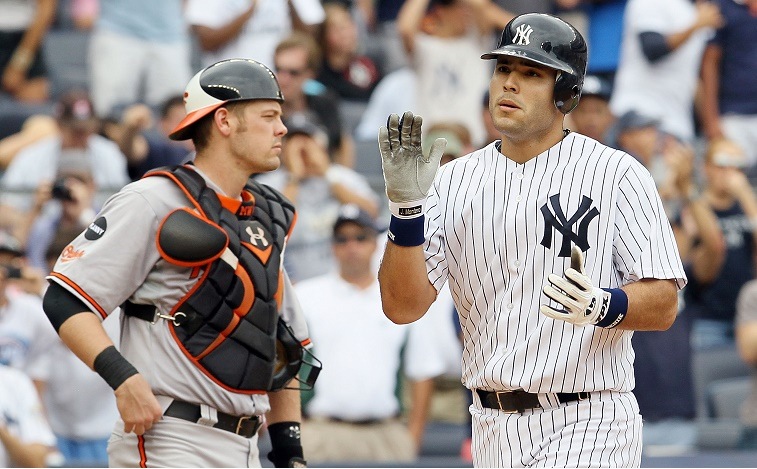 Like Sanchez, Jesus Montero was signed at the age of 16 by Yankees international scouts (in 2006). The Venezuelan native received a considerable ($1.6 million) signing bonus at that tender age, though it was not in the same ballpark as Sanchez's record haul ($3 million) a few years later. Montero rose through the ranks of the Yankees system and established himself as one of the organization's best hitting prospects by age 20, when he ranked No. 4 on Baseball America's top 100 in 2010.
However, there was never much talk about Montero's defense. Though he manned the catcher position in the minor leagues, Montero projected as a DH or part-time backstop, with scouts wondering if a move to first base was the best call. As long as he hit like he had in the minors, everyone figured the Yankees would find a place for him to play.
When the club promoted him at age 21 in September 2011, Montero made an instant impact on a Yankees team that had become sluggish in the final playoff push, hitting 4 HR and 4 2B with 14 RBI in 18 games that month (163 OPS+). His high strikeout rate was a concern, as was his lack of defensive ability, and New York's front office decided to sell high on Montero, trading him to Seattle for Michael Pineda.
While Pineda struggled through several injury-plagued years, he eventually became a key part of the Yankees rotation. Montero's career fell off a cliff. After hitting .260 with 15 HR in 2012, he was demoted to the minors and eventually released by Seattle. He now plays for Toronto's AAA affiliate in Buffalo.
The Shane Spencer story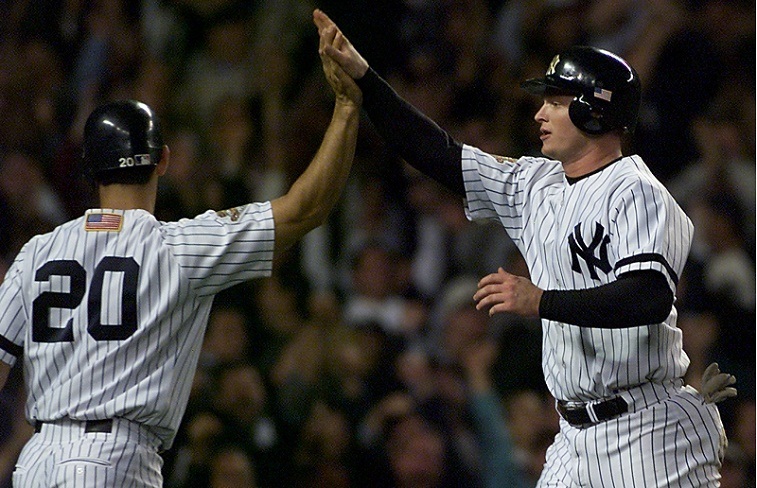 Shane Spencer's story is the most surprising one. Drafted in the 28th round as pick No. 750 in the 1990 draft, Spencer had the profile of a long-shot, someone who could expect to dig in and spend years in the minors improving his game in order to get a shot. On the bright side, he was only 18 at the time, and he started to show power at age 21 in A-ball.
A few years later, he caught the organization's attention with a season of 32 home runs split between AA and AAA, and he continued slugging until he got promoted in 1998. Spencer had a few cups of coffee that summer for the Yankees, then got his full-time call-up in September. That's when the Shane Spencer legend began. That month, he had hit 8 HR and posted 21 RBI with an OPS of 1.581 across 14 games.
He continued his magical run into October, clubbing two more homers in the ALDS against Texas as the Yankees capped off its historic 114-win season with a sweep of the Padres in the World Series. Then Spencer reverted to his 28th-round pick profile. He never topped his 1998 high of 10 HR, never secured a full-time job during the Yankee dynasty years, and drifted around the league until his career ended with the Mets in 2004.
Though never a top prospect, Spencer made everyone believe the scouts had missed something, and pitchers did not have time to adjust during his amazing hot streak in 1998. But they caught up to him later, and he never recovered.
How Gary Sanchez differs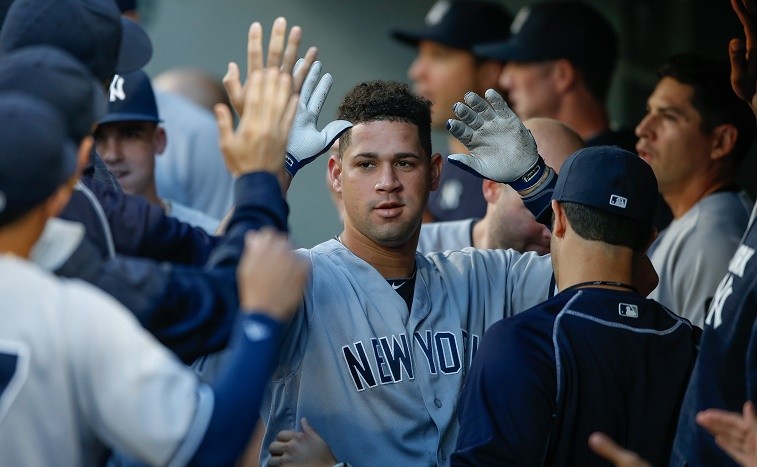 Unlike, say Bryce Harper or Mike Trout, there were a few bumps in the road for Sanchez on his way to the Bronx. Scouts questioned his work ethic, his defensive skills, his contact rate, and other things after he broke into professional baseball at 17. But after a poor 2013 season, he began forcing his way back into the conversation until his appearance in the Arizona Fall League in 2015.
There, he impressed all in attendance with improved throwing and framing skills behind the plate, as well as the leadership he showed with pitchers. Of course, his seven HR and 21 RBI in 24 games got more headlines, but Sanchez looked like an all-around star in the AFL. He may have put too much pressure on himself heading into Spring Training, when he lost the backup catcher job to Austin Romine, but he continued working until his August recall.
Unlike Montero, who was no force behind the plate, Sanchez has already made a name for himself by gunning down five of seven runners (Trout included)  trying to steal on him. Compare his 71% to the 30% league average and you can see how Sanchez is already different from one former can't-miss prospect. Spencer's one-dimensional (i.e., offensive) game also crumbled under the stress of big-league pitching.
Superb catching skills alone will keep you in the Major Leagues a long time. Combine that skill set with 30-home-run power and you have the makings of a superstar. Will Gary Sanchez be a legitimate successor to great Yankee catchers like Thurman Munson or Jorge Posada? He has a lot to prove before warranting these comparisons, but the smart money says he's no Jesus Montero or Shane Spencer.
Connect with Eric on Twitter @EricSchaalNY
Statistics courtesy of Baseball-Reference.