MLB: Why the Chicago Cubs Are Destined to Win the 2015 World Series
It's never a good idea to count your chickens before they hatch, but after watching the Chicago Cubs clinch the NL Division Series by defeating the St. Louis Cardinals 6-4 on Tuesday night, we can't help ourselves. Something special is brewing in the Windy City. We can feel it. And we're not the only ones.
As much as Cubs fans may be afraid to admit it — if only for fear of ruining the situation — they can tell something big is happening around them. Of course, no one knows better than Chicago Cubs supporters how quickly things can turn from good to bad.
To say Cubs fans have had their fair share of disappointment would be putting it lightly. These people have had their hearts broken time and time again. After this year's team finally won a postseason series at Wrigley Stadium — the first time it's happened in the history of the organization — manager Joe Maddon is hoping the Chicago faithful are beginning to change their way of thinking.
"I think it validates what we're all about," Maddon said. "I think it gives our fan base hope for the future. … They're not waiting for something bad to happen all the time. Something good is on the horizon, not necessarily something bad. I hope that's going to be the takeway from this."
We couldn't agree more. Something good is on the horizon. Something big is about to happen. And call us crazy, but we can't help but think it ends with the North Side's club as the last group standing at the conclusion of the 2015 MLB season.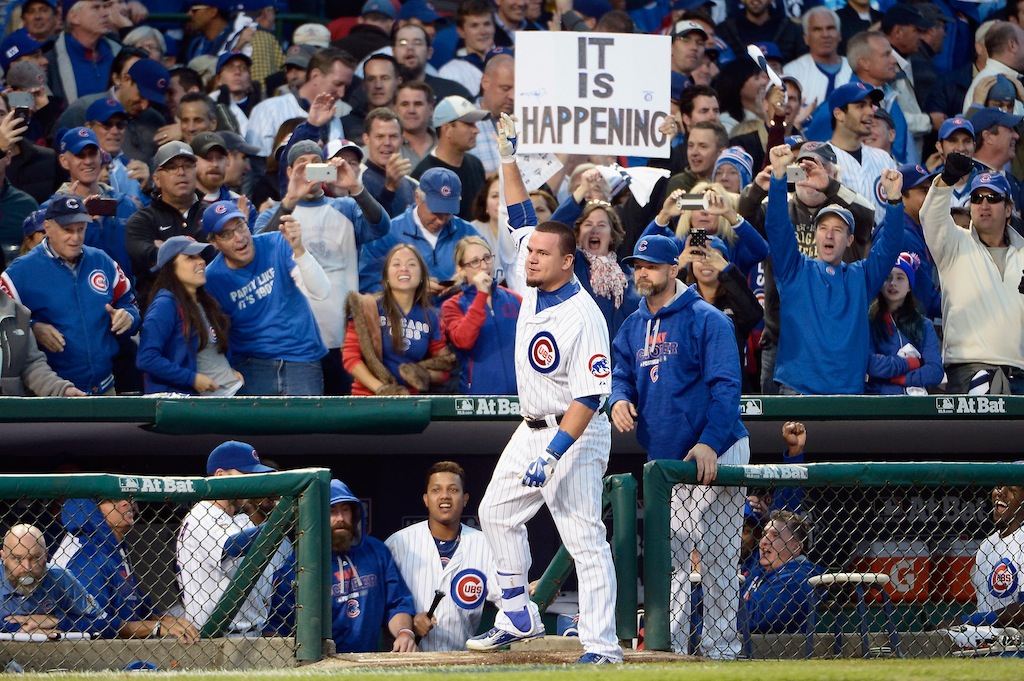 We understand history isn't on our side. We understand that by making this claim, there is the possibility that we are jinxing the very thing we are predicting. But we can't help it. What we witnessed on Tuesday night wasn't just a team advancing to the NL Championship Series, it was proof that the 2015 team is unwilling to let the pressure of the franchise's past cripple the club.
As Cubs president Theo Epstein noted, this team is simply focusing on each other.
"Our guys don't buy into those old narratives," said  Epstein. "They're doing this for each other. The pressure and the history don't matter to them. They were in Instructional League last year. You think they're worried about history? They were just worried about getting their laundry done."
If we've learned anything, it's that the Chicago Cubs have everything a team needs to win the World Series. With Jake Arrieta and Jon Lester in the rotation, the Cubs have the goods on the mound. With big-time hitters like Kris Bryant, Anthony Rizzo, and Kyle Schwarber in the lineup, you can expect quality at-bats and displays of powerful hitting. And with a manager like Maddon pulling the strings, you can expect this team to play with poise and intelligence.
From a talent standpoint, this group has it all. Yet, when October rolls around, that isn't always enough to win the whole thing. It requires something else. Something you can't touch. Something you can't completely explain. It can only be felt. And right now, as scary as it is to admit, that thing is in Chicago.
All statistics are courtesy of Baseball-Reference.com and ESPN.go.com.