MLB: Why the Houston Astros Were 2015's Best Cinderella Team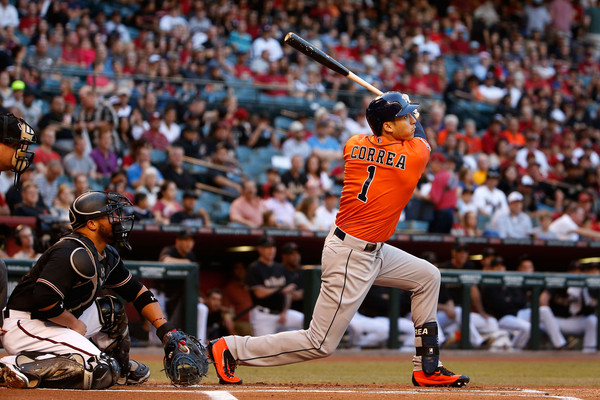 This is the fifth entry in a series of MLB debates, focusing on all baseball-related topics. Victor Barbosa and Eric Schaal will be writing pieces about what's trending across the league, offering analysis and opinion on a particular topic in a point/counterpoint format. Up next, who was this season's best Cinderella team?
Each and every passing season in Major League Baseball this millennium seems to be drawing more and more parity among the 30 teams. The 2015 campaign was certainly no different and was historically great for the sport.
With the likes of the Toronto Blue Jays (AL East champions), New York Mets (NL East champions), and Chicago Cubs (NL Wild Card) making — and advancing — in this year's postseason, we're at a point where conceivably every single team has to at least be given a chance at something special in 2016. We didn't even mention the surprise playoff berth of the "Evil Empire" New York Yankees, the second consecutive pennant (and this time World Series victory) of the Kansas City Royals and the shocking second-half surge of the Texas Rangers. Oh, and the Pittsburgh Pirates made the postseason yet again.
Of all the pleasant surprises in the league this past season though, none was more stunning than the wild card-winning Houston Astros. Coming into spring training, virtually no one would have thought this team was capable of making the playoffs, let alone nearly winning the AL West. With a few intriguing young bats like Jose Altuve and George Springer, there was some optimism for the offensive output. Few saw the type of production coming from a starting rotation "headlined" by a guy named Dallas Keuchel though.
During the stretch run of 2015, the Astros pitching staff was led by two lefties in Keuchel and Scott Kazmir. The former entered the season as a 27-year-old player with three years of big league experience. Granted, 2014 was somewhat of a breakout year for Keuchel, but a 12-9 record with just 146 strikeouts in 200 innings pitched was nothing special. Since he was a member of the dreadful 70-92 team in 2014 though, Keuchel's stellar 2.93 earned run average and league-leading five complete games were likely overlooked. All Keuchel did in 2015 was win 20 games, earn his first all-star appearance and post phenomenal stats, all while serving as a reliable ace on a club in postseason contention all year long. He could very well earn this season's American League Cy Young award.
Then you have the rest of the rotation — a deep, talented group that performed spectacularly behind Keuchel. Kazmir (who was acquired from Oakland mid-season), Collin McHugh (pictured above; 11 career wins coming into 2015), Lance McCullers (a rookie), and Mike Fiers (acquired mid-season from Milwaukee) went a combined 29-21 with Houston this season. Each of them finished their season's with ERAs under four. None of this was expected in 2015.
It's true, the Astros did have a very difficult second half of the season. They held what was thought to be an insurmountable lead in the AL West at one point, only to have the Rangers swoop in and earn the first round bye. However, when you looked at the rest of the division preseason, where did you have the Astros finishing? A third-place finish probably would have been considered optimistic and a fourth or fifth place standing considered more likely.
You had to like what the Seattle Mariners did in the off-season and with Felix Hernandez leading the charge, they were a popular pick to win the crown. Then there were the Los Angeles Angels of Anaheim, always seeming to be an underachiever but still stacked on offense with Mike Trout and company. With Prince Fielder and Yu Darvish (expected) to carry the Rangers' offense and pitching respectively, it would have been completely legitimate to pick Texas for third. Perhaps only the Oakland Athletics were pinned to finish behind the Astros in 2015, but through a consistent, youthful lineup and a coming-of-age, deep starting rotation, Houston was the biggest Cinderella team in baseball this season.
All data courtesy of MLB.com, Baseball-Reference.com and ESPN.com.
Follow Victor on Twitter @vbarbosa1127.