MLB: Why the Los Angeles Angels Need a Left Fielder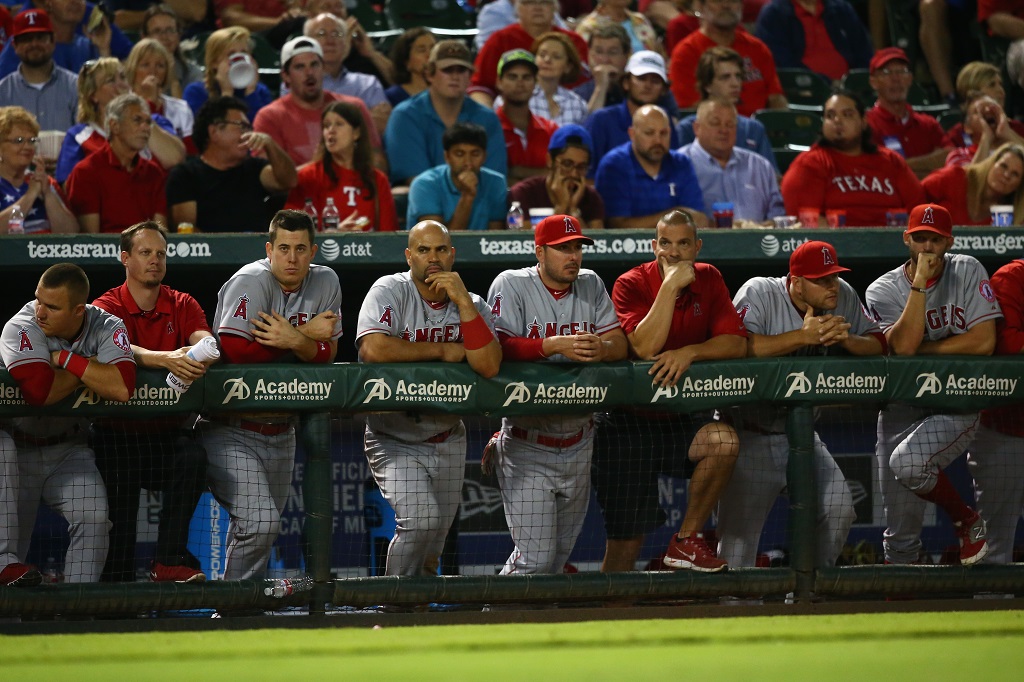 The Los Angeles Angels will head into the offseason looking to add pieces to their roster in hopes of returning to the playoffs next season.
One area that they will make a priority to upgrade will be in left field. The Angels received insufficient production from the position, especially after the team decided to deal Josh Hamilton back to the Texas Rangers early in the season.
Los Angeles had hoped that Matt Joyce could fill the void left by Hamilton, but he struggled mightily swinging the bat hitting a career-worst .174 and had just five home runs and 21 RBIs in 93 games played.
However, the Halos did make three trade deadline acquisitions in veteran outfielders David Murphy, David Dejesus, and Shane Victorino. Each had their fair share of playing time with the team, but none could fill the lack of production in the lineup.
The Angels will likely let both Victorino and Joyce walk in free agency, leaving just DeJesus and Murphy on the roster playing in utility roles in the outfield and sparingly at designated hitter.
With that in mind, Los Angeles must target the top two left fielders in free agency headlined by Justin Upton and Yoenis Cespedes.
Upton is coming off his first campaign with the San Diego Padres where he batted .251 with 26 home runs and 81 RBIs. It was a slight step back from the season prior with the Atlanta Braves where he knocked in a career-best 102 RBIs.
Nonetheless, the 28-year-old has remained quite productive with his bat hitting 25 or more home runs in four out of the last five seasons, and knocked in at least 80 RBIs in the last two years. In that same notion, he has developed over his career into a hit-or-miss batter striking out at least 120 times in all but his first season.
Upton's power would certainly be welcomed by the Halos after receiving just 11 home runs from their left fielders this past season. The three-time All-Star presence would also help ease the pressure off the top of the lineup that includes Kole Calhoun, Mike Trout, and Albert Pujols to being the sole source of the offense.
In regards to Cespedes, he has come into his own this season posting career best numbers across the board in home runs (35), RBIs (105), runs scored (101), hits (184), and doubles (42) while batting .291 for the Detroit Tigers and New York Mets.
What has been most impressive about the 30-year-old is that he has shown he can be a true No. 3 hitter in the lineup, which he has excelled with the Mets batting .287 with 17 home runs and 44 RBIs in 57 regular season games. He has also shown to be a decent outfielder with an incredibly strong arm that rivals that of Los Angeles Dodgers' outfielder Yasiel Puig.
It's well noted that the Angels have had some significant misses in free agency when it comes to outfielders (Hamilton, Gary Matthews Jr.), but the addition of either of Upton or Cespedes would be a definite step in the right direction.
This will likely take a large lucrative contract to lure one of them away from their respective teams, more so Cespedes given that the Mets are vying for a World Series title, but the risk is well worth it.
Each player is still within the prime of their careers, and barring any significant injuries they will have several more productive seasons. More importantly, the need for another productive bat in the Angels' lineup is quite serious.
It's no secret that the Angels struggled offensively this past season ranking 21st in the league in RBIs, 27th in team batting average, and 24th in OPS. Ultimately, the Angels have a huge void in left field, and heavily pursuing either Upton or Cespedes in free agency is a must.