MLB: Why the Royals May Not Be Champions Again in 2016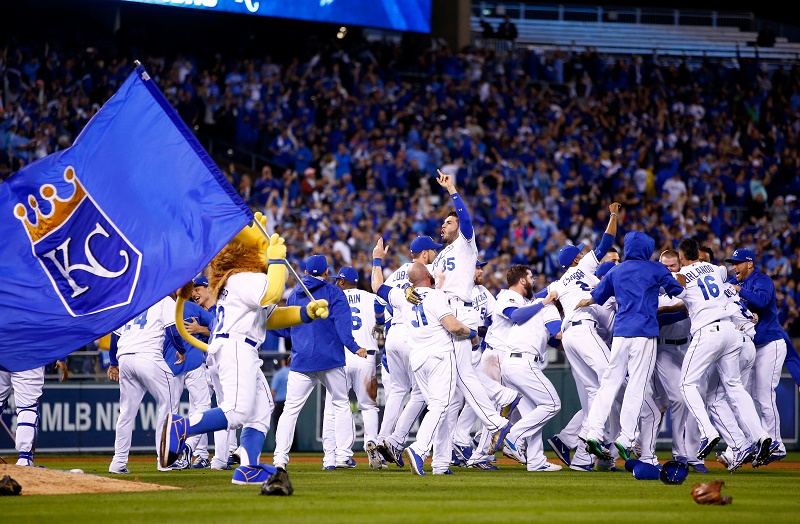 In the underestimation of the decade, legions of baseball writers doubted that the Kansas City Royals could return to the World Series in 2015 after the team's valiant 2014 run. This year, the opposite viewpoint dominates. Chastened by regret and shame from Midwestern media outlets, most writers are booking the Royals on an express train back to the Fall Classic in 2016. We're not so sure about that. K.C. will have to fill major holes to pull off a rare title repeat.
We will start by recalling back-to-back World Series wins in the past 20 years. Only the late-1990s Yankees (a three-peat) have been able to lock down the title in consecutive years, and those teams featured pitching staffs much deeper than the Royals can boast.
Speaking of pitching, we'll continue by noting the potential losses of Johnny Cueto and Chris Young, two keys to the 2015 title. Young allowed one baserunner in three scoreless innings to help the Royals take Game 1 from the Mets in 14 innings. Then, he came back on three days of rest and tossed four innings of two-run ball in Game 4. We can't discount Young's success in the ALCS and ALDS either. Plus, he went 11-6 with a 3.06 in 34 appearances (18 GS) during the regular season.
As for Cueto, going the distance in Game 2 makes him a World Series legend, but his 8 IP in the decisive Game 5 of the ALDS was equally important to this championship. Maybe Kansas City will not miss Young should he sign elsewhere, but replacing Cueto is something else. Adding an affordable ace in a deadline deal is a tall order to keep filling. Then there's the matter of replacing Alex Gordon and Ben Zobrist.
How do you hit a bigger home run than the one Gordon jacked off Jeurys Familia to tie Game 1 of the World Series in the bottom of the ninth? In terms of momentum, you can't overstate the importance of his ultra-clutch hit. The Mets were about to take the opener and throw Jacob deGrom out for Game 2.
Of course, Gordon has been a key part of this club for years, with only an injury slowing him down in mid-2015. Before having his streak broken this year, he had four straight Gold Gloves in left field and is widely acknowledged as the top defender at his position. If the Royals don't re-sign him — a real likelihood for the small-market club — replacing Gordon will be tough. Three-time All-Stars in their prime are hard to come by.
As for Zobrist, he delivered a terrific 59 games in the regular season for Kansas City before helping the team overpower the Blue Jays in the ALCS (2 HR, 4 RBI, 1.050 OPS). Going back to Omar Infante would be a cruel joke after getting a taste of what Zobrist did for the club down the stretch, and the versatile switch-hitter is less likely to return to K.C. than Gordon.
Not many people were impressed when the Royals front office picked up Young and Kendrys Morales last offseason, so maybe management has some more wizardry on deck for the 2016 club too. These holes could all be filled by the time K.C. needs to kick into high gear next season. By the looks of the potential losses, there is plenty of work to do.
Stats courtesy of Baseball Reference.
Follow Eric on Twitter @EricSchaalNY