MLB: Why Trevor Story Will Continue to Excel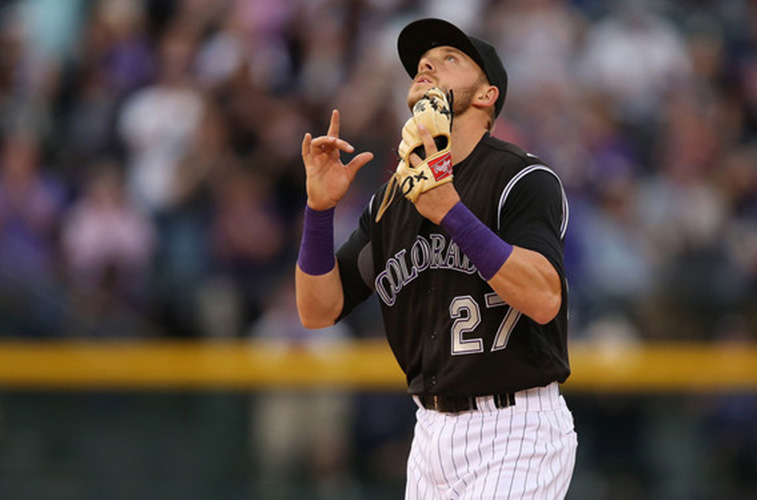 When the new MLB season began, fans anticipated a couple specific things. Bryce Harper was supposed to continue to be the game's best player. Pitchers like Jake Arrieta and David Price were supposed to dominate for their respective teams. And teams like the Houston Astros and Chicago Cubs were expected to stake their claims as World Series favorites.
While many of those things have come to fruition early in the season, the most intriguing storyline of the season's start comes via a player nobody had heard of, on a team that nobody pays attention to. That player is Colorado Rockies' rookie shortstop Trevor Story. In his first professional outing, Story hit two home runs, the first player to ever do so in his MLB debut.
A couple of nights later, he became the first player to hit a homer in each of his first three major league games. In his next game he hit two more long balls to become the first hitter ever (regardless of rookie or veteran status) to knock the ball out of the park in four straight games to begin a season.
After another home run on April 11, Story had seven in just six games played in 2016, the most ever at the start of season. On April 19, he hit his eighth home run in just 13 games, something no player has done since 1900 (and he broke the eighth-inning tie against the Cincinnati Reds, leading the Rockies to a victory).
Now, everybody is familiar with the 23-year-old's name. With his sizzling start, Story is currently on pace for 189 home runs and 324 RBI, which would put him in a league of his own. Clearly, he will slow down eventually, but the real question is how consistent Story can stay at the plate throughout the entire MLB season. Three reasons that make us believe that Story will stay relevant all summer long.
Playing in Denver
Anybody who's played at Coors Field, the home of the Rockies, will tell you that there's a clear advantage for hitters looking to go deep. It's estimated that a ball travels 9% farther in the Mile High City than it does at a sea-level stadium. The thin air at that altitude also effects the effectiveness of pitches, adding to a hitter's edge.
In that case, as Story plays more games on his home turf, the results could be staggering. So far, the shortstop has played three games in Denver and three in Arizona, hitting four of his homers in the desert. Obviously, the sample size is still too small to project just how well he will hit in various ball parks throughout the league, but his small amount of data is noteworthy nonetheless.
We've seen what playing at Coors Field has done for other hitters like current Rockies Nolan Arenado and Carlos Gonzalez, who were among the NL leaders in home runs in 2015, so it's not out of the question to think that Story can have a big season at home with the bat.
Hitting all the pitches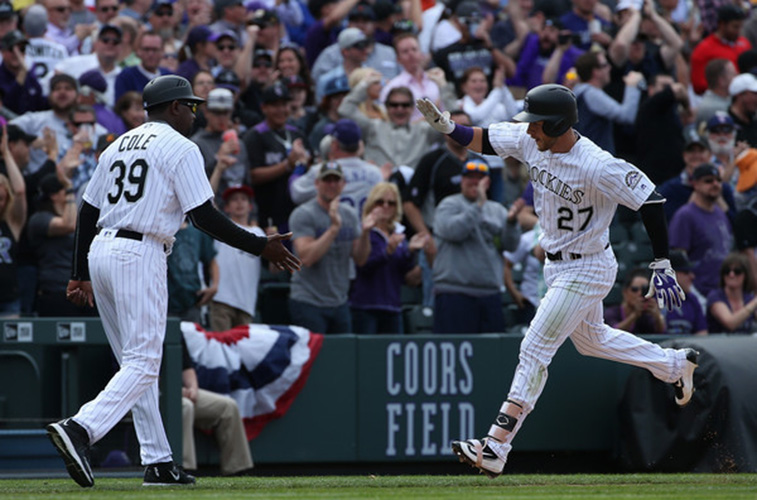 A lot of hitters have success hitting the fastball. That's the case for Story, who has hit three of his seven homers off that pitch. However, many hitters don't have a ton of success when pitchers start mixing up their stuff. For Story though, he's been able to hit whatever the guy on the mound has thrown his way. He's hit home runs off of sliders, changeups, and curveballs alike, proving that he is more than just a fastball slugger.
When you break into the location of Story's home run pitches and the guys who he's hitting off of, things become even more impressive. There's been pitches on the inside, pitches on the outside, pitches down in the zone, and (yes) pitches down the middle — he's hit them all. Clearly, pitchers are still trying to figure out where Story's weak spot is, but at this point, he doesn't appear to have one.
Even Zack Greinke couldn't figure him out on opening day, as the ace pitcher had one of his worst games as a professional pitcher in Arizona's season-opening loss to Colorado. The ability to hit multiple pitches for home runs will be beneficial for Story has he tries to chase the marks set by other rookie power hitters.
Filling empty shoes
When the Rockies traded away franchise staple Troy Tulowitzki last summer, they created a major void in the middle of their infield and lineup. Tulowitzki was one of the best shortstops in the game during his time in Colorado and played a huge role in delivering the most magical season in the history of the club during the 2007 season.
In return for Tulo, the team received Jose Reyes from the Blue Jays, who's been unable to take field this season thanks to legal issues. That situation opened the door for Story and he's delivered in ways that the team didn't think was possible. Following in the footsteps of a franchise legend can be too much for some athletes to deal with. Story has embraced that challenge and is now playing a huge role on a mediocre team.
With the way he's started his rookie campaign, he'll continue to get starts for the team, which will only give him more opportunities to shine. Maybe, just maybe, this is one of those guys who will excel when given the opportunity to display his talents.
While Story may not break any more records throughout the season, his play has earned him some respect. He should hit at least 25 home runs by season's end, which would be more than respectable for a rookie slugger. Whatever you want to say about him, this "Story" sure doesn't feel like a fluke.
Statistics courtesy of ESPN.com, CBS Sports.com, and MLB.com.