MLB
The 4 Worst MLB Throwback Uniforms of All Time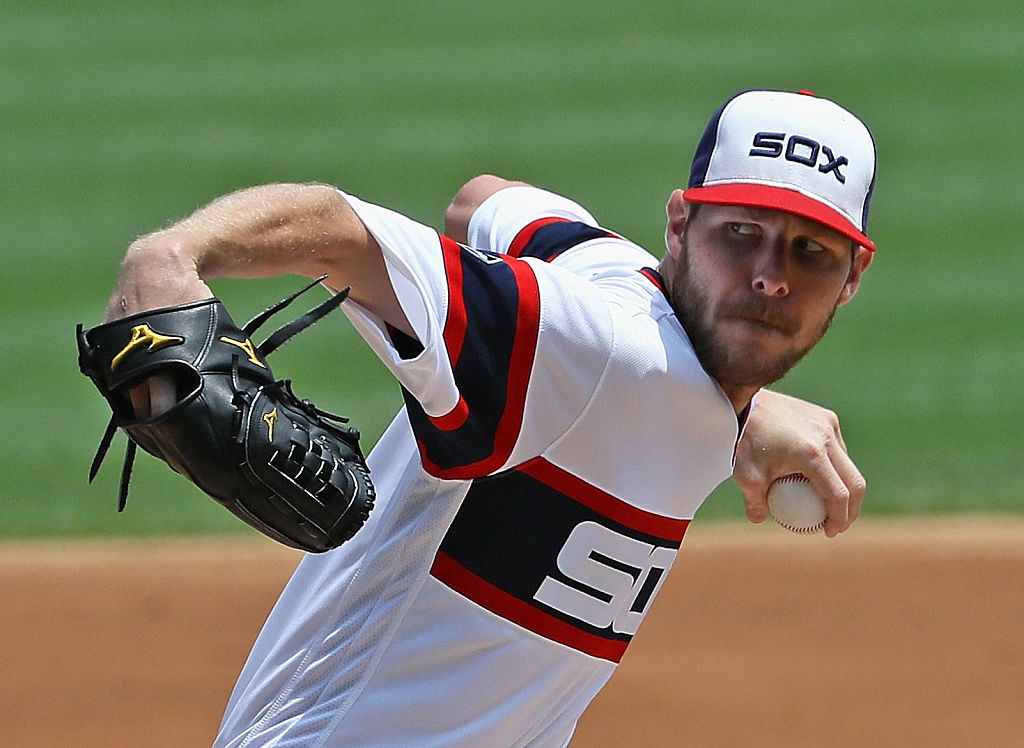 Chris Sale had a point. Perhaps he went a little bit loco to express it, but he is right — those Chicago White Sox throwback uniforms are bad. Really bad. As in thrift-store, bargain-bin bad. Major league uniforms have always been a puzzling commodity. Teams change logos, going from pinstripes to plain jerseys on a whim. The Baltimore Orioles cannot seem to decide between a replica Oriole or a cartoonish bird. The San Diego Padres go back and forth attempting to outdo the ugliness of their preceding game wear.
To make things even more complex, teams now have alternative jerseys, batting practice shirts, and outfits solely for Spring Training. When St. Patrick's Day rolls around… Well, that's an entirely different story.
When it comes to throwbacks — a promotion obviously dreamed up by some e-commerce guy who figures the more options for fans — the more jersey and hats bought online or in-stadium at the team's Fan Shop the better. Fashion sense and comfort don't hit the design radar, and when a player revolts against wearing unis from 1976 that are a cross between bad softball shirts and a Bozo the Clown warmup smock, the issue comes to the forefront.
1. Chicago White Sox

Truth be told, those '76 uniforms may be bad, but the 1983 shirts that say "Sox" across the front in white letters against a blue background are far worse than the mock Beer League unis that incensed Chris Sale. The 1983 model was worn for one season, a year in which the team was far better than their on-field garb.
Led by Hall of Fame manager Tony La Russa, the White Sox won the AL West with 99 games in the W column. As a fashion statement, however, the site of chunky Ron Kittle and a pudgy Greg Luzinski in those garish outfits was far from inspiring. Kittle didn't let the ugly garb spoil his season; in 1983, Kittle won the Rookie of the Year award while hitting 35 home runs with 100 RBIs.
To celebrate the 20th anniversary of that first-place team, the Sox wore those uniforms each Sunday in 2003. If there was one feature that seemed to puzzle most baseball purist it was the players' numbers in bright red on the top of their pant legs.
2. San Francisco Giants

From the South Bay all the way through Marin County, Giants fans were thrilled to see the team go back to their traditional Giants uniform stylings when they moved into Pac Bell Park in 2000. The cream-colored jerseys just looked like pure class.
One of the least memorable uniform designs the Giants had in their Candlestick Park days was the 1983 Alt 1 jerseys. That season, the team has three alternative jerseys, each appealing to a different fan segment. The bright orange ones with Giants written in script at a 45-degree angle are pure traffic cones. Understandably, the idea was with those foggy nights at Candlestick, orange jerseys would keep players from getting lost in the mist, and prevent outfield collisions.
The team was almost as bad as those alternative unis, losing 83 games and finishing fifth in the AL West. It is worth noting that the team featured future D-back manager Bob Brenly at catcher and Giants broadcaster Mike Krukow on the hill winning 11 games (also hitting a home run).
3. Philadelphia Phillies

It was with great sadness that when the Phillies moved into Veterans Stadium in 1971, the team moved away from their traditional garb to wearing pinstripes with a "P" on the front holding a baseball. In fact, the team moved from classy to crass in their last year at Connie Mack Stadium in 1970. Such outfits were actually common during the era of oversized, artificial turf stadiums of the '70s.
The Pittsburgh Pirates attire in that era was especially heavy on polyester, but not nearly as bad as the Phillies. In the era of Steve Carlton and Mike Schmidt, the team might have won the World Series in 1980, but their jerseys always finished in last place. Luckily, in 1992, the team came back to its senses and returned to a look that paid tribute to the team's earlier years.
4. Houston Astros

In 1962, the Astros entered the league as the Houston Colt .45s with one of the coolest logos and uniforms ever seen. Sadly, that name and on-field look only lasted two years. In the half-century-plus since then, Houston has yet to settle on attire that met the grade for discriminating fans. The current uniforms look slightly better than a Little League team, but nothing comes close to those rainbow jerseys with a giant star that Astros players were forced to wear beginning in 1975. To say they are indicative of a more psychedelic (and less fashion conscience) eras is an understatement. For reasons only known to the Astros front office, the team wears those rainbow jobs on throwback days. Seems like a trade for Chris Sale and his magic scissors should be considered.
Statistics courtesy of ESPN and Baseball-Reference.