MLB: Zack Greinke Loves and Hates the Astros Offense
Before this season and during it, pitcher Zack Greinke's been one of baseball's top pitchers. The Houston Astros traded for him before the trade deadline, ensuring they'd have the most fearsome rotation in baseball. Pairing an elite pitcher like Greinke with such a potent offense seems like a match made in baseball heaven.
If that's the case, why are there reasons that Greinke both loves — and hates — the Astros offense?

His 2019 numbers so far
This season, Greinke's 2019 numbers are rather impressive:
13-4 win-loss record
2.84 ERA
165 innings pitched
A Wins Above Replacement (WAR) total of 5.5
Greinke started this season with the Arizona Diamondbacks. Before the trade deadline, the Diamondbacks traded him to Houston along with pitchers Joe Biagini and Aaron Sanchez in exchange for a package that included Astros prospects J.B. Bukauskas and Corbin Martin. The deal made Houston the odds-on favorite to win not just the American League but also the World Series.

Since Arizona dealt him to Houston, Greinke hasn't disappointed. In three starts, he's 3-0 with a 2.37 ERA and only five earned runs allowed. Greinke puts the Astros in position to have an almost unbeatable top three: Greinke, Justin Verlander, and Gerritt Cole.

Why Zack Greinke loves the Astros offense
Greinke has to love the Astros offense because of how good it is. Check out some of these numbers:
697 runs
1,207 hits
216 home runs
678 RBIs
.273 batting average
.834 OPS
If you're keeping score at home, that puts the Astros in the top five of almost every major offensive statistical category. The Astros are keeping that offensive proficiency alive for Zack Greinke as well. In his three starts, they've put up 11, four, and six runs.

It's hard to imagine why a pitcher would hate that kind of run support, but Greinke did come up with a reason.

Why Zack Greinke hates the Astros offense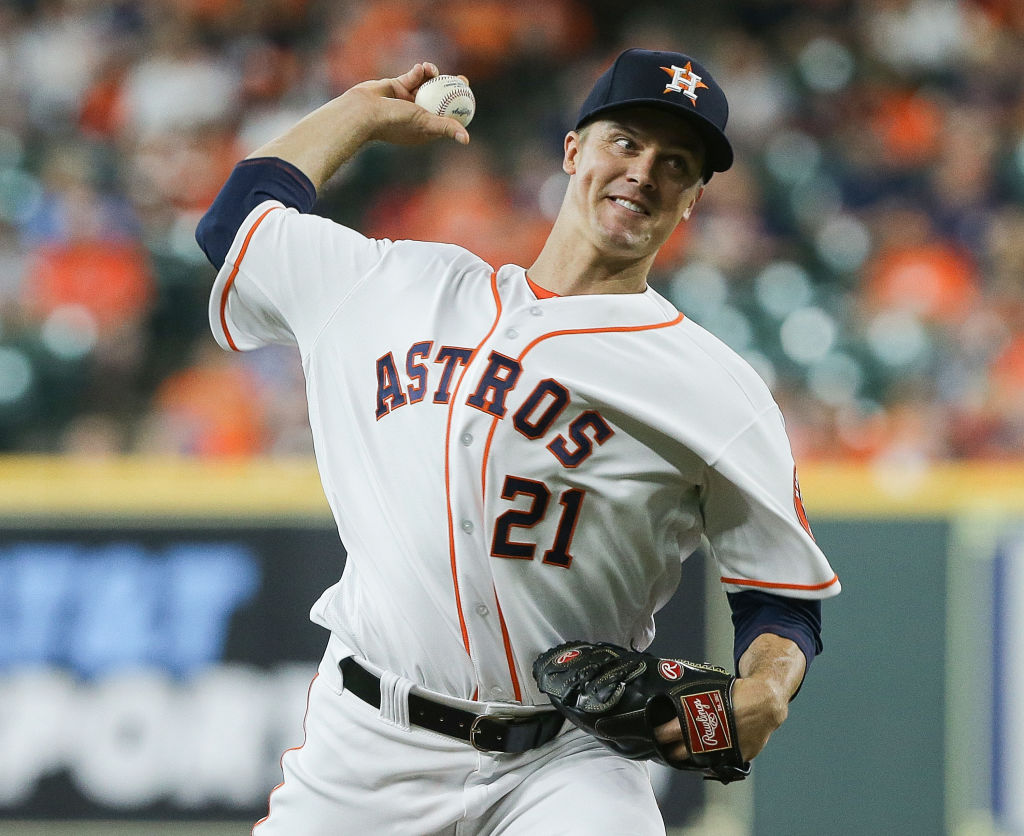 The Astros did not hesitate in showing Greinke exactly what type of offensive effort he could be used to on this team. In Greinke's first start against the Colorado Rockies on Aug. 6, the Astros scored 11 runs. They also gave Greinke plenty of time to wait around which he was not particularly used to, according to MLB.com:

"Houston sent at least five batters to the plate in three different innings while Greinke was in the game, and five times total during the game. Six Astros hitters had a plate appearance in the fifth and sixth innings, respectively, which included three mound visits and two pitching changes by Colorado."

Most pitchers would be grateful for this type of support. Zack Greinke had a different viewpoint. "Yeah, it's kind of boring…And just trying to stay loose, staying focused [when] not having anything to do."

Greinke compared the Astros offense to the one he pitched behind in Milwaukee, saying, "It's a good offense, and it's fun to pitch with that going on," so he's clearly appreciative of the Astros effort.

For a perfectionist like Greinke, it may take some getting used to. He has a routine, and the Astros offensive firepower may disrupt it slightly. There's no doubt he'll handle it like a pro, but he may want to consider taking up a hobby for those longer between-inning breaks his teammates put him into. 

All stats courtesy of Baseball Reference and current as of Aug. 21, 2019.