MLB
MLB: 3 Reasons Why the Dodgers Don't Need Zack Greinke
Less than one week after the Boston Red Sox landed a monumental shark for their 2016 starting rotation in David Price, the Arizona Diamondbacks came out of nowhere to snag Zack Greinke from the Los Angeles Dodgers. The move should have a major influence on the National League Western division race next season, as the D-Backs dramatically improved their starting pitching while some of their main competition will sorely miss the services of the 2015 NL Cy Young award runner-up.
With a solid offensive core including Paul Goldschmidt and A.J. Pollock, and Greinke at the front of the rotation, Arizona could certainly jump from a .500 ball club to the division favorite in the spring. The Dodgers will also have to watch out for the San Francisco Giants, a team that finished just outside of the playoffs a year ago and captured the World Series in 2010, 2012, and 2014.
Then you have the bottom of the barrel from last season: the San Diego Padres and Colorado Rockies. After a massive off-season during the winter of 2014, the Padres were largely disappointing in 74-88 campaign in 2015. They still have plenty of talent though and should improve next year. Then you have the Rockies, who can't do any worse than they did last season when they finished at 68-94. The bottom line? We all know Greinke is a huge loss for LA, and they will face plenty of stiff competition from their division opponents next season. However, here are three reasons why the Dodgers will be fine without Greinke.
1. They still have Clayton Kershaw
With all due respect to the newly-named Cy Young award winners Dallas Keuchel and Jake Arrieta, as well as Greinke, Felix Hernandez, and David Price, Clayton Kershaw is still the best pitcher in baseball. The ace lefty finished inside the top three for NL Cy Young voting each of the past five seasons, an accomplishment that is nearly unheard of in this day and age. Kershaw will surely miss Greinke next season, as he was the best No. 2 pitcher in the league, but the 27-year-old has shown in his career that he is capable of carrying a rotation on his back.
Consider the other "aces" who have joined Kershaw in the Dodgers rotations since he joined the team in 2008; Chad Billingsley, Hiroki Kuroda, Hyun-jin Ryu, and Josh Beckett. Yikes. By the way, we consider these four to be the best pitchers alongside Kershaw for any extended run — other than Greinke, of course. Despite that less-than-stellar group, the dominant southpaw has found one way or another to consistently keep the Dodgers in contention (for the most part). The off-season is far from over and LA is sure to make some moves, but with Kershaw as No. 1 again, the Dodgers should be fine in 2016.
2. Their offense will produce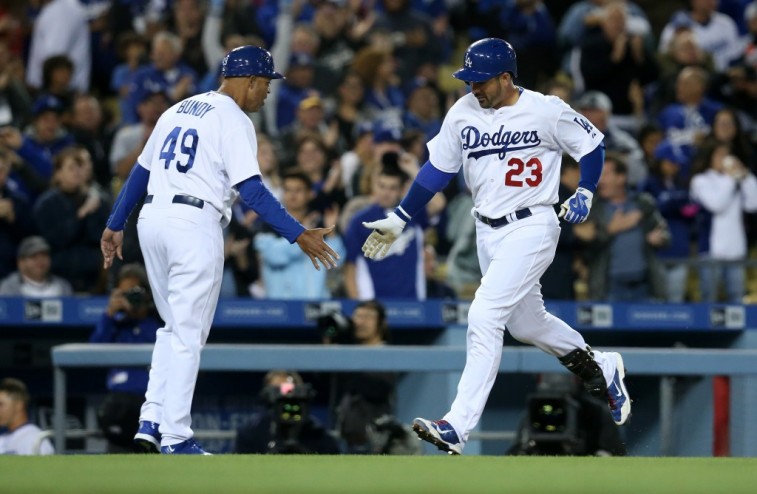 The MLB hot stove is just heating up. Who knows how different the Dodgers lineup will look come Opening Day 2016? For now, the team's depth chart shows sufficient bats to put up solid offensive numbers in support of what could be an average group of starting pitchers. The team ranked just 19th in all of baseball last year in runs scored, at 667, but that figure improves to eighth when looking at just the National League.
That essentially places the group right in the middle of the pack and remember, one of the team's most prolific bats, Yasiel Puig, only played in 79 games in 2015. Joining Puig (if he is not traded) would be one of the best hitting first basemen in the league, Adrian Gonzalez, as well as up-and-coming stud outfielder Joc Pederson. It sounds like, barring major injuries, the Dodgers shouldn't have too many issues scoring runs next season.
3. Look at their recent history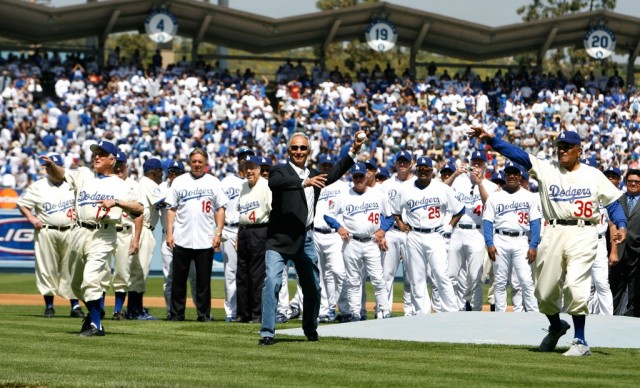 Yes, it's true. The Dodgers have not won, let alone made it to a World Series since 1988. However, they've been very good and have been getting close. Simply put, this organization is not used to a whole lot of losing and are seldom at the bottom of their division. Since the year 2000, the team has finished with less than 80 wins just once (in 2005 with 71 wins). If you narrow that down to the past 10 seasons, the Dodgers have had a winning record in every campaign except 2010, when they still had a decent 80-82 mark.
More recently, the team has made the playoffs in three consecutive seasons, each time winning the division with 90 wins or more. Sure, the team may not sport legends like Sandy Koufax (pictured in the middle above), Don Drysdale, and Roy Campanella anymore, but they still have a talented team that can compete. New manager Dave Roberts knows a thing or two about winning too, and he should have a positive impact on this club that will still be in National League contention next season — even without Greinke.
All data courtesy of MLB.com, Baseball-Reference.com, and ESPN.com.
Follow Victor on Twitter @vbarbosa1127
Want more great content like this? Sign up here to receive the best of Cheat Sheet delivered daily. No spam; just tailored content straight to your inbox.