MMA: 3 Fights MMA Fans Must See in November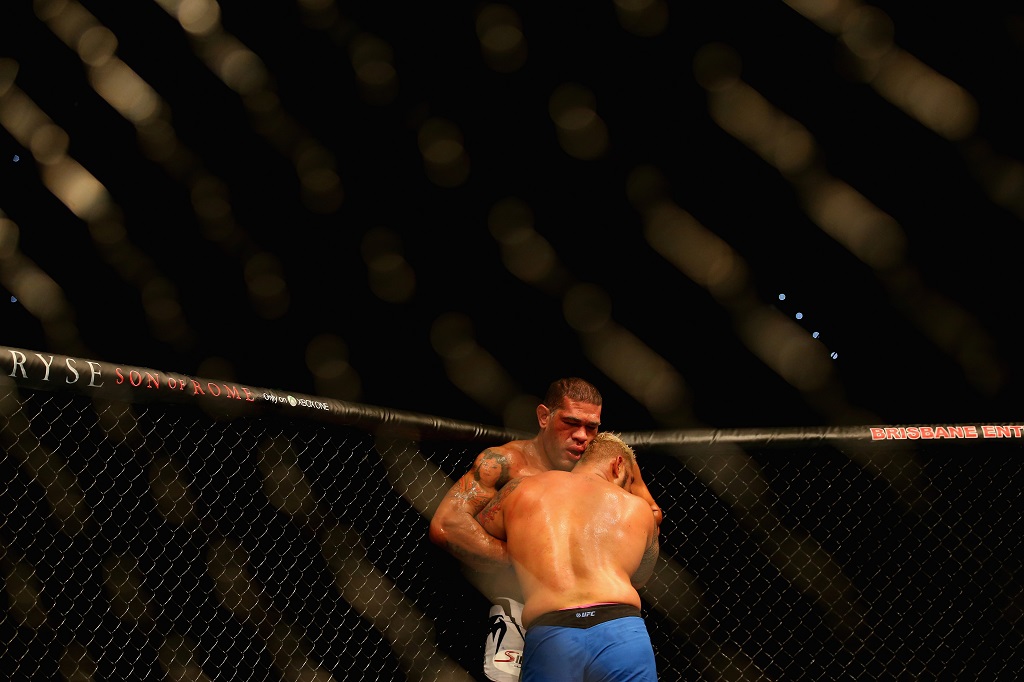 The November MMA fight calendar is fairly full. The UFC will present four fight cards, Bellator will have two events, and World Series of Fighting will have a single event, and that's just covering the major North American promotions.
Bellator 145 will take place Friday, November 6, from the Scottrade Center in St. Louis. The event will feature two title fights, a main card heavy on rematches, and a 10-fight preliminary card that will be heavy on local talent; UFC Fight Night 77 will take place on November 7, from Sao Paulo, Brazil. That card will be headlined by a trilogy fight between former UFC champion Vitor Belfort and former Pride and Strikeforce champion Dan Henderson.
The jewel of the November fight schedule is UFC 193. The pay-per-view event from Melbourne, Australia, will be headlined by two women's title fights with Ronda Rousey putting her belt on the line against Holly Holm and Joanna Jedrzejczyk meeting Valerie Letourneau.
November 20 will be busy; both Bellator and World Series of Fighting present events on that Friday evening. The WSOF event will feature a one-night eight-man lightweight tournament, while Hisaki Kato and Melvin Manhoef meet in the Bellator main event. UFC Fight Night 78 is next on November 21 from Monterrey, Mexico. In addition to the promotion crowning the winners of The Ultimate Fighter: Latin America 2, Kelvin Gastelum and Neil Magny will meet in the main event.
Closing out the month will be UFC Fight Night 79, a card from Seoul, South Korea. Headlining that event will be a former UFC lightweight champion Benson Henderson and Thiago Alves. The two UFC veterans will meet in a welterweight contest. While we won't dissuade you from watching all these events, but if you can only pick a few fights to watch, they should be the three that follow.
3. Mark Hunt vs. Antonio Silva (Fight II)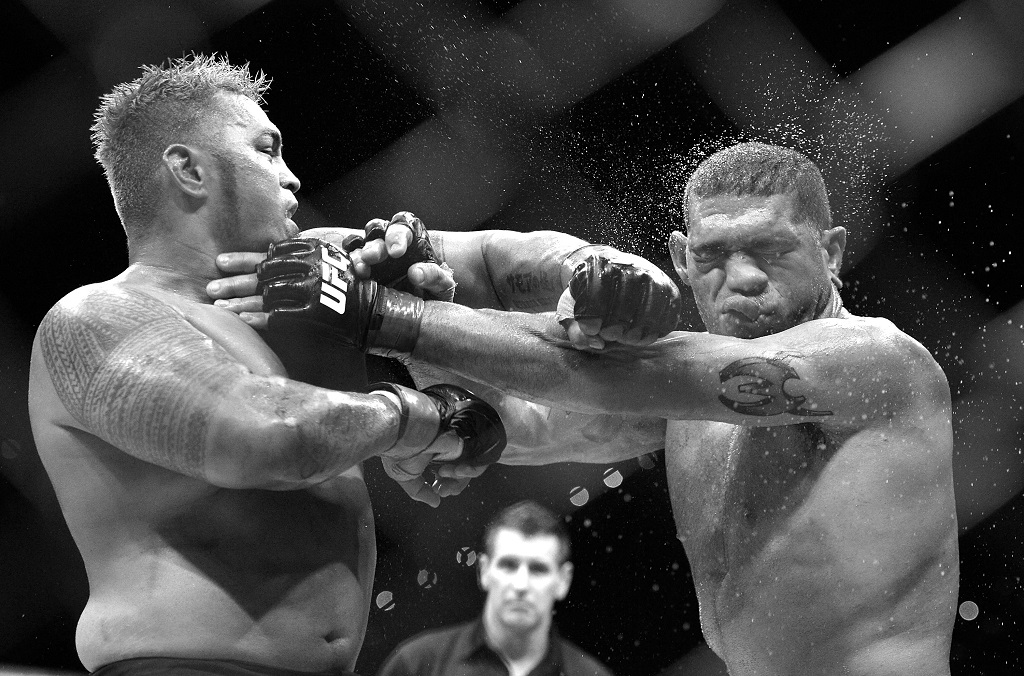 When you put two men inside a cage that weigh a combined 526 pounds and tell them to punch and kick each other with nothing more than four-ounce gloves on their hands, well, something is bound to break. In the case of Mark Hunt and Antonio Silva it was the skin, not spirit that broke.
The two UFC heavyweights met in the main event of UFC Fight Night 33 in December 2013, and surprisingly the fight lasted the full five rounds. During that time, Hunt landed 184 strikes to Silva's 137. By the end of the fight, the crowd were on their feet and commentator Jon Anik was calling it one of the best heavyweight fights ever.
UFC president Dana White also chimed in, tweeting, "Both Hunt and Silva win FON (Fight of the Night) and both get their win bonus and I might buy them both their own private ISLANDS!!!! Sickest HW fight ever!!!"
The fight ended as a majority draw, but it did not feel like a draw, it felt like everyone won; the fighters, the fans and the UFC. They two will do it again on November 15 on the UFC 193 pay-per-view.
2. Joanna Jedrzejczyk vs. Valerie Letourneau
The UFC has a potential star on its hands in women's strawweight champion Joanna Jedrzejczyk. The 25-year-old is unbeaten in 10 fights and has ended her last two fights by knockout. She has also proven to be a phenomenal self-promoter, delivering memorable catchphrases after recent victories. Jedrzejczyk captured the title in March of this year, putting a brutal beating on Carla Esparza. The fight lasted less than two rounds before it was stopped. During the bout, Esparza landed six strikes. Jedrzejczyk landed 55 with 50 of those being headshots. The fight was a beautiful display of dominant boxing skills by Jedrzejczyk.
After the win, Jedrzejczyk said, "No one is going to take this belt from me."
In her first defense of the title, Jedrzejczyk met Jessica Penne in June. That fight lasted longer, but Jedrzejczyk was just as dominant, landing 162 strikes to Penne's 28 and badly damaging Penne's nose. The fight went into the third round before it was stopped, but there are few fans that would have argued if the fight had been closed out earlier by the referee. After her title defense, Jedrzejczyk was asked who she would want to face next, her reply, "Are they ready for me? No."
Will Valerie Letourneau be ready? We'll find out on November 13, when the two meet in the co-main event of UFC 193.
1. Ronda Rousey vs. Holly Holm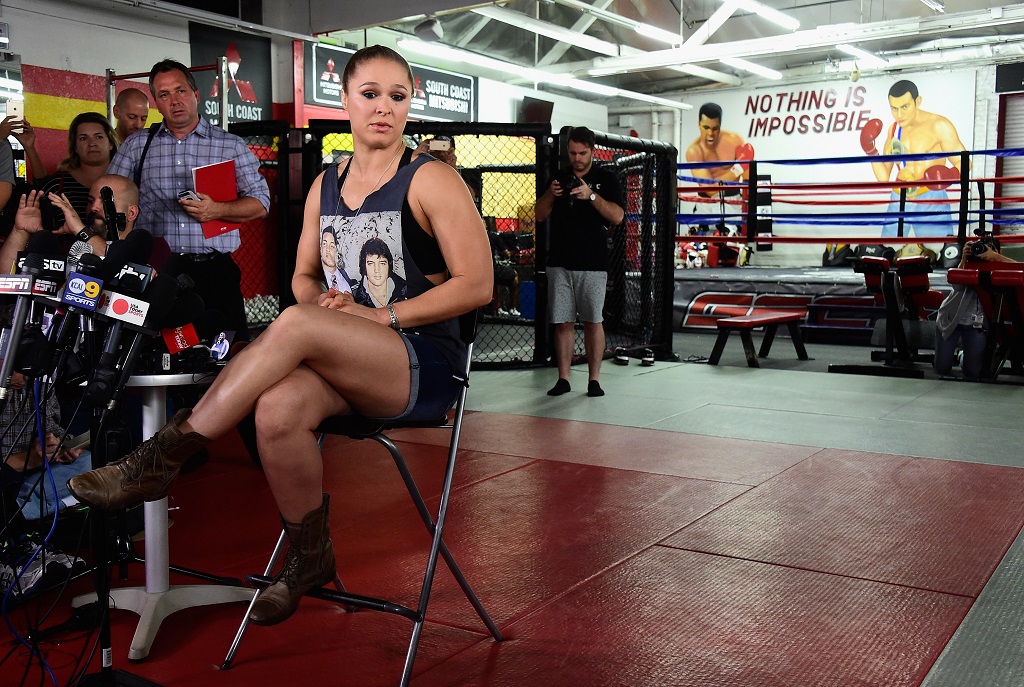 UFC women's bantamweight champion Ronda Rousey is the biggest star in the UFC right now, and it's hard to argue against that status. She is unbeaten in 12 professional fights and has gone the distance in exactly none of those fights, leaving the first round only once. Rousey has three knockouts and nine submission wins in her career. Her longest fight went 10:58, her shortest fight lasted 0:14. Her last three fights, all UFC title defenses have gone a total of 64 seconds. In short, any Ronda Rousey fight is automatically a must see fight.
Her next fight, the main event of UFC 193, which will take place on November 13. That contest will see her matched up against former world boxing champion Holly Holm. What makes this fight interesting is that Rousey, an Olympic medalist in judo, has fallen in love with boxing as of late. If Rousey elects to abandon her judo base and test her growing boxing skills against the more accomplished boxer, things could get intriguing. Whatever style she elects to use, one thing is for sure, you should tune in to watch this star compete.