'Monday Night Football' Announcer Steve Levy Says There's No Hard Feelings About Eli and Peyton Manning's Alternate Broadcast: 'People Want to Pit Us Against Each Other'
Article Highlights:
Monday Night Football announcer Steve Levy said there's no bad blood between him and Peyton and Eli Manning
The Manning brothers will return to doing their alternate Monday Night Football broadcast in Week 7
TV ratings for MNF are up in 2021.
The ESPN viewers who want a traditional Monday Night Football broadcast listen to Steve Levy and friends. Those who want something just a bit different (and that's an understatement) turn to Peyton and Eli Manning.
The Manning brothers are in their first year of doing Monday Night Football with Peyton and Eli. Social media, wisely, simply calls the well-received broadcast the ManningCast. Although the former NFL quarterbacks' commentary has been the talk of Monday nights this season, Levy isn't feeling any heat or jealousy.
Steve Levy says there's no bad blood regarding Peyton and Eli Manning's alternate broadcast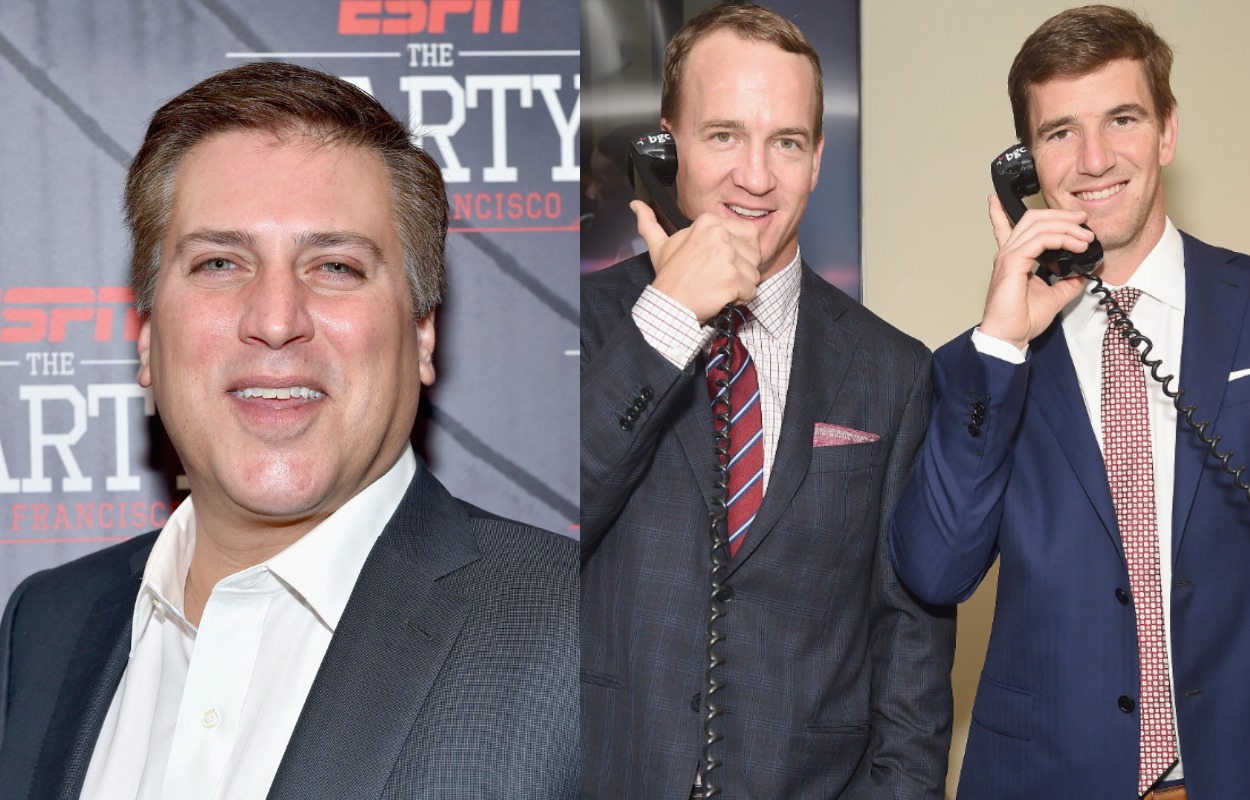 The first six weeks of the 2021 MNF slate featured two overtime games and a thrilling last-minute finish between Josh Allen's Buffalo Bills and Derrick Henry's Tennessee Titans. Football fans also saw a bizarre weather delay at SoFi Stadium, an indoor-outdoor stadium, in Week 4.
Suffice to say; it's been an eventful group of Monday nights, in large part because of the Manning brothers' presence. Eli and Peyton worked the season's first three games on ESPN2 and welcomed guests, traded insults, and analyzed players in a way that only two longtime starting quarterbacks could.
On the Oct. 21 episode of the SI Media Podcast, Levy — who is in his second year as the traditional MNF broadcast's play-by-play voice — says there's no bad blood between the two sides.
"People want to pit us against each other, and I don't see that. I'm looking at the health of the franchise that is Monday Night Football. The ratings are up. I don't get into the numbers game, but more people are watching, and if that's because of Peyton and Eli, I'm all for that. Let's get Monday Night Football back to where it was regardless of how many channels it's being seen on."

Steve Levy
Levy said he DVR'd one of the Manning brothers' early broadcasts to see "what the fuss was all about" and how the two performed. It didn't take long for him to come away extremely impressed.
"I think it's a win, and I'd be surprised if it changed," Levy said.
Levy took the high road and said he understands why people are watching the Mannings
It'd be hard to blame Levy if he felt frustrated with ESPN or how much attention the ManningCast has gotten in recent weeks. The traditional MNF broadcast is supposed to get the headlines and eyeballs, especially in a year that has already featured numerous compelling games.
The 56-year-old should be commended for taking the high road while remaining honest. Levy told SI's Jimmy Traina that he didn't feel impacted because the ManningCast does not have a traditional host or play-by-play voice.
By his own admission, Levy feels he, Brian Griese, and Louis Riddick are still working on their chemistry in the MNF booth. However, watching the Manning brothers gave him a vision of what things can look like down the line.
"Peyton and Eli have been together their entire lives. Like every second of it," Levy noted. "You can't fake [chemistry]. You can't substitute it."
Eli recently said that he doesn't want the ManningCast to air every week, and he's happy with the limited airtime. For his money, Levy wants the network to continue investing in the alternate broadcast.
"I know it's a three-year deal for those guys, but if they're having a good time, the audience is clearly having fun watching them; why not keep it going?" Levy remarked.
The head-to-head ratings are worth watching as the season goes on
For as much attention as the ManningCast has received, we need to note that the traditional broadcast won any and all ratings battles. The Manning brothers' numbers increased in each of the season's first three weeks and topped out at 1.89 million for the Dallas Cowboys' 41-21 rout over the rival Philadelphia Eagles on Sept. 27.
The regular broadcast had over 12 million viewers that night and averaged 13.8 million viewers per game through Week 6.
It will be fascinating to see how the head-to-head numbers look as the season progresses. The Manning brothers will return in Week 7 after nearly a month off, which could help push them over 2 million for the first time. Eli and Peyton will also call an alternate broadcast for a to-be-determined Wild Card-Game.
The odds are stacked against Eli and Peyton ever taking down Levy, Griese, and Riddick in the ratings. If that happens, though, don't expect to hear the veteran announcer pitching a fit. Maybe he'll simply join Eli in mocking the size of Peyton's head.
Like Sportscasting on Facebook. Follow us on Twitter @sportscasting19.
RELATED: Peyton Manning Attacks Barstool Sports Personality PFT Commenter on 'Monday Night Football' Broadcast: 'Is There a Way to Block This Guy as a Viewer?'