Did 'Monday Night Football' Commentator Louis Riddick Play in the NFL?
If ESPN viewers and football fans enjoyed Louis Riddick's analysis and commentary, they received an excellent gift when he joined the Monday Night Football booth in 2020.
Those who aren't his biggest fans … well, it's probably safe they made use of the mute button most Monday nights.
Riddick grew into a vital part of ESPN's NFL coverage after spending over a decade as a scout and front office executive. However, the University of Pittsburgh product's life in football goes back much further than some might think.
Louis Riddick played in nearly 100 NFL games across six seasons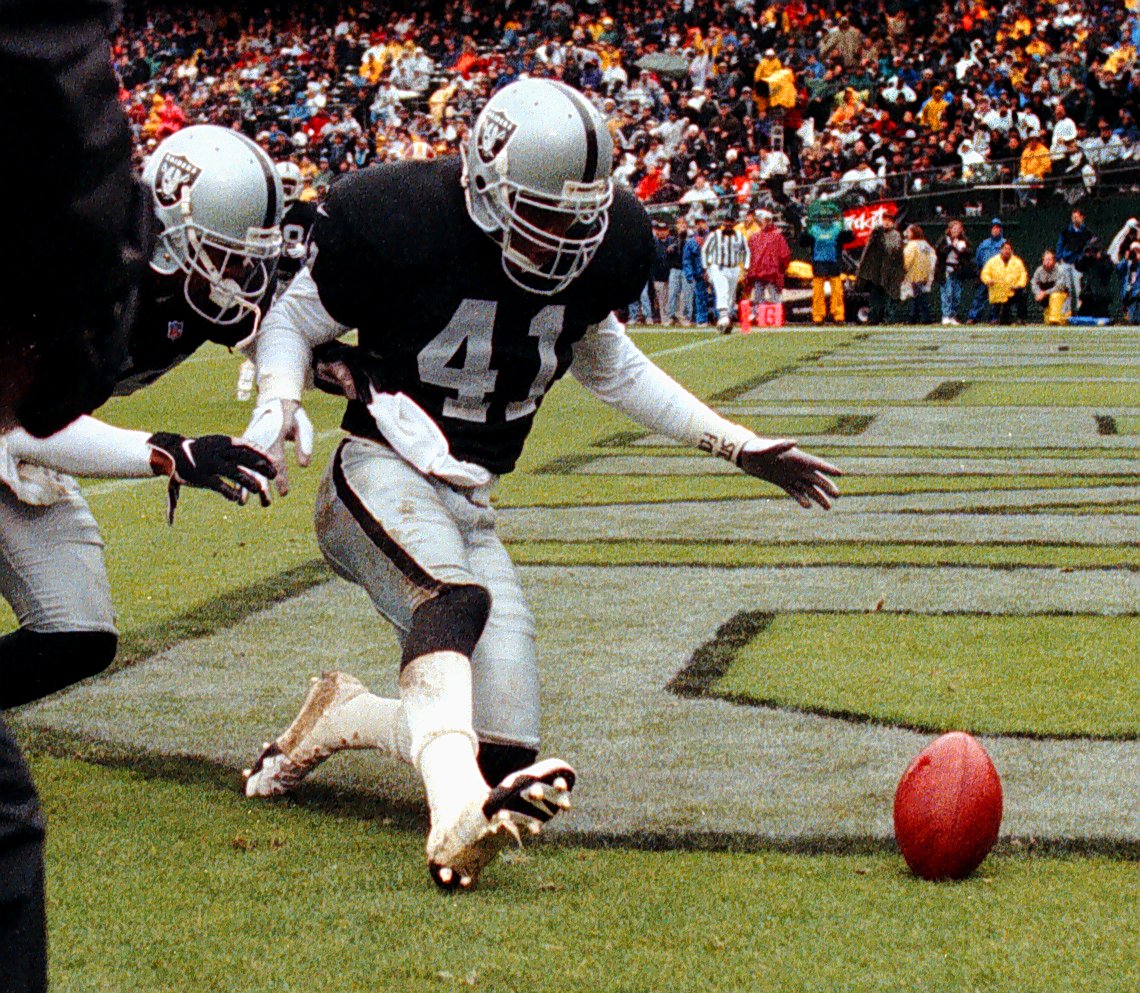 A ninth-round pick of the San Francisco 49ers in 1991, Riddick stuck around to play 94 games across six seasons. He recorded 155 tackles, two sacks, recovered a fumble, and forced a safety as a backup safety for the Atlanta Falcons, Cleveland Browns, and then-Oakland Raiders.
As a starting safety for Bill Belichick's Browns in 1994, he recorded 11 tackles and had a 16-yard interception in two playoff games that year. The 6-foot-2 defensive back even had a 25-yard reception for the Browns a year later.
Riddick also played for the World League of American Football's Sacramento Surge in 1992 and won the World Bowl that year. He ended his playing career as a member of the XFL's Orlando Rage in 2001. Rather than try returning to the NFL, he joined the Washington Football Team as a pro scout that year.
ESPN has featured numerous ex-NFL players on 'Monday Night Football' in recent years
When Jon Gruden left Monday Night Football following the 2017 season, an era ended in more ways than one. The current Las Vegas Raiders head coach, as you might know, never played in the NFL.
Since Gruden's departure, the four analysts ESPN has used in the MNF booth all played in the NFL. Naturally, some were far more successful than others, and we don't just mean on the field.
Longtime Dallas Cowboys tight end Jason Witten, who will likely find himself in the Pro Football Hall of Fame later this decade, joined the booth in 2018. The 11-time Pro Bowler stumbled through a rough year and rejoined the Cowboys after a season with ESPN.
Anthony "Booger" McFarland won two Super Bowls in nine NFL seasons and spent most of his career as an impactful defensive tackle on the Tampa Bay Buccaneers. The less said about the Booger Mobile and his various on-air mistakes, the better. He's now primarily covering college football for the Worldwide Leader.
Riddick joined the booth in 2020, as did former Denver Broncos quarterback Brian Griese. It's been so far, so good for the 2000 Pro Bowl selection — at least, compared to McFarland and Witten before him.
Hall of Fame quarterback Peyton Manning and his brother, Eli, also began hosting an alternate simulcast in 2021. 
Riddick might not be long for the 'MNF' booth
There might be a part of ESPN that genuinely wants the trio of Griese, Riddick, and play-by-play announcer Steve Levy to last on Monday Night Football for over a decade. On the other hand, the temptation of having Peyton Manning — and potentially Eli as well — in the booth is still out there.
There's no guarantee that Riddick will be a long-term part of MNF, either, but not because of his performance. He's spoken avidly about wanting to be an NFL general manager and interviewed with three teams — the Detroit Lions, Houston Texans, and Jacksonville Jaguars — following the 2020 season.
Don't be surprised to see Riddick take control of an NFL franchise soon. If ESPN immediately replaces him in the MNF booth in that scenario, one should expect a former NFL player to fill that role.
Like Sportscasting on Facebook. Follow us on Twitter @sportscasting19.
RELATED: Mike Golic Has Been Gone From ESPN for Nearly 8 Months, and He Already Knows What He Doesn't Miss