10 Best-Value MLB Pitchers of 2014
In Major League Baseball, there are the "money" pitchers — guys like Felix Hernandez who earn top dollar and provide value on every cent of their contracts. Then there are pitchers still under team control who deliver elite performances at or near the sport's minimum salary. Call them the "Moneyball" pitchers.
If you're a small-market GM working on a strict budget, the latter are the stuff that allow your organization to compete with the big boys. Once they become eligible for Kershaw money, they pack their bags and head to New York, Boston, or L.A. (Chicago is now another destination on the map.) While you have durable, low-cost pitchers who are stingy with baserunners and stingier once they reach base, you have the best values in the game. When the big-budget teams have one or more of these pitchers, a World Series contender is in the making.
Here are the 10 best-value pitchers of 2014 based on earned run average (ERA), baserunners allowed per nine innings (WHIP), and number of innings pitched (IP) matched against annual salary. Each pitcher on this list has a salary under $550,000 and ranked in the top 30 in wins against replacement (WAR) among all MLB pitchers.
10. Drew Smyly, Rays
People who say the Rays got robbed in the David Price deal might want to take a flyer on Drew Smyly. The 25-year-old lefty the Tigers sent to Tampa posted a 3.24 ERA and 1.16 WHIP in 153 IP split between both leagues in 2014. That was good enough for a 3.8 WAR, 25th among MLB pitchers.
Smyly delivered exceptional value for a salary of $520,000, but once he arrived in Tampa, his performance was elite. In 7 GS for the Rays, Smyly went 3-1 with a 1.70 ERA and 0.755 WHIP. Considering he is under team control until 2019 and Willy Adames (another part of the Price deal) is now the Rays' No. 1 prospect, we're not ready to say the Rays got the short end of the Price deal. It might turn out they got the better end of it.
9. Lance Lynn, Cardinals
He may have a lower WAR than Drew Smyly, but we love the 203.2 IP Lance Lynn tossed for the Cardinals while posting a 2.74 ERA and 1.26 WHIP. That's exceptional value at a 2014 salary of $535,000. Lynn made 33 starts for St. Louis and notched 2 CG while delivering 15 wins. With John Lackey and Adam Wainwright at the top of the Cardinals rotation, Lynn will anchor the back end at a very affordable price for the coming seasons. He isn't eligible to become a free agent until 2018.
8. Alex Cobb, Rays
The Rays always have the best pitching at the lowest possible cost, and the David Price deal illustrates exactly how they do it. Pitchers like Alex Cobb (2.87 ERA, 1.136 WHIP in 166.1 IP) make it easy to deal away guys like Price, especially when Matt Moore, Chris Archer, and Drew Smyly are in the Rays rotation for 2015.
Cobb's 3.9 WAR came at the cost of $516,900. With a payroll under $78 million in 2014 and no David Price moving forward, expect the Rays to field a competitive team while spending less than half its AL East rivals.
7. Collin McHugh, Astros
Talk about low-profile pitchers. Toiling away in the dead zone that is Houston's current baseball franchise, Collin McHugh found his groove in his age-27 rookie season for the Astros. The castoff of the Mets and Rockies franchises shrugged off his 0-12 career record prior to 2014 and posted a memorable season.
McHugh went 10-9  with a 2.73 ERA and 1.02 WHIP in 154.2 IP for the Astros. The advanced stat geeks say that amounts to a 4.2 WAR, which is saying something for 25 GS at the small price of $500,000. Baseball Writers of America (BBWAA) voters ranked McHugh fourth in Rookie of the Year voting for his performance.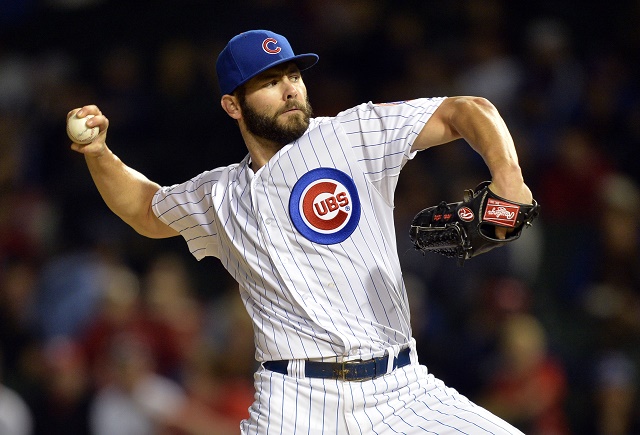 6. Jake Arrieta, Cubs
Chicago was comfortable dealing Jeff Samardzija and Jason Hammel because guys like Jake Arrieta are delivering such high value at such a low salary. In 2014, Arrieta went 10-5 with a 2.53 ERA and 0.99 WHIP in 156.2 IP, all for just $500,000. Now that Hammel is coming back along with Jon Lester and Arrieta, there is a good start to the Cubs rotation.
Arrieta's 5.3 WAR ranked ninth among MLB pitchers in 2014, placing him just behind Max Scherzer. There is no telling what Scherzer will make on the free agent market, but it's safe to say he'll make 50 times Arrieta's 2014 salary next season wherever he lands. If you were a GM taking over in 2015, who would you rather have on your team?
5. Garrett Richards, Angels
Garrett Richards' story can be told in the old-fashioned counting stats. Before suffering the injury that ended his 2014 season, the Angels right-hander went 12-3 with a 2.61 ERA (third in AL), 1.038 WHIP (3rd in AL) in 168.2 IP. He also led the Major Leagues with 0.267 home runs allowed per nine innings (HR9).
That added up to a 4.4 WAR in Richards' abbreviated season. Considering how many bloated contracts are on the Angels payroll, the front office must be ecstatic about paying Richards $520,000 for his troubles in 2014. The only question moving forward is how he will come back from knee surgery. Club officials are projecting him to return in May 2015.
4. Henderson Alvarez, Marlins
Miami sported the second-lowest payroll in Major League Baseball in 2014, which made the club's playoff push one of the Cinderella stories of the season. A good deal of the club's value came from young pitching sensations Jose Fernandez and Henderson Alvarez. In his second full season, Alvarez went 12-7 with a 2.65 ERA and 1.23 WHIP in 187 IP.
Advanced metrics make that a 4.6 WAR, but we value it even higher because of the high innings total. With every frame thrown by a starter, it allows a manager to save a quality inning from a bullpen arm. At the cost of $525,400, Alvarez was a steal in 2014. Part of the trade that sent Jose Reyes and Mark Buehrle to Toronto, Alvarez is under club control util 2018.
3. Tanner Roark, Nationals
In his breakout season, Tanner Roark turned out to be a rock for the Washington Nationals, throwing 192.1 IP with a 2.85 ERA and 1.092 WHIP. Roark led the pitching staff with his 5.1 WAR (10th in MLB) in the process of winning 15 games for Matt Williams and his coaching staff.
With a 2014 salary of $506,100, few teams got such value out of starting pitchers in 2014. Roark, whom Washington acquired from Texas in a 2010 trade for Cristian Guzman, will be under the Nationals' control until 2020.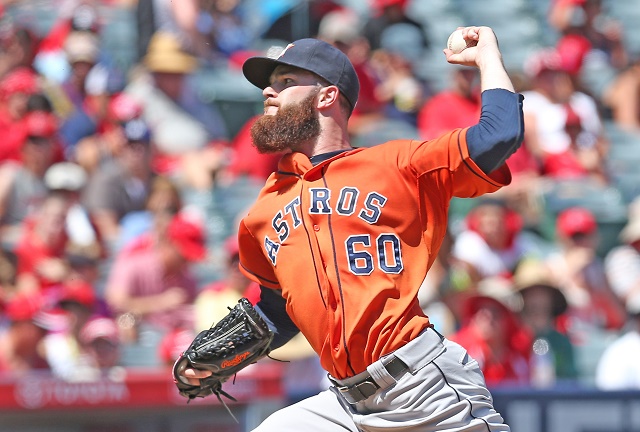 2. Dallas Keuchel, Astros
Houston's Dallas Keuchel is yet another late bloomer on this list. In his second full season at age 27, Keuchel turned out to be the most durable and effective pitcher on the Astros roster. He posted a 12-9 record with a 2.93 ERA, 1.175 WHIP and 133 ERA+ in 200 IP.
Keuchel's value is enhanced by his ability to go the distance and field his position: He led the American League with 5 complete games and won the AL Gold Glove in 2014. At a salary of $508,700, Houston got even more for its money than Keuchel's 5.1 WAR would indicate.
1. Corey Kluber, Indians
In besting Felix Hernandez for the 2014 AL Cy Young Award, Corey Kluber received the credit due him for a stellar 2014 campaign. Though there were many similarities between his and Hernandez's numbers, there is no comparison between the salary of Kluber ($514,000) and that of King Felix ($22,857,000).
Nonetheless, Kluber led the AL with his spectacular 7.4 WAR, a number built on his 2.44 ERA and 1.095 WHIP, not to mention his league-leading 18 wins. Kluber did not sacrifice durability in the slightest for his extraordinary effectiveness. He led the AL with 34 starts and placed second behind David Price with 235.2 IP on the season. There was no team that got better value out of a pitcher than the Indians got out of Corey Kluber in 2014.