'Moneyball' Turns Ugly: The Disappearing Oakland A's of 2015
What do Jon Lester, Marcus Semien, Brett Lawrie, and Joe Wendle have in common?
Not much, other than they were all traded for Oakland A's All-Stars in the past six months. After GM Billy Beane dealt Josh Donaldson to Toronto and Brandon Moss to Cleveland, you could hang a "vacancy" sign on the middle of the Athletics' batting order. Throw in the trade for Jeff Samardzija, Jason Hammel's return to the Cubs, and Jon Lester's certain exit via free agency, and you have a ghost of the A's team that was king of the American League for much of 2014. This team as constructed has little chance to compete in 2015.
The ugly business of "Moneyball"
Nearly every MLB expert considered the A's the team to beat once Beane acquired Lester and Samardzija for the A's rotation in the middle of 2014. They were a feared opponent come playoff time, but Oakland's season was derailed when Lester failed to deliver in the AL Wild Card game. The price for acquiring the two aces was high for Beane. All-Star Yoenis Cespedes went to the Red Sox for Lester and star prospect Addison Russel went to the Cubs for Samardzija. A few months later, there will be no return for Lester and the A's have infield prospects in return for Samardzija.
Critics of Beane's flurry of December trades also have questioned the return for All-Stars Donaldson and Moss, the power core of Oakland's lineup in 2014. Billy Beane has defended the trades as part of the necessary practice of "Moneyball."
"We did it three years ago; we have done this before," Beane told reporters at the MLB winter meetings, according to San Jose Mercury News. Beane said he was "a little" surprised at the backlash from A's fans. "[B]ut we did it three years ago when we traded Rich Harden and got Josh Donaldson. It's like Groundhog Day; you could basically substitute. This is how it is. We are trying to be proactive."
Proactive indeed. Looking ahead to next season, Beane will have to remain busy in order to field a competitive team.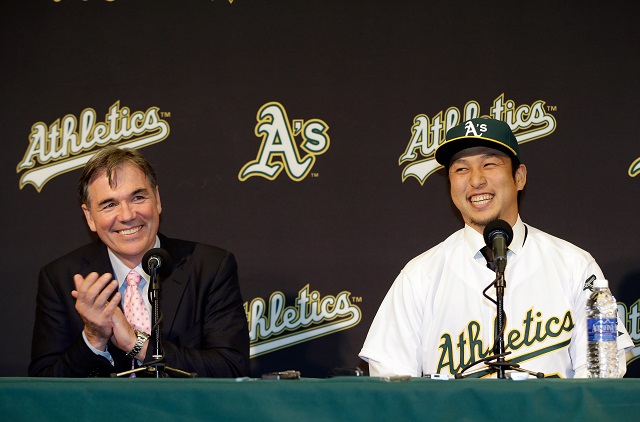 Enough for 2015?
ESPN's Jayson Stark discussed the state of the Oakland A's with Buster Olney, Karl Ravech, and Tim Kurkjian at the baseball winter meeting following the Moss deal.
"I'm still not positive what the A's are doing here, though," Kurkjian said. "They traded away basically 300 RBIs." Buster Olney noted that the A's never rebuild, instead preferring to retool and revamp the team as they did in 2012 (when they managed to compete).
"They've got a lot of work to do," Stark told the Baseball Tonight crew. "Are they a contender right now?" he asked Buster Olney.
"No," was Olney's reply.
At the moment, Oakland is missing its three biggest bats and three of its top starting pitchers. Beane reminded reporters that he signed Billy Butler and Ike Davis to fill some of those power slots, but that's hardly a winning game plan. What does the wizard of the Bay have in store? No one can be certain. For now, A's fans (along with the rest of the organization) are dealing with the brutal side of fielding a competitive team on the cheap.