Montverde's 2019-20 Team Was the Best High School Basketball Team Ever
Proclaiming Montverde Academy's 2019-20 high school basketball team the best ever is a bold statement. What makes them better than Sierra Canyon high school in Chatsworth, California, where names like James and Wade play? Or other Montverde teams that featured future NBA stars like Ben Simmons (2013-15), D'Angelo Russell (2011-14)? Here's what we think.
Montverde's basketball coach
RELATED: It's so Unfair to Compare Bronny James to LeBron James, but It's Happening
The Montverde Eagles' coach Kevin Boyles is no stranger to basketball talent. Players like Kyrie Irving, Michael Kidd-Gilchrist, and Al Harrington passed through Boyles' program at New Jersey's St. Patrick high school before going on to NBA careers. Boyles came to Montverde in 2011 and has led them to four high school nationals titles in nine seasons.
The Eagles' 2019-20 roster features eight prospects in the top 65 of their classes. As a senior, Cade Cunningham tops the list as Montverde's highest-ranked prospect. Projected as the No. 1 pick in the 2021 NBA draft, Cunningham is considered the best high school basketball player in the U.S. It takes more than a star player to be the best, especially considering the Eagles are being called the best ever. 
Other seniors (and their prospective class rank) playing alongside Cunningham are Scottie Barnes (eighth), Day'Ron Sharpe (14th), Moses Moody (38th), and Zeb Jackson (65th).  Langston Love, ranked 25th as a junior, along with sophomores Caleb Houstan (fourth) and Dariq Whitehead (eighth) rounded out the power-packed roster.
Cade Cunningham
Cunningham was born in Arlington, Texas, on September 25, 2001. He began playing point guard for Barnett Junior High School during his eighth-grade year. Going on to attend Arlington's Bowie High School, he earned a starting role on the varsity team his freshman year.
Cunningham averaged 15.2 points, 6.4 rebounds, and three assists per game. It earned him the Texas Association of Basketball Coaches' 4-6A Newcomer of the Year award. After his freshman year, Cunningham transferred to Montverde Academy in Montverde, Florida.
The 6-foot-6 point guard has grown into a force to be reckoned with during his time at Montverde. Already committed to Oklahoma State University where his brother and assistant coach Cannen works, Cunningham has his sights set on the 2021 NBA draft.
Scottie Barnes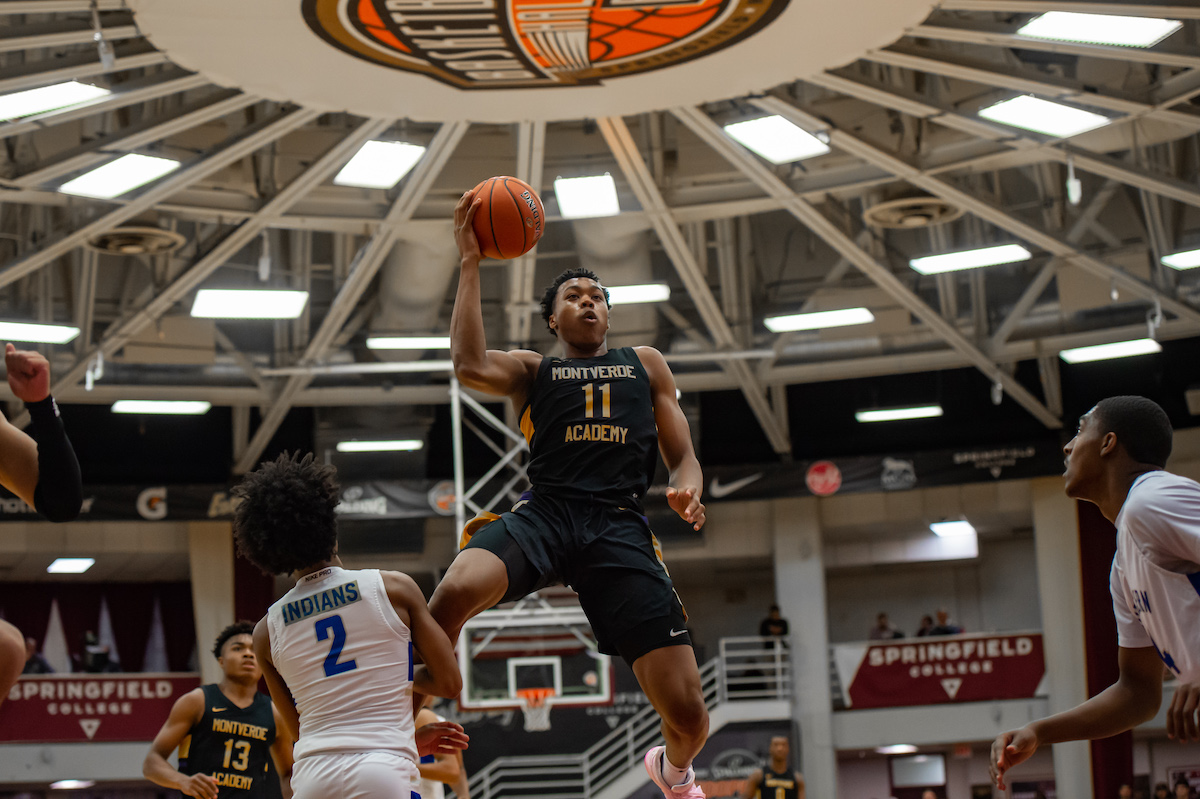 On any other team, 6-foot-8 forward Scottie Barnes got the bulk of the attention from fans and the press. He transferred from University School in Fort Lauderdale, Florida, to play his senior year at Montverde. Barnes is a three-time USA Basketball youth program gold medal holder. He's known for his defensive skills, passing, and ball-handling ability.
Barnes is committed to Florida State and is projected to go early in the NBA draft as well. There is speculation that the NBA will abolish the age limit to enter the draft. If that happens it's likely sophomores Caleb Houstan and Dariq Whitehead would bypass college altogether to join Cunningham and Barnes in the NBA.
Teamwork for the win
While there's no doubt the 2019-20 Montverde roster is riddled with talent, the biggest advantage they have is a cohesive team. It's true that Cunningham is a force on offense; Barnes is equally brilliant as a defensive forward. But it's the overall team performance that makes them great.
When Cunningham is guarded on offense, he has the vision and passing skill to get the ball to 6-foot-6 senior shooting guard Moses Moody. And Moody's only one of several threats that prevent teams from locking Cunningham down.
At 6-9 and 225 pounds, Day'Ron Sharpe, committed to North Carolina, is a Power Forward in every sense. Blessed with the ability to run the floor and handle the ball on the inside, Sharpe is another player who does his part for the team. 
But 'best high school basketball team ever?'
Considering the staggering list of teams that could be the best ever it is an impossible task to declare a winner. It might be possible to postulate a decision had the 2020 Geico High School Nationals not been canceled due to the COVID-19 pandemic. But does it really even matter other than for a point of friendly debate?