Mookie Betts Had 30 Minutes to Decide Whether He'd Join the MLB or Tennessee Baseball: 'I Thought I Sucked'
Dodgers star Mookie Betts has already cemented his Baseball Hall of Fame legacy. He left an indelible mark on the Boston Red Sox and quickly earned a second World Series ring after joining up with LA. It is undeniable that he is one of the best baseball players of his generation even dating all the way back to high school.
The only person who would vehemently disagree is the younger version of Betts himself. Always striving for excellence, he simply couldn't process that his strengths were the stuff that tends to develop into MLB success. As unbelievable as it reads, he thought he "sucked" at baseball entirely.
Mookie Betts had to choose between three sports
Betts didn't find baseball so much as the sport that would make his career found him. According to a GQ profile on the all-but-certain future Hall of Famer, he was more interested in bowling and basketball. Baseball, on the other hand, seemed too demanding and multifaceted for his skillset. "I thought I sucked," Betts told GQ.
He loved playing basketball, but his size would always be a problem. For a time, Betts pinned his hopes on bowling, a sport where his rapidly developing instincts for the physics of the game paid off in a run of perfect games. Baseball was a side project, a way to hang around in a sport played by most of his friends.
And in baseball, too, size was a problem. Betts was a decent defender, but he simply couldn't hit the ball as hard as he expected from himself. He made up for that by hitting for an eye-popping .509 average by the time his senior year of high school concluded. The kid who thought he "sucked," and decided to focus on bowling, emerged as one of the best young baseball players in the country.
Betts had just 30 minutes to decide between college and the MLB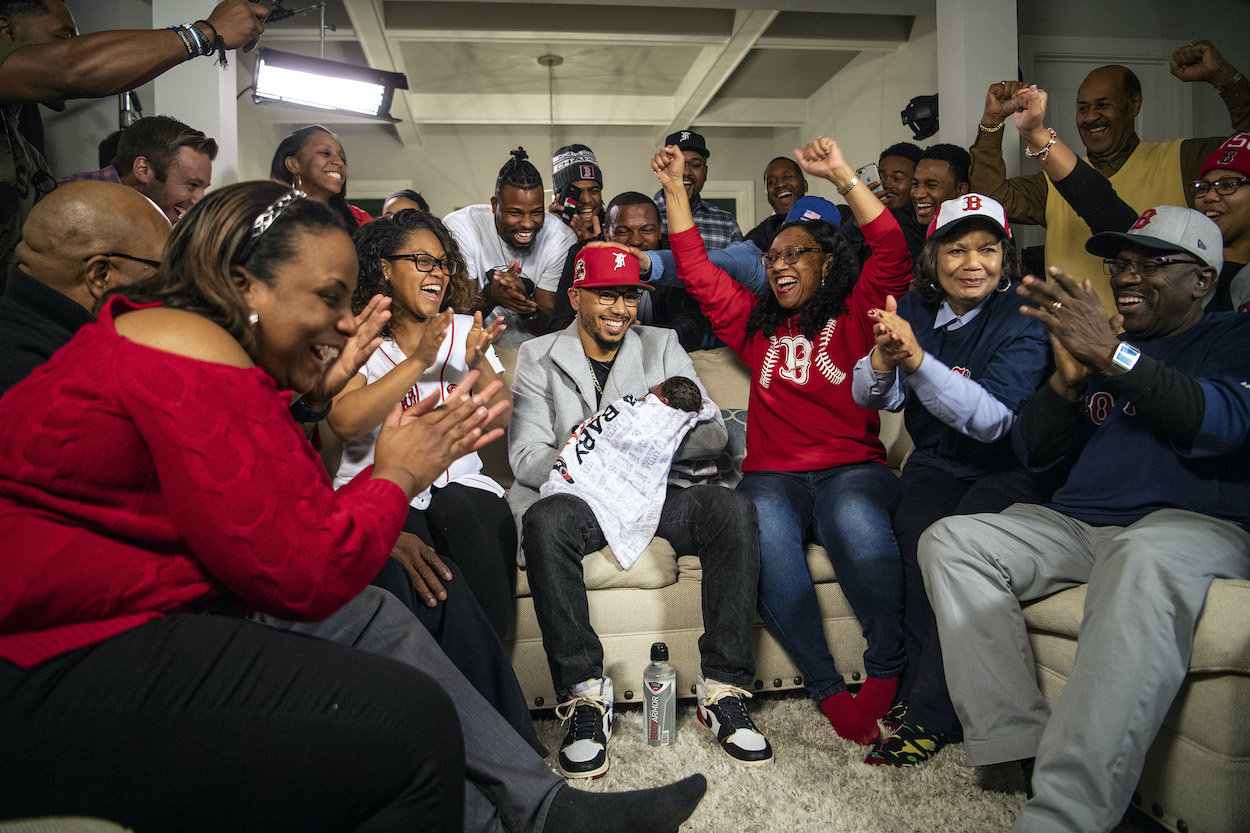 Betts was surprised by how his skills had developed. Not many people around him were quite so shocked by this result. He had to mentally relegate both basketball and his beloved bowling talents as hobbies, instead of potential routes to pro sports. Colleges were throwing offers at him. And MLB teams came sniffing, too.
According to Masslive, the 17-year-old Nashville native decided to attend the University of Tennessee on a baseball scholarship. He was looking forward to the college experience and hoped to develop his skills into something a bit more consistent from his perspective. But a Red Sox scout saw him play and brought tape to scouts back in Boston. They picked Betts in the 2011 draft.
Betts, still unsure he was ready for a smooth transition to the big leagues, hedged his bets. He asked for a signing bonus of $750,000 to walk away from Tennessee. To his shock, the Sox put together a package to give him just that. With 30 minutes to go before the deadline to commit, Betts was forced to make the most pivotal decision of his life. He took the money.
Mookie Betts went from thinking he 'sucked' to signing a massive contract with the Dodgers
Betts, for a time, was the future of Boston baseball. As the old guard that terrorized the MLB throughout the 2000s wound down, a fresh-faced Betts gave fans hope that there would be a seamless transition to continuing the reign. But, with a World Series ring slid onto his finger, the free agent signed with the Dodgers instead.
It wasn't up to him. Sure, the one-year, $27 million offer implied a re-signing in LA would be historically massive. But Betts never wanted to leave Boston. It was the Red Sox front office that decided not to hammer out a reasonable deal for him. As NBC Sports reports, however, the 12-year, $365 million extension he just signed will have Betts resting easy nonetheless. That he immediately helped the team win a World Series probably doesn't hurt, either.