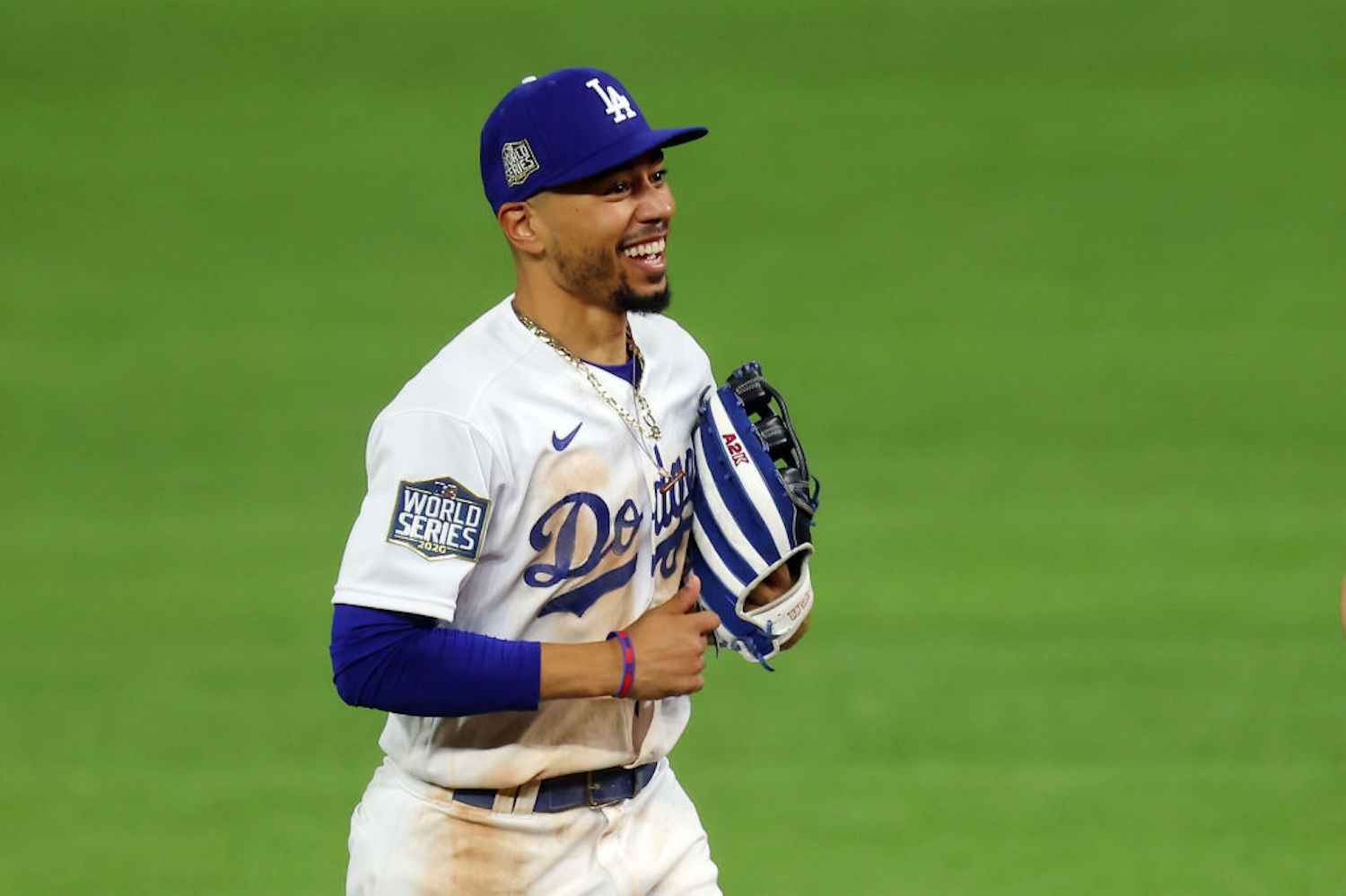 Mookie Betts Is Making the Red Sox Worst Nightmare Come True
The Red Sox traded Mookie Betts to the Dodgers to save a few bucks, and he's making them look foolish by dominating the World Series.
Everyone knows Mookie Betts is a generational superstar you don't trade for anything. Well, everyone except the Boston Red Sox, of course.
The Red Sox shipped Betts to Los Angeles for Alex Verdugo and an underwhelming haul of prospects in the offseason. A few months later, Betts is three wins away from leading the Dodgers to a championship, and the Red Sox are watching it all unfold from their couch.
Mookie Betts led the Red Sox to a World Series
The Red Sox stumbled into a gem when they drafted Mookie Betts in the fifth round back in 2011. Boston believed he could grow into a quality starter, but even they didn't see his immense rise to stardom coming.
Betts made his first All-Star team in 2016 when he was just 23 years old. He went on to make four consecutive All-Star appearances, and by 2018, he was the best baseball player in the world. Yes, even ahead of Mike Trout.
Betts won the American League MVP award in 2018 over Trout after he hit .346 with 32 home runs and 80 RBIs. He led the Red Sox to an MLB-best 108-54 record during the regular season, and they cruised to a World Series title that October.
At the time, Betts was just 25 years old. He was already a top-two baseball player on earth. The Red Sox had to do everything in their power to make sure he stayed in Boston for the rest of his career.
Well, that didn't exactly pan out.
The Red Sox traded Betts for pennies on the dollar
Betts and the Red Sox were going back and forth about a long-term deal for a few years heading into the 2020 offseason. Boston reportedly offered the superstar a 10-year, $300 million contract extension to stay with the team, but even that was too cheap for a player of Betts' caliber.
Betts didn't want to settle for less than top value. After all, he just recorded one of the most incredible seasons in franchise history and brought the team another championship. He deserved Trout money, or at least something close to it.
But the Red Sox didn't want to budge. With one year remaining on Betts' contract and a growing suspicion that he would test free agency after the season, Boston decided it was time to let go.
So the Red Sox traded Betts to the Dodgers for pennies on the dollar. Outfielder Alex Verdugo, shortstop Jeter Downs, and catcher Connor Wong were the only pieces they got in return for the transcendent five-tool player.
Those don't come around very often, and when they do, you hold on to them tight and give them all the money they deserve. The Angels did it with Trout. The Red Sox failed to do so with Betts, and he's making them pay in an even worse way.
Betts is making Red Sox fans' worst nightmare come true
Once Betts was shipped off to LA, all Red Sox fans could do was pray the move didn't come back to haunt them. Well, so much for that.
In his first season with the Dodgers, Betts led the team to a World Series appearance, and he was magnificent in Game 1. Betts went 2-4 with a home run, a walk, two stolen bases, and two runs in LA's 8-3 win. He could be on his way to winning his second championship in three seasons, proving to the Red Sox he would've been worth every penny.
And where are the Red Sox now? Sitting at home after a 24-36 regular season with little to no hope going forward. But hey, at least they saved a couple million by getting rid of Betts, right?
All stats courtesy of Baseball Reference