More Stats that Prove Barry Sanders was the Greatest Running Back in NFL History
When you think of the prototypical NFL running back, it's easy for your mind to drift to Barry Sanders. He had the perfect combination of speed, grace, elusiveness, and athleticism needed to play the position. If you asked every football fan to name their top five NFL running backs, every list would include Sanders. There are some stats, however, that prove Sanders is the single greatest running back of all time.

Barry Sanders' career overview
Sanders retired following the 1998 season at the age of 30, despite being in the prime of his career. Even though he cut his career somewhat short, he was able to achieve a significant amount over 10 seasons:
15,269 rushing yards on 3,062 attempts
99 rushing touchdowns
352 catches for 2,921 receiving yards
10 receiving touchdowns
1997 Most Valuable Player Award
10-time Pro Bowl selection
Six-time All-Pro selection
1989 Rookie of the Year
1994 AP Offensive Player of the Year
Sanders led the league in rushing four times, including a season in which he rushed for over 2,000 yards. Sanders had double-digit rushing touchdown totals six times, including one season in which he led the league with 16. He's one of only four players with more than 15,000 rushing yards, including Emmitt Smith, Walter Payton, and Frank Gore.

Barry Sanders' retirement
In 1999, Sanders retired at the height of his career. He did so in a fax to his local paper, the Wichita Eagle:

"Shortly after the end of last season," the letter began, "I felt that I probably would not return for the 1999-2000 season. I also felt that I should take as much time as possible to sort through my feelings and make sure that my feelings were backed with conviction. Today, I officially declare my departure from the NFL."

The average running back tends to decline in their 30s, but Sanders was no average running back. If he had stayed healthy, there's no reason to think he wouldn't have put up at least three to four more exceptional seasons, putting even more distance between himself and the other great running backs in NFL history.

Stats that prove Barry Sanders was the greatest running back in NFL history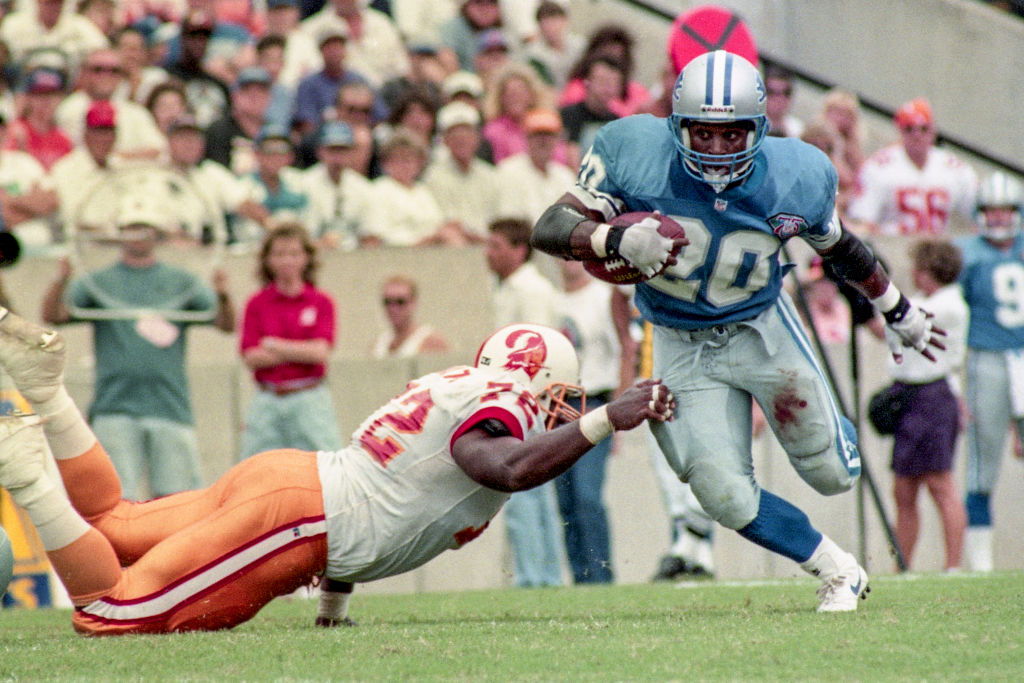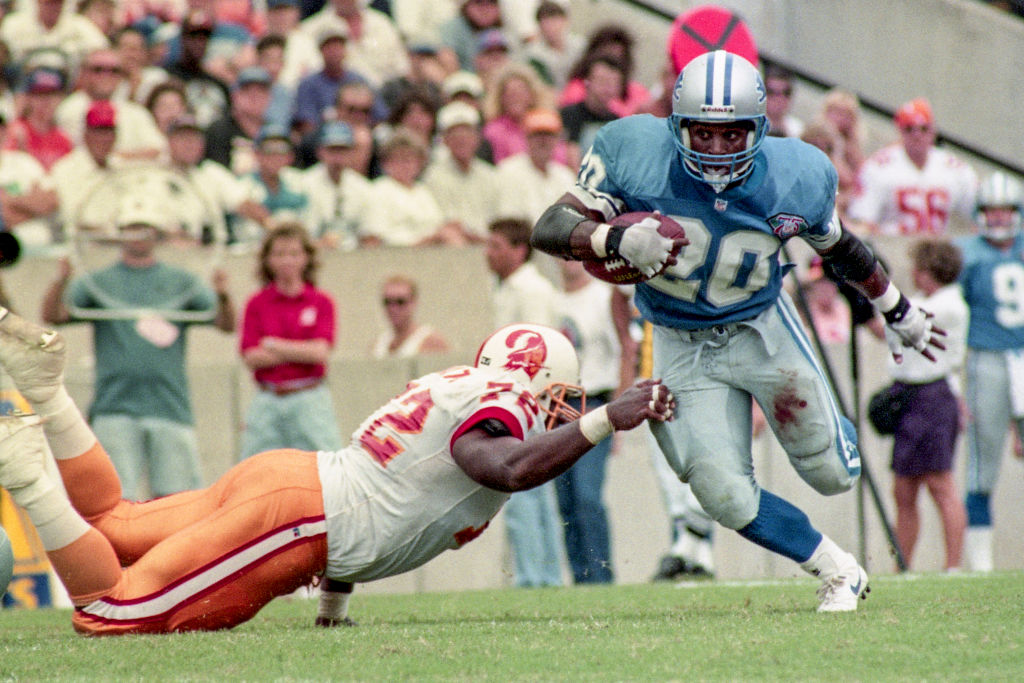 While Sanders' overall career stats are impressive enough, there are some other stats and streaks Sanders compiled that put him head and shoulders above the competition at running back.
SB Nation discussed some of Sanders' less publicized but nonetheless impressive achievements. They really put his great career into the proper context:
Since the 1970 NFL-AFL merger, Sanders has the most yards per carry by almost a quarter of a yard with 4.99.
He holds the record for most times rushing for more than 1,400 yards with seven.
Sanders has the most career games in which he rushed for over 150 yards with 25.
He once put up 100 yards rushing in 14 straight games.
He rushed for 1,100 yards in 10 straight seasons, something that's never been accomplished by anyone else as many as nine times.
One stat, in particular, shows just how dominant Sanders was when compared to the other running backs of his era. During the 1994 season, 12 rushing plays netted over 50 yards. Sanders had six of them. The following season, Sanders added four more to give him 10 over the course of two seasons. In the same span of time, no other player in the league had more than one.

Also, Barry Sanders was virtually the Lions' only offensive weapon during his career. The quarterbacks he played with hardly make the average list: Rodney Peete, Eric Kramer, Bob Gagliano, Scott Mitchell, and Charlie Batch. Defenses expected Sanders to get the ball, and he still excelled.

In an era in which running the ball was more prevalent in the NFL game, Sanders was the best runner of them all. While there is definite competition for Sanders – Jim Brown, Emmitt Smith, and Walter Payton all have worthy arguments – there is no doubt that, based on the numbers above, Barry Sanders is number one.