Who's the More Successful Pro Athlete: Megan Rapinoe or Sue Bird?
Few couples have the athletic clout of Sue Bird and Megan Rapinoe. Although they play in two different sports, the engaged couple has an unbelievable combined resume. On top of that, their influence on the sporting world and society as a prominent same-sex couple can't be understated.
As is the case with any athlete pairing, one cannot help but wonder who is the more accomplished athlete: Rapinoe or Bird?
Megan Rapinoe and Sue Bird find love in Rio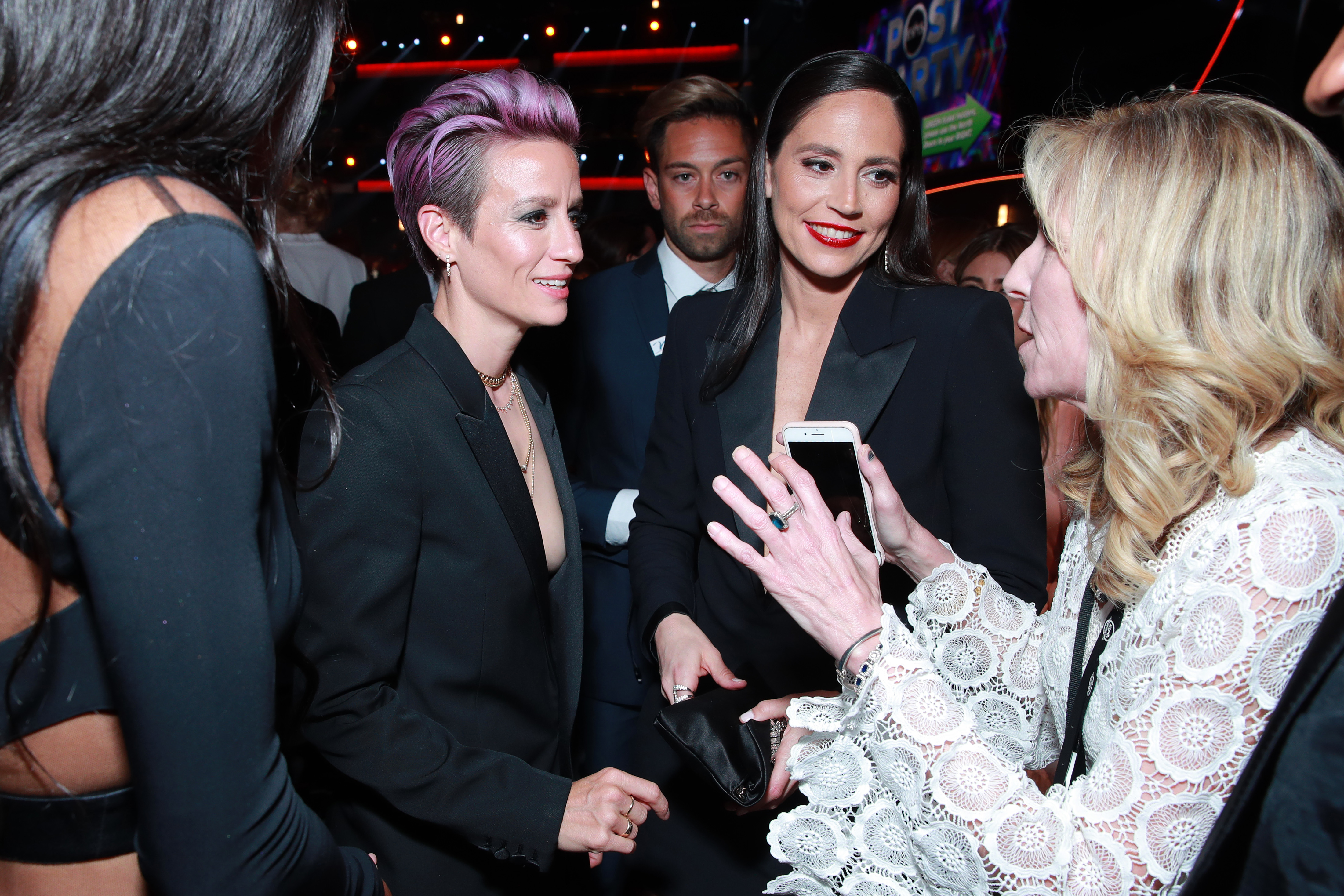 RELATED: Inside Megan Rapinoe and Sue Bird's Humble Seattle Condo
The pair met during the 2016 Olympics as they both represented America in their respective sports. Rapinoe had already made a name for herself; Bird was one of the biggest names in the WNBA. The pair went public not long after.
While Rapinoe and Bird have both had stellar amounts of success, they've made it a point to support each other without the need for competition. Marriage was never in the picture but after the death of a Supreme Court justice and fears that same-sex unions could go away forever. Furthermore, Bird's nieces kept asking if they were going to get married.
They spoke with GQ about the moment that Rapinoe popped the question. "There was a look in her eye," Bird remembers. Rapinoe got on one knee. Bird caught on: "I could just sense it. I knew what was happening."
The pair's importance not only to their sports but also for the LGBTQ community cannot go understated. However, with so much going for them, it's hard to pick just who the more accomplished athlete is.
Sue Bird and Megan Rapinoe at a glance
Going back to her days in Connecticut, Bird was born to be a star. After astonishing scouts in college, she was the consensus first overall pick in the 2002 draft, as Basketball Reference reports. She wasted no time showing what she brought to the table.
Bird was not an average star who needed to score to be elite. She's always gotten by on high basketball IQ and the ability to do a little bit of everything. With four rings, four World Cups, and Four Olympic golds, it's safe to say that she's reached her full potential.
On the other hand, Rapinoe made her name on the youth circuit before committing to Portland State. Her greatest break came on the Women's National Team, according to FB Reference.
While Rapinoe has gone on to win several regional championships in the U.S. and abroad, she's been a part of every Women's World cup team since 2011, winning all except the first. That, on top of several honors, has made her the biggest name in soccer. However, her fiance might argue that she's the better athlete.
Who is the better athlete?
RELATED: Michael Jordan Once Roasted Teenage Diana Taurasi a Year After She Missed a Free Throw at His Basketball Camp
Having two women who also happen to be the biggest names in their sports is no small task. Billie Jean King, a pioneer in her own right, spoke of their importance with GQ. One of the first high-profile gay athletes, King sees their union as an act of bravery and progress.
"We were always afraid of the unknown," she told the magazine, remembering all the years that she had to remain in the closet. "This is why having Megan and Sue out in front like this, being comfortable in their own skin, is so huge. It allows other people to be more comfortable."
Bird's friend and occasional opponent, Diana Taurasi, is also taken aback not just by their importance on societal issues but as one of the most athletic couples, gay or straight, in the history of sports.
"What they've been able to do as a couple, individually, I don't think they could have done that alone," Taurasi said. "When two people are on the same page, and they love each other, and they're working towards something better, you can do a lot of good things."
In a world of constant comparison with few athletes of this caliber, however, it's easy to compare the two, as ESPN details. Both have long careers filled with countless accolades both at home and abroad. Still, Bird has been in the limelight for over twenty years. Despite turning 40 in October, remains a valuable part of the WNBA Champion Seattle Storm.
However, it doesn't matter. Both will go down not just in sports history but American history as two of the most prominent names in America's fight for equal rights to all.