Moses Moody Shows Warriors His Upside in Stephen Curry's Absence
The Golden State Warriors cannot latch their success to Stephen Curry, Klay Thompson, and Draymond Green forever. With all those guys in their 30s, the Dubs must begin bracing for a transitory period and cultivating young talent for the future. That challenge could prove easier if rookie wing Moses Moody resembles anything close to what he showed on Monday.
Although the No. 14 pick in the 2021 NBA Draft has long projected as an ideal scoring archetype for the Warriors, Moody has played sparingly this season because of the depth in Golden State's backcourt. However, he got a rare start in Monday's game against the Denver Nuggets and did not miss his chance to shine.
Moody flashed his upside for a Dubs team without Curry, Thompson, Green, and Andrew Wiggins. He also garnered tremendous praise from Warriors head coach Steve Kerr, who thinks the Arkansas product has star potential.
Moses Moody scored a career-high 30 points and made franchise history in a loss to the Nuggets
The Warriors might have been playing in the Rocky Mountains on Monday, but they faced an even steeper challenge facing reigning NBA MVP Nikola Jokic — fresh off a historic performance — with a depleted roster.
Draymond Green remained out as he enters the final stages of his rehabilitation from a lower back injury. The Warriors gave a rest day to Klay Thompson, with Stephen Curry nursing a hand issue and Andrew Wiggins sidelined due to a foot injury. Golden State seemingly had zero chance of defeating the Nuggets, even with Denver playing the second half of a back-to-back.
Moody did everything he could to spark an upset.
The former Razorbacks star scored a career-high 30 points, breaking Chris Webber's old record as the youngest Warrior to score at least 30 points in a game. He did so in a variety of fashions.
Moody flashed the three-level scoring ability that made him a top pick in last summer's draft. He shot 5-of-12 from beyond the arc, curling off his own pin-down screens and firing at will. The 20-year-old showed comfort shooting off the dribble and dribble-handoff actions. When defenders closed out or limited the spacing, he attacked the basket and finished through contact, also going 5-of-6 from the charity stripe.
Moody does everything at a reasonably high level for someone his age. He moves without the ball and is a willing screener. He shoots the ball well from beyond the arc and scores off the dribble.
The Warriors ultimately fell short in a 131-124 loss, and Moody shot just 1-of-6 from the field in the fourth quarter. Still, the sour conclusion did not take away from a stellar showing.
Steve Kerr lauded Moody's talent
Kerr has been around the NBA for some time as a player, executive, and head coach. He's witnessed firsthand the generational brilliance of Michael Jordan and Curry.
In other words, the Warriors coach knows talent when he sees it. He did not hide his feelings about Moses Moody's ceiling.
Kerr sang Moody's praises (h/t Michael Scotto of HoopsHype) after Monday's game and indicated the rookie will be a staple in the organization for years to come. It was an emphatic message.
"[Moody]'s a keeper. He's a guy who's going to be a cornerstone for this team for a long time to come. It's easy to see that right now in his rookie year."

–Steve Kerr on Moses Moody, via HoopsHype
Golden State has reason to feel optimistic about the post-Curry era.
Jonathan Kuminga has tremendous physical tools and has been a vital wing defender at just 19 years old. Jordan Poole's breakout season has generated Most Improved Player buzz and could net him an $80 million contract. Though he has yet to suit up this season, James Wiseman still has awesome talent at the 5-spot.
Still, Moody could be the best of the bunch. The question is whether he can get enough minutes for a Dubs team desperate to win now.
The Warriors face rotation questions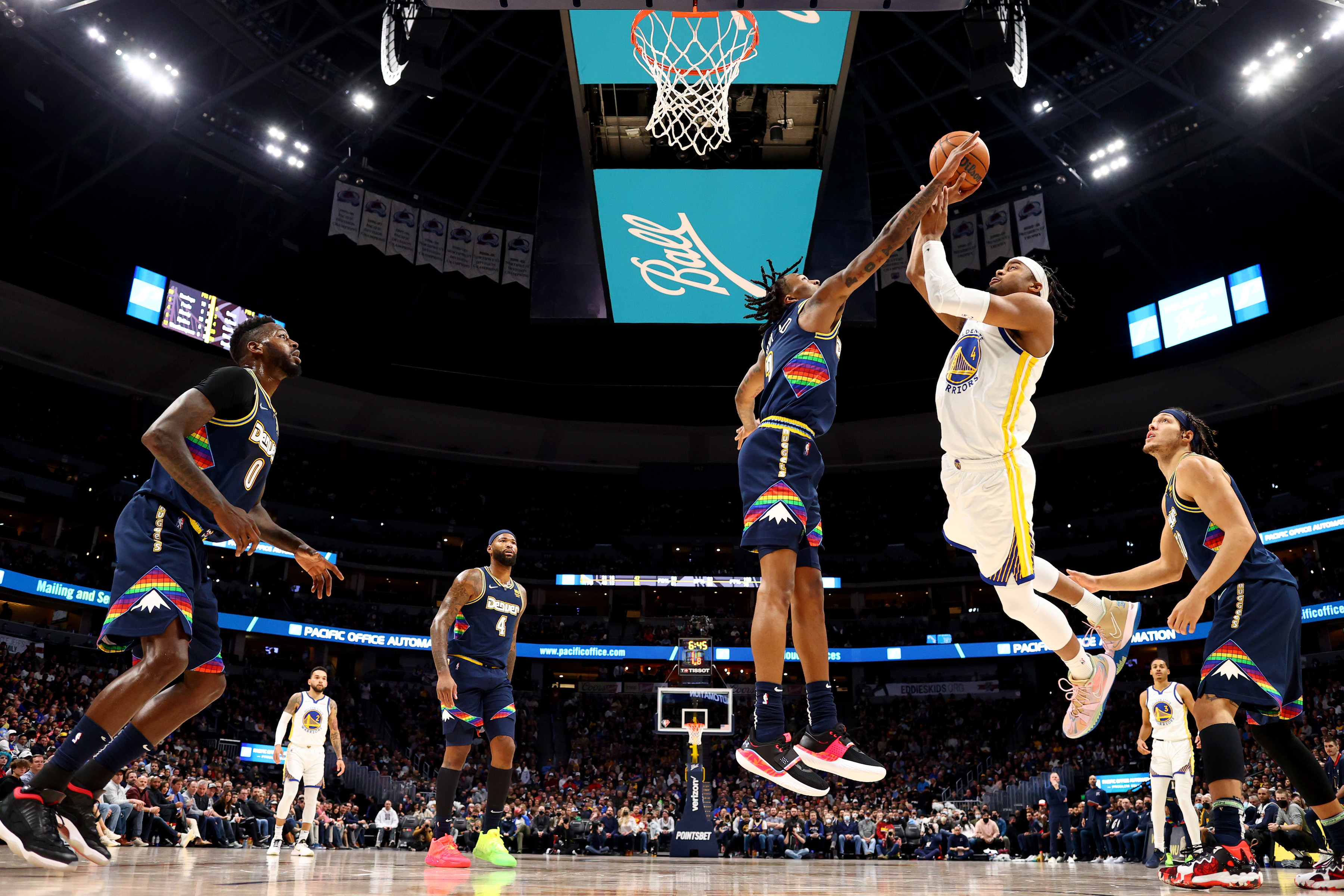 The Warriors need to find ways to keep Moses Moody involved.
Moody has done a lot with his scant minutes. He scored 13 points in the fourth quarter of a March 3 loss to the Dallas Mavericks and tallied nine points with a +2 plus-minus in a March 5 loss to the Los Angeles Lakers. He's a microwave scorer who, despite some deficiencies, offers positive signs as a long and rangy wing defender.
The issue is that minutes might be hard to come by for Moody. Golden State's recent defensive ineptitude (much of which can be attributed to Draymond Green's absence) should mean a lot of Gary Payton II when he returns from injury. Maybe Moody could get more run at small forward, but Andre Iguodala eventually figures to soak up minutes there once he is healthy.
Moody's upside is clear as day. Steve Kerr knows it. The challenge now is finding ways to mix-and-match rotations in a way that gives the Little Rock native some run and allows him both to flourish and contribute to winning.
Stats courtesy of Basketball Reference.
RELATED: Klay Thompson Admits to Critical Missteps Before Achilles Injury