NFL
The 5 Most Boring NFL Teams to Watch This Season
The NFL has emerged as a yearlong operation. On top of Sundays, the league office has added Monday and Thursday night games to the regular–season docket. The coverage then quickly transitions into Super Bowl hype, when analysts, corporations, and even top bureaucrats spend billions of dollars and countless hours weighing in on the Big Game. Next, it's on to the NFL draft, free agency, OTAs, minicamps, and preseason before the cycle starts anew.
Against this backdrop, the middle-of-the-pack teams slip through the cracks and get little to no airplay. As a group, the most boring NFL teams are not quite good enough to make a legitimate Super Bowl run and not quite awful enough to choose between the likes of Leonard Fournette and Mitch Trubisky at the top of the draft order this summer. The following teams may remain locked into a holding pattern of mediocrity for the next decade.
5. Kansas City Chiefs
In the '80s and '90s, the Kansas City Chiefs emerged as perennial contenders with Marty Schottenheimer at the helm. Back then, Marty Ball called for playing for field position by trotting out a stout defense, running the football, limiting turnovers, and chewing up the clock. This conservative approach, however, never translated into real postseason success, with Buffalo and Denver always tormenting KC and booking their own tickets to the Super Bowl at Schottenheimer's expense.
The Chiefs have maintained this very same DNA for several years running. In 2014, the Kansas City offense did not generate one touchdown pass to any wide receiver on the offense. That summer, the Chiefs signed Jeremy Maclin to a five-year, $55 million contract, with the full intent of adding explosiveness to the offense. Maclin, however, has been more of a decoy in Kansas City, where he is limited to only 12 yards per catch.
Last year, Kansas City ripped off 11 straight wins, including a 30-0 blowout win on the road in Houston in the wild-card round. Still, nobody seemed to care. Like clockwork, the Chiefs were ultimately stonewalled out of the Divisional Playoffs in Foxborough.
For 2016–17, the Chiefs are back at 10-4, and control their own destiny for a wild-card berth. The bend-but-don't-break defense ranks 28th in yardage allowed, but they rank first in takeaways and eighth in points allowed. Meanwhile, Andy Reid's latest version of the West Coast offense features one screen pass on first down and a draw play on second down, before Alex Smith takes off, runs for his life, and throws the ball out of bounds on third down. Like Dante Hall before him, it is now largely up to Tyreek Hill to generate any semblance of excitement for the Arrowhead faithful.
4. Cincinnati Bengals
These Cincinnati Bengals are now 5-8-1 and already mathematically eliminated from the postseason. This disappointing 2016–17 season will break a run when the Bengals made the playoffs through five consecutive years. Still, much is made of the fact that Marvin Lewis is 0-7 in the postseason after 14 years in Cincinnati. For this, Andy Dalton comes off more so as a glorified game manager who racks up stats through the regular season, only to fall apart in the playoffs.
Cincinnati was wildly inconsistent this year and unable to sustain anything longer than a two-game winning streak, which did include one win over the embarrassingly incompetent Cleveland Browns. The running game has literally degenerated into "three yards and a cloud of dust," with Jeremy Hill and Giovani Bernard grinding out less than four yards per carry on the ground. Instead of picking up the slack, the Red Rifle shoots blanks, with favorite targets A.J. Green and Tyler Eifert combining to miss ten starts.
At the same time, the regressed defense has came out flat all year; Pacman Jones appears to be more so concerned about looking for Terrelle Pryor in a trash can than he is with staying with his own man in coverage. Besides Pryor, the Bengals appear to save their best for the Pittsburgh Steelers. In Week 15, Jeremy Hill barreled his way into the end zone to put the Bengals up 17-3, before stomping all over the Terrible Towel. Cincinnati, of course, went on to lose the game 24-20 in what now amounts to a one-sided rivalry between the haves and have nots.
The Bengals have won nothing, and can only resort to trash talk and cheap shots to try and settle the score against a revered Steelers franchise that can lay claim to six Super Bowl titles at the opposite end of the Ohio River.
3. Houston Texans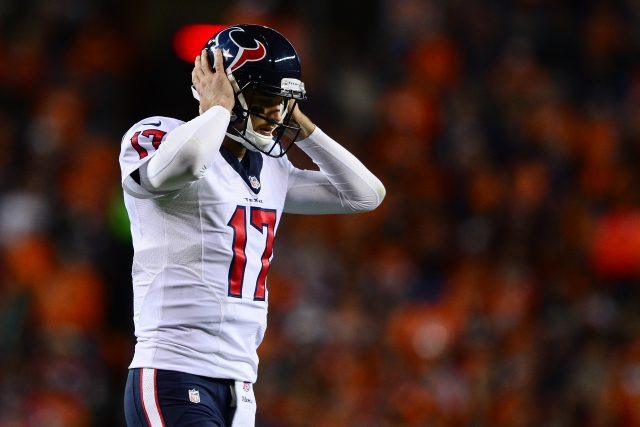 Last year, the Houston Texans went 9-7 and won the AFC South, with the likes of Brian Hoyer, Ryan Mallet, and T.J. Yates taking snaps at quarterback. Hoyer got the start for the wild-card game, and went a woeful 15-for-34, while also taking three sacks and throwing four picks through a 30-0 home shellacking to the Kansas City Chiefs. In response, the front office signed Brock Osweiler to a massive four-year, $72 million deal this past summer.
Osweiler, however, looks the part of a career backup instead of the long-term solution at quarterback. So far, for 2016, Osweiler has completed 60% of his passes for 2,704 yards and 14 touchdowns — against 16 interceptions. His Week 15 was one to forget, as  he threw two ugly picks in the first half before being benched against Jacksonville. The $72 million man walked off the field to a chorus off boos, right before the unknown Tom Savage managed the game for 260 yards and the win. The quarterback carousel will spin on in Houston, with no end in sight.
The Texans remain firmly locked into its familiar spot: being totally ignored behind America's Team in Dallas. Last week, Ezekiel Elliott made headlines for hurdling into a Salvation Army kettle to close out his 13th touchdown romp, while Jerry Jones and Emmitt Smith slapped high fives in the press box. Meanwhile, nobody cares about a banged up J.J. Watt anymore. The Texans, at best, will win a weak AFC South, back their way into the playoffs, and get blown out again at home in the wild-card round.
2. Chicago Bears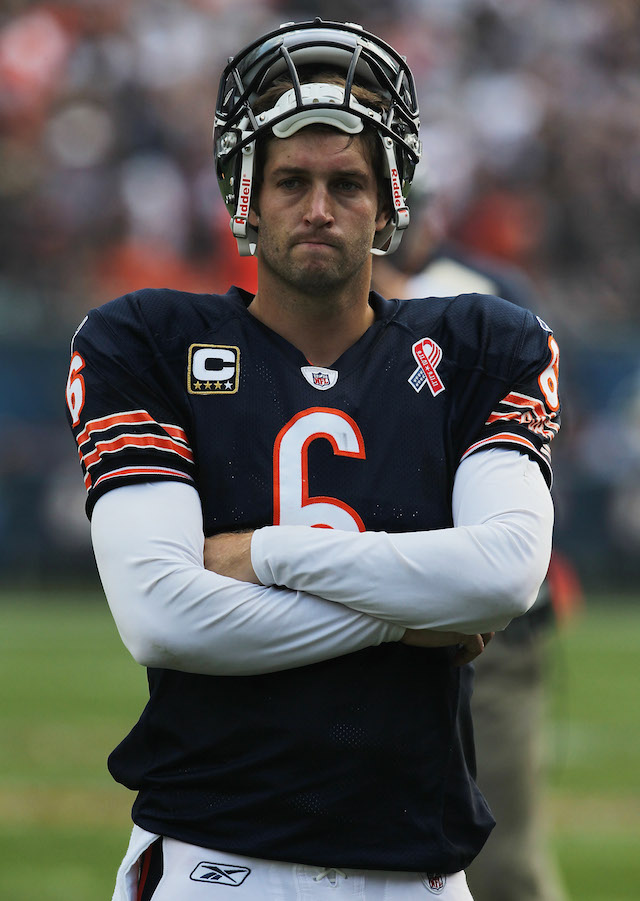 In 2014, the Chicago Bears signed Jay Cutler to a seven-year, $126.7 million contract extension. Da Bears have gone nowhere ever since, despite cycling through several coaches, signing multiple offensive weapons, and blowing the team back up again. Cutler is Jeff George 2.0, a tantalizing natural talent who only wrecks franchises and gets coaches fired because of his bad attitude.
The Chicago Bears are now 3-11 and have started three separate quarterbacks this season, in Cutler, Hoyer, and Matt Barkley. After starting four games in a Bears uniform, Kevin White, the seventh overall pick in the 2015 NFL Draft, already looks like a bust. This year, rookie running back Jordan Howard has emerged as the lone bright spot offensively; he's racked up 1,059 yards through 11 starts. From here, the Chicago game plan often degenerates into simply chucking the football up to Alshon Jeffery once the defense keys upon Howard and stacks the line with eight in the box.
These Chicago Bears have no identity. The Monsters of the Midway are long gone; they're replaced by a collection of no-names and B-List free agents like Danny Trevathan and Pernell McPhee. In many respects, the defense has been gutted and held together with masking tape in order to make way for Cutler and his bloated contract. Cutler, however, will end this season on the bench, blankly staring off into space with a bum shoulder.
1. Los Angeles Rams
This offseason, Jeff Fisher went on the attack, berating the LA Rams for their "7-9 #%@%!" Ironically, it was Fisher — or Mr. 7-9 — who ultimately went 173-165-1 through 22 seasons as a head coach before getting fired. He has gone either 7-9, 8-8, or 7-8-1 exactly 10 separate times through his career. The Rams, for their part, went 7-8-1, 7-9, 6-10, and 7-9, between 2012 and 2015, with Fisher stalking the sidelines.
The head coach finally received his walking papers after feuding with team legend Eric Dickerson and taking a 42-14 beatdown in Atlanta. After the game, Todd Gurley went on record to rip into the coaching staff for running a "middle school offense." Last year, Gurley took the league by storm as he racked up 1,106 yards through 12 starts. This season, he has repeatedly run right into a brick wall of eight-man fronts at the line of scrimmage. Gurley has been shut down and limited to a meager 3.2 yards per carry, while opposing defenses dare the Rams to throw the football.
It wasn't supposed to be like this. The Rams brought pro football back to Southern California after a 22-year-long absence. This summer, the Rams bet the farm to move up in the 2016 NFL Draft to take Jared Goff with the first overall pick as their apparent franchise quarterback of the future. Goff, however, rode the pine through the first nine games of the season before seeing any action — only to look like a complete bust.
The Rams mortgaged their future and can only hope to play uninspired, .500 ball for the next decade. The Rams did break ground on their new stadium in Inglewood, Calif. next month. This $2.7 billion project is scheduled to conclude by opening day for the 2019–20 NFL season. By that time, sports fans will still make pilgrimages to the LA Coliseum and the Rose Bowl for real football excitement. USC, as always, will be loaded.
Statistics courtesy of ESPN and Pro-Football-Reference.