The 5 Most Disappointing NBA Teams This Season
Heading into the NBA regular-season, fan optimism often borders on sheer delusion, with legions of loyal supporters truly believing that their teams have a legitimate shot at making the NBA finals. At camp, the hot-shot rookie hits all of his shots; the cagey veteran still has a lot left in the tank; and the big-money free agent fits right in. At this point, coaches and team executives all say the right things, while the media buys into the hype.
Within the first handful of games, fans can explain away a blowout loss as an off-night by a talented team that has yet to gel. To open the year, even the Golden State Warriors took a 29-point beatdown at the hands of the San Antonio Spurs. The Warriors righted the ship and rattled off 12 straight wins en route to going 20-4. By the quarter-mile mark of the season, however, you are what you are; a clear pecking order is solidified between the elite, mediocre, and bottom-feeding rosters.
The most disappointing NBA teams entered this season with high hopes, but they will likely fail to make the playoffs. At worst, these five teams will go into tank mode right after the All-Star break, clearing up cap space and locking down a high draft pick. Better luck next year.
5. Minnesota Timberwolves
In terms of raw talent, the Minnesota Timberwolves showcase the most exciting, young roster in the league. The Minnesota core features Andrew Wiggins (2015) and Karl-Anthony Towns (2016), who claimed Rookie of the Year honors in back-to-back years. Coming off two consecutive slam-dunk championships, high-flyer Zach LaVine flanks these two franchise centerpieces.
This offseason, Minnesota signed Tom Thibodeau to a five-year, $40 million contract, apparently to teach the young Wolves how to win — and play defense. So far this year the Timberwolves are 6-18 and dead last in the Northwest division. They are giving up 107 points per game, which ranks as the 23rd worst defense in the NBA. Minnesota has yet to fully grasp complex help-and-recover concepts out of the Thibodeau scheme, while Ricky Rubio often seems nailed down to the floor and unable to stay out in front of his man.
The bench is especially thin, with rookie point guard Kris Dunn struggling to adjust to the speed of the NBA game. Dunn is now shooting an anemic 39% from the floor. Still, there is reason for hope in Minnesota. LaVine, Wiggins, and Towns are now all dropping in more than 20 points per game, at the age of 21. KAT, for his part, already rivals his fellow Wildcats, Anthony Davis and DeMarcus Cousins, as the best big men in basketball.
Going forward, it will be up to the front office to surround this Big Three with outside shooting and a deep bench. Minnesota is only a few solid roster moves away from emerging as a perennial contender in the West.
4. Washington Wizards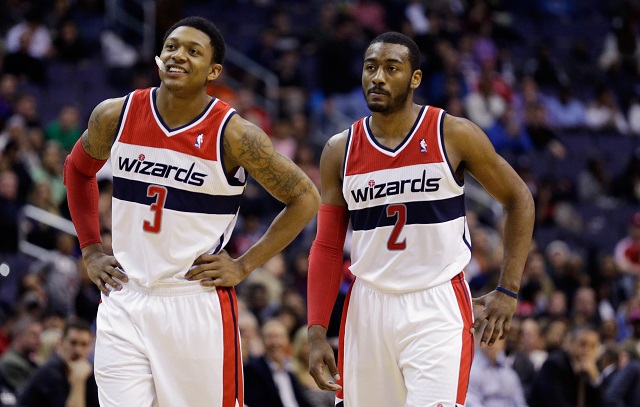 Last week, John Wall went off for 52 points, four rebounds, eight assists, and three steals against Orlando. The Wizards, however, lost by eight points to the Magic. After the game, a visibly irritated Wall ripped into his teammates for their lack of effort. For Washington, this latest loss was a microcosm for this entire season. A spent Wall is racking up stats and attempting to rally the troops, only to be regularly done in down the stretch by his own ineffective teammates.
The Wizards are now 9-14 and in 11th place out of the Eastern Conference. The Wiz, at best, can back their way into the playoffs with an eighth seed over Indiana, Milwaukee, and Atlanta. But LeBron James and the Cleveland Cavaliers will sweep them out of the first round. Washington did appear to be a team on the rise as recently as two seasons ago, when the Wiz fell to Atlanta in the Eastern Conference Semifinals in six games.
From then on, the team has regressed dramatically. Various reports confirm friction in the backcourt between Wall and Bradley Beal. Still, the Wizards went on to sign Beal to a maximum five-year, $127 million contract last July. He served as an empty consolation prize after Kevin Durant refused to even meet with Wizards officials this offseason.
Washington went so far as to hire former Oklahoma City head coach Scott Brooks to pace the sidelines, in hopes of luring KD back home to the DMV. These 2016–17 Wizards return to the familiar place of losing, infighting, and playing out the string each night in front of thousands of empty seats.
3. Atlanta Hawks
Two years ago, James shocked the sporting world and completely changed the power structure of professional basketball when he announced that he was returning back home to Cleveland. Last year, King James completed his epic journey and finally made good upon his promise to deliver a title to star-crossed Northeast Ohio after 52 long years. This offseason, former Heat running mate Dwyane Wade made headlines in his own right, when he signed on with his hometown Chicago Bulls after being stonewalled by team president Pat Riley.
This offseason, Dwight Howard also signed a three-year, $70.5 million deal with the Atlanta Hawks. Years ago, Howard first made a name for himself at Southwest Atlanta Christian Academy before immediately declaring for the draft right out of high school. Still, nobody really seemed to care about this Howard homecoming after the big man burnt bridges in Orlando, Los Angeles, and Houston. Last year, Dwight went live on TNT to take shots at James Harden for not feeding the post.
The Atlanta Hawks are now 12-12 and trapped within a logjam for the eighth playoff seed out of the East. A viral loop of the big man ripping down a rebound, firing a wayward pass off the backboard, and loafing back on defense while the opposing team races the other way for an easy score summarizes the Dwight Howard experience. As recently as two years ago, the Hawks were the new darlings of the NBA; lauded as Spurs East for their unselfish style of play. Now, Al Horford and Jeff Teague are both gone — replaced by this Black Hole at center.
2. New Orleans Pelicans
Anthony Davis put up a staggering 50 points, 16 rebounds, five assists, seven steals, and four blocks on opening night against the Denver Nuggets. The following game, Davis dominated the Golden State Warriors for 45 points and 17 rebounds. Still, the Pelicans managed to drop their first eight games, with numerous outlets going on the attack against The Brow's limited supporting cast. By December, the catcalls grew to the point where AD felt the need to verbally defend his teammates.
Two years ago, Tyreke Evans, Eric Gordon, Jrue Holiday, and Ryan Anderson flanked a 21-year-old Davis down in New Orleans. These Pelicans went 45-37 and clinched the final eighth seed in the West on the last day of the regular season. From there, AD had his coming out party by owning the eventual champion GSW with 32 points, 11 rebounds, and three blocks per game through the first round of the 2015 playoffs.
The Pels, however, have not returned since. Now, Davis must rely upon a banged up Holiday as the primary holdover from that 2015 playoff run. Evans has yet to even take the floor this season; he is still rehabbing from last February's surgery to repair damage to his right knee. First-round draft pick Buddy Hield has failed to step into the void and is shooting an anemic 37% from the field against faster, bigger, and stronger NBA competition.
The Pelicans are now 8-17 and fading fast, after dropping five of their last six. Will somebody please stand up and save Davis?
1. Dallas Mavericks
It wasn't supposed to be like this. Dirk Nowitzki, at 38 years old, was supposed to be flanked by playmakers and wing defenders — all in the prime of their careers. As the elder statesman, Nowitzki would provide leadership, outside shooting, and clutch scoring through another deep postseason run. Instead the Mavericks are a lowly 5-18, with talk growing louder by the day that the team should tank the season and chase after a lottery pick, in what figures to be a stacked 2017 draft class.
The wheels began to fall off in Dallas in the summer of 2015, through the DeAndre Jordan fiasco. From there, Mark Cuban threw money at the likes of Wesley Matthews, Deron Williams, Andrew Bogut, and Harrison Barnes, after DJ refused to take his phone calls. Lead recruiter Chandler Parsons took his act to Memphis after blowing out his knee and being shut down for back-to-back seasons in Dallas.
Big D is no longer a prime destination for top free agents. At the same time, the talent cupboard for young talent is all but bare; the team has struck out on every single draft pick since 2003, when they took the mercurial Josh Howard out of Wake Forest. Nowitzki is all but set to join the likes of Hakeem Olajuwon, Patrick Ewing, and Kevin Garnett as first-ballot Hall-of-Famers who held on just a little too long.
As a shell of his former self, Nowitzki is struggling to put up 12 points per game off 35% shooting. Expect Cuban to issue direct orders to Rick Carlisle to sit Nowitzki and the starters, while doling out playing time to D-League castoffs after the All-Star break. Cuban, not Sam Hinkie, will then remind beleaguered fans to "trust the process."
Statistics courtesy of ESPN and Pro-Basketball-Reference.